Wrestling Name Generator will help you generate some amazing wrestling name ideas.
You may want to start your own wrestling club or pro wrestling game. But, you need a name for that. Here's where we can help you.
Best Wrestling Name Generator:
Wrestling Names :
Click on the names you like the best.
Favorite Names:
Copy your names before you leave.
Best Wrestling Name Ideas:
Wrestling isn't only about showing the muscles, pulling, squeezing & scruzing your opponent. It is more of a mind game. Wrestling teaches us that the weaker is the one who depends more on physical strength than his intellect.
Being a wrestling fan is an amazing feeling. You may want to start your own wrestling club or pro wrestling game. But, you need a name for that. Wrestling Name Generator is here to name your passion before you shape it!
Here are some of the coolest custom wrestling names: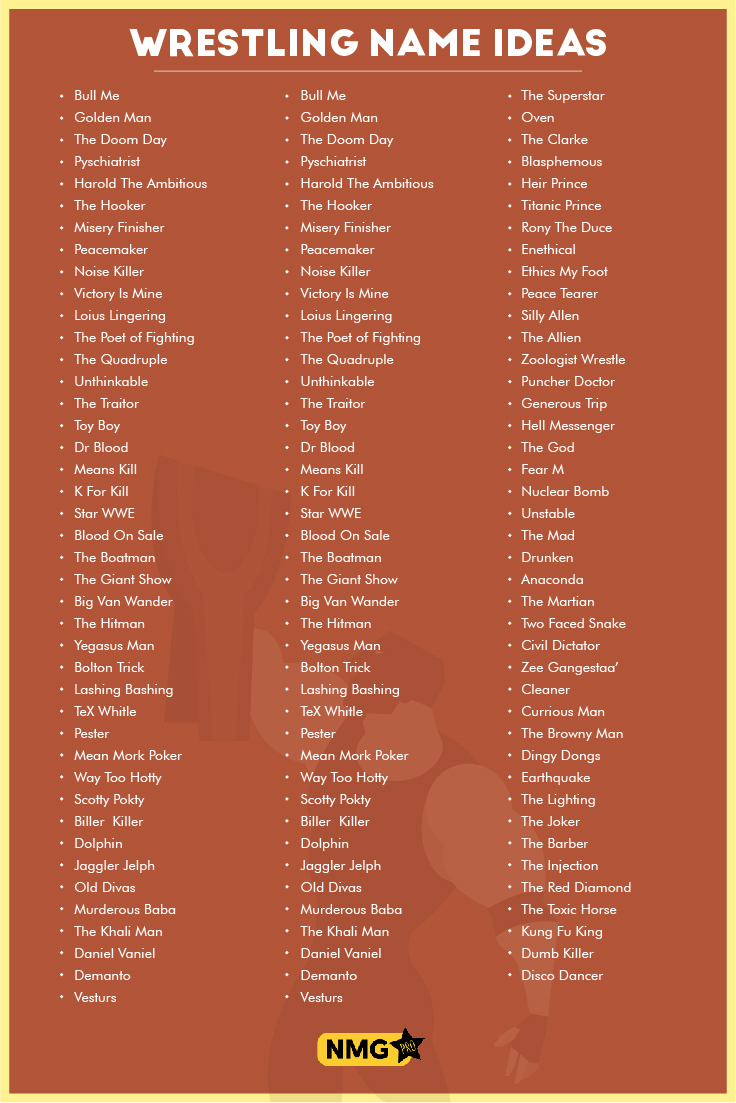 The Monster
Madman
Guerilla
Rebel
Horrible Show
Nightmare
King
King Of The Ring
Ambassador of Blood
The Trouble Master
Hidden Lion
The Bat
Victor
Master of Ring
The Ruler
King of Fight
The Owl
Wolfman
Power Snatcher
The Ring Robber
Roman Boy
Bothapest
Scoobyius
Scorpion Me
The Breaker
Bad Breaker
Away From Me
The Wrestle Genie
Sacrifice
The Hell
Delux
Jack Call Me Dad
Call Me King
Thumbs Down
The Cobra
T For Tiger
Smash You
Bone Breakers
Tearer
Killer Jumper
The Green Hulk
Captain Africa
Johnny Lena
Warrior
Shadow Hawk
Show Cerebral
Diamond Sniper
Crazy Tank
Spike Assasin
King Kong
Dinosaurs Father
Dirk Spawn
Spider
Primal
Scientist
The Cobler
Dirty IM
Triple TTT
Mighty Man
Hellfire
Thunderstorm
The Cowboy
Bones Players
Dorado
Falcon
Agent Angelo
The Lord
Mysterio
Velvet
Rubbish Terminator
Bubble Warp Blaster
Wilderbeast
X-Ray Shredder
Newspaper Wrangler
Mason Jar
Avenger
The Destroyer
The Elbower
Pop-Top Slasher
Grizzly Bear
How to Use the Wrestling Name Generator?
Using the wrestling name generator is as easy as a piece of cake. You can get some amazing wrestling and wrestler names with the wrestling name generator. Here's how to use it:

You'll see a button named 'generate wrestling names'. On each click, you'll get a unique wrestling name in front of you. You can generate as many names as possible with the wrestling name generator.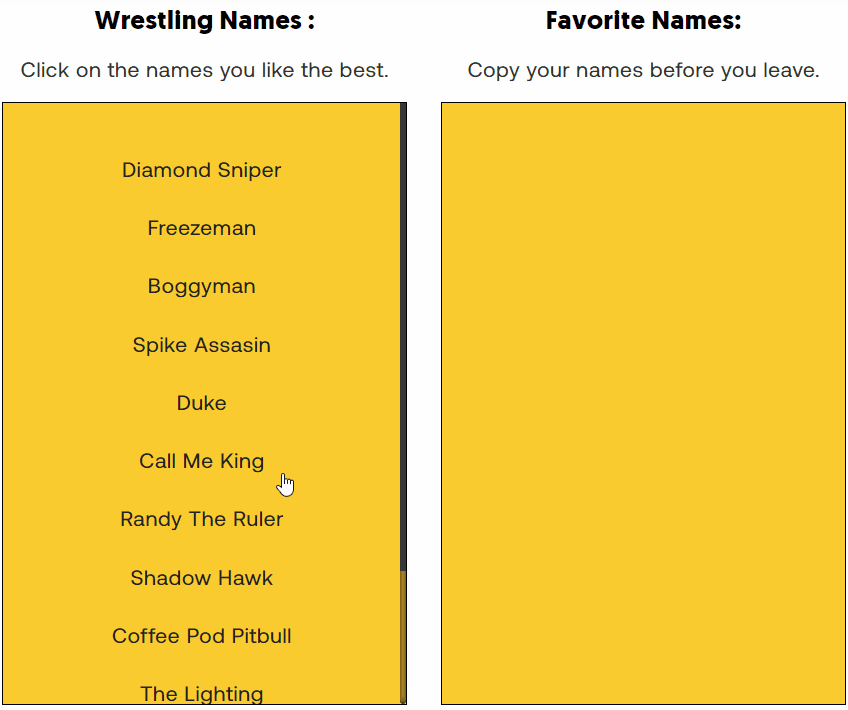 You can also review all the custom wrestling names you've generated with the wrestling name generator. Upon clicking on each name, it will be moved to the favorites list, where you can simply copy and keep them with you for further brainstorming.
We are excited to hear how you feel about those amazing wrestling names!
Please leave the words falling from your heart below & let us know the name you loved the most. Happy Generating!