Magic Shop Name Generator is here to solve your problem if you're looking for the best magic shop name. If you've decided to open a magic shop, then it is very important to name the best name for your magic shop.
Finding a name that suits your magic shop can be a hectic task, in order to simplify the process for you. Magic Shop Name Generator will showcase a list of exclusive magic store names with a single click. You can choose the best name for your magic shop and add it to the list of favorites.
The Best Magic Shop Name Generator:
Magic Shop Names :
Click on the names you like the best.
Favorite Names:
Copy your names before you leave.
Tips To Perfectly Name Your Magic Shop?
Here are the key points before choosing a perfect magic shop name for your store. Make sure you go through all these points and then finalize the name of your magic shop.
Pronunciation:
You definitely don't want your customers to pronounce your business's name incorrectly. The pronunciation of your magic shop name should be smooth and easy to say. Yes, there should be an element of fun, but make sure to decide a name which the customers can pronounce easily.
Relevancy:
Relevancy is one of the biggest factors when deciding a name for your magic shop. For example, if you decide the name 'Gryffindor Palace' for your magic shop(which is a pretty good name), the customers can surely relate to it as who doesn't know about Harry Potter these days? Adding in relevancy to your magic store's name can surely make you the apple of the eye for many customers who love Harry Potter.
Length:
When deciding aname for your magic shop, make sure the length of the name is standard. Not too short and not too long either. You don't want your customers to give short nicknames to your magic shop, right?
Spelling:
Now, this is a tricky one, there are names Name Generator Pro's users have picked which were quite difficult to spell. But still, if it sounds good, go for it! But yeah don't go for 'sacrilegious wizardry', it's one of the hardest words to spell.
How to Use the Magic Shop Name Generator?
The team behind magic shop name generator have made sure research and collect names of the most stunning magic shop names around the globe. The simple tool will be generating many magic shop name examples for you to choose from.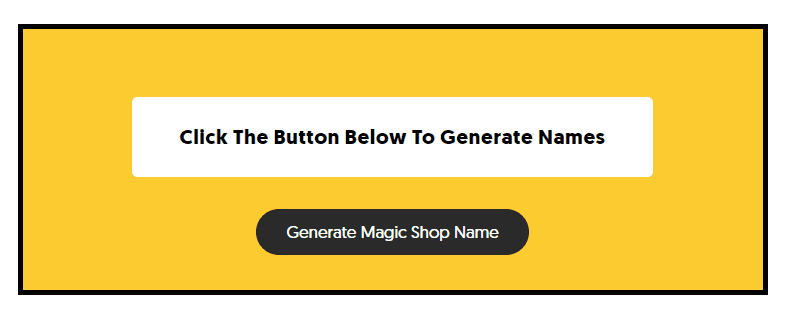 If at any point, you want to recall the names, there's a list given below where all the magic shop names displayed to you are saved.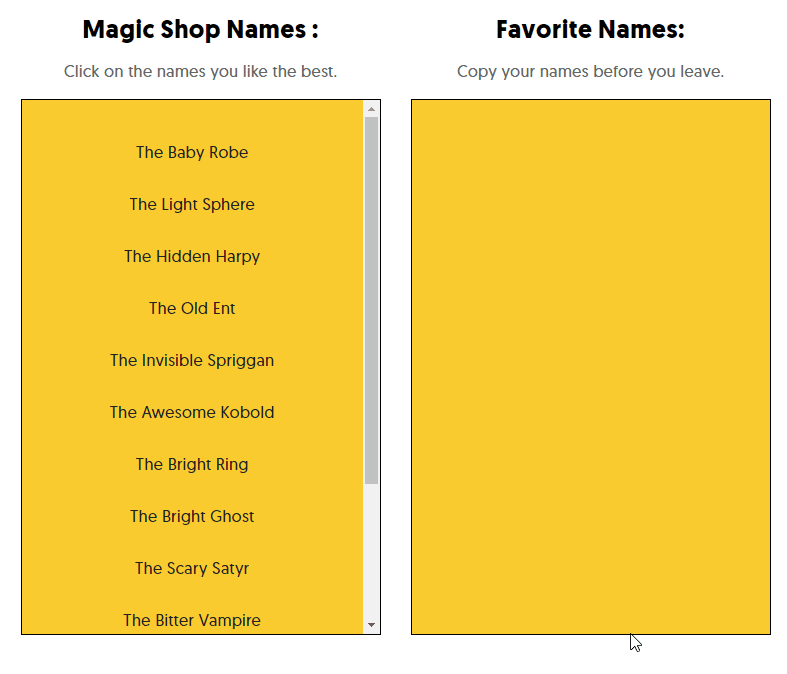 You can go through the whole list and simply add the best magic shop names into the favorites list.
Best Magic Shop Name Examples:
Among all results of the users who've been using magic shop name generator, here are the best names for your magic store: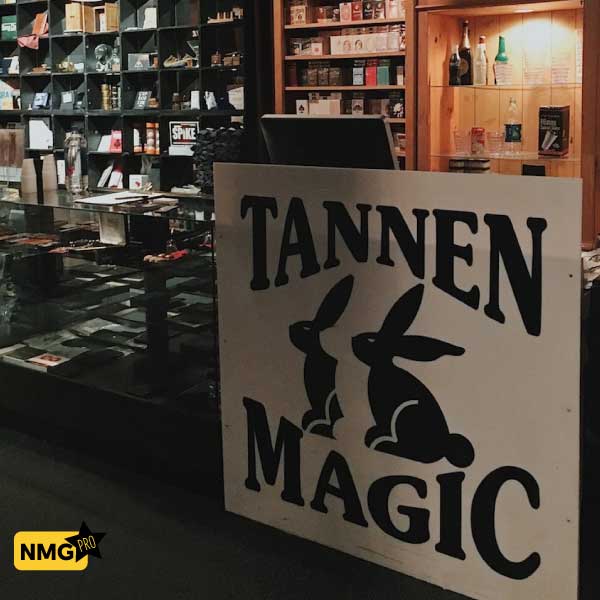 Tannen's Magic keeps the old-school way but still nails the list of one of the best magic shop names. Right into the heart of NewYork, Tanne's Magic is one of the finest magic shops in United States.
Vanishing Inc. have a simple yet very attractive name for their magic shop. Vanishin Inc is one of the greatest magic shops for years and has made a very well recognition of their name.
Clownin Around Magic Shop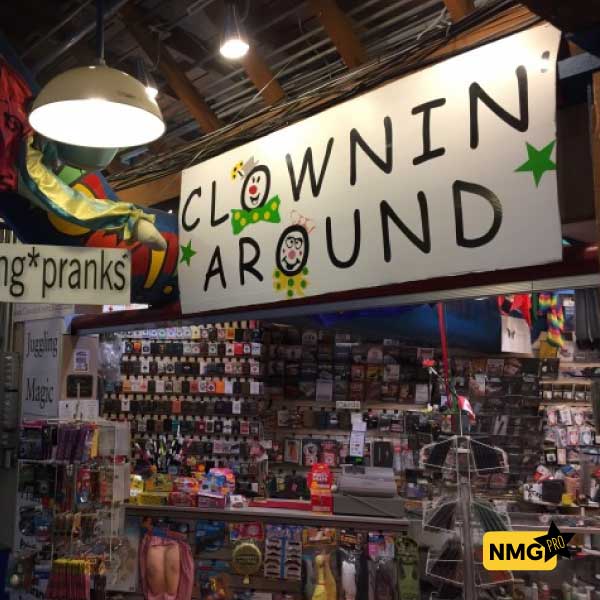 Clowning Around, ah what a fantastic name for a magic shop.
It's time to generate your own magic shop name with the magic shop name generator! Leave a comment below and share your favorite magic shop names.