Generate some of the best email name ideas with the email name generator. Get tips for naming your email professionally and a list of best email usernames below:
Email Username Generator:
Professional Email Names :
Click on the names you like the best.
Favorite Names:
Copy your names before you leave.
Best Email Name Generator:
Tired of getting 'this name is already taken' error? Well, who doesn't? It's quite frustrating not finding the simple email address with your personal name. But Professional Email Name Generator has the solution for you. You won't leave the page without getting a professional email name, we bet!
How to Use the Professional Email Name Generator?
Professional Email Name Generator is quite easy to use tool for generating email names. You need not provide any personal information.
The only thing you need to do is to enter the optional prefix and suffix. Once you fill those spaces, you are good to go.
Click the button named "Generate Email Name" & a name will float up on the screen. Didn't like the name? Hit the button again & again till you get the name you want.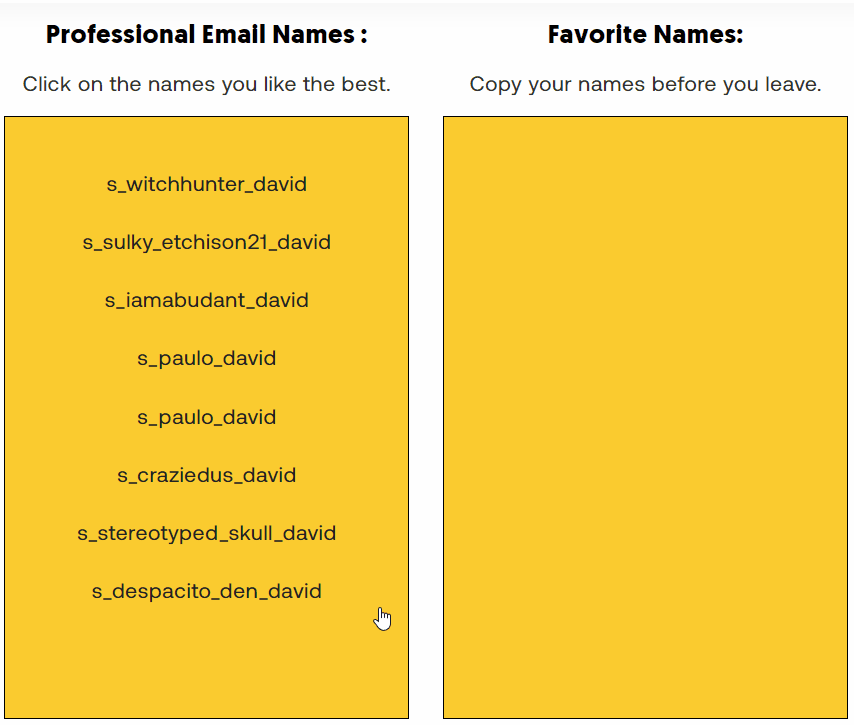 The professional email name generator will also help you review all the names you've generated so far. Scroll down to see the two lists given below.
The first list shown to you will contain all the email usernames you've generated so far with the email name generator. Go through all the names and click on your favorite ones.
This will enable you to make a list of all your favorite games where you can keep them with you for further brainstorming.
How to Choose a Professional Email Name?
The Internet is a huge universe expanding day by day. With millions of people rushing to the internet to get an online mailing identity, emails are being registered at an extremely rapid rate. A survey has found that there are 3.9 billion email users worldwide which exactly comprises half of our human population.
With this stretching rush over every 24 hours, it becomes extremely difficult to find a professional email address with your own name. For instance, your name is Michael & you try to create an email with that name only to find some other Michael living anonymously somewhere in the world has already registered email with this name!
Here is what you can do to avoid this or help others getting their professional email name:
Try Combining Your Names:
Did you fail at registration with your first name? Try combining it with your middle or last name. It may stretch the name a bit but it can definitely help you getting your own-named email.
You can use first name initials as well. For example, if Michael Jackson fails to get registered, we can try [email protected].
Use Hyphens in Your Email Name:
Sometimes when someone else has already stolen your idea of email, you always can bring hyphens into action & put them into our names. It works great & gets you the name of your choice with swapping names here & there.
It makes your name attractive to your employers as well.
[email protected] is already taken? Try [email protected]
Choose a Brand Name:
Professional email names can be easy to come up with if you are an entrepreneur & own an online or offline business.
You can use your brand name in the email which has a lot of benefits for you. One, it'll give you a special identity. Second, chances are high that your clients may read your email first clicking any other.
Use Domain Email:
If you are a blogger or you run any kind of website, you already have a great name hidden into your hosting!
If you want to make your email a professional one, choosing your domain mail would be the best option. It's a great feature offered by domain & hosting services.
Try a Different Email Service Provider:
While choosing your email name, keep in mind that popular email service provider like Google may have the stock already full with different variations of your name.
But the good news is, there is still a number of different email services that may have the name you want. The other email services include Outlook.com, yahoo.com etc.
Professional Email Name Ideas:
John_Jack
DJohnny
Oliver K-Lake
Thomas009
Dr_David
JoeyOscar
KristySweety
MichaelJack
JackMDavid
Pablo_Pabusa
Paulo
Writer
WitchHunter
Creative_Designer
The Oval
Acidic-writer
HilariousMover
RitzyMan
Deafening-Player
Healthy_Wealthy
Deserted-Safari
NonDescript
IAmAbudant
MagicalDesigner09
MakeItAble
Inexpensive_Thoughts
Useful-Tools
FairyPrincess
Butterfly
Bob
TheUndesirables
Polite-Hound
Protective
Aquatic_Thoughts
Allien
OverTheHead
Whimsical-Coder
Developer
PeriodicPainter
Flawless_Me
CraziedUs
The_Successful
Abortive-Dude
Marascalco-Taboo
Solid_Mathew110
LivelyHosch
TheMaddening
FreezingMoises
Obese_Ariel
Assing_Ambitious
Political_Me
LovelyLewis
Flippant-Jefcoat
Johnny_WellMade
Blushing_Ben
GeneDeromer
GwynSprqauve
Leda_Decamp
Kelly-Emerald
Cynical_Hartong
Sulky_Etchison21
Sunny_Silent
TheVoicelessWeston
FreshingFinn
Upset_Appolo
Edward_Excited
Despacito_Den
ElasticElly
Drab_Pen
DotComChandler
Nancy
FancyCitizen
Rude-Rough
Sophisticated_Sophie
Rough-Rony
Elated_Emmy
RightfulRemmy
Sonny
Talented_Me
Younger_Yang
ThomasBJ
NancyJ_Moldy
Courageous_Soul
GentlyGuarded
CrookedBody
Efficacious_Eminem
Wrong_Un
Easy_Peasy
NearYou
UppityUncle
BlackCobra77
8thWonder
Wandering_Spirit
Stereotyped_Skull
Emotionless
MrOfficer
RichardGulf
Dewalt_Dancer
RobertRabbler
Read more: How to select a name for your personal email address
I hope by now you've found the perfect email name for yourself with the professional email name generator. Leave a comment below with your favorite email usernames to help the community as well.