Spy Name Generator will help you hunt down some unique spy names. Generate some creative undercover agent names & start your mission impossible!
Spy Names :
Click on the names you like the best.
Favorite Names:
Copy your names before you leave.
Famous Spies with Creative Spy Names:
The life of secrecy doesn't only requires skills to disguise itself according to the demands of a mission or a knowledge collector. It also requires cloak-and-dagger undercover names. You may plan to write a story or hold a spy gaming event, you always need cool spy names.
Let the secret agents keep up their missions. Let's not disrupt them!
While our heroes are secretly playing their roles & serving homelands, we have some remarkable spy characters from books & blockbuster movies that have left us WOW with their spying skills!
Here is the list of some of those characters:
Ethan Hunt: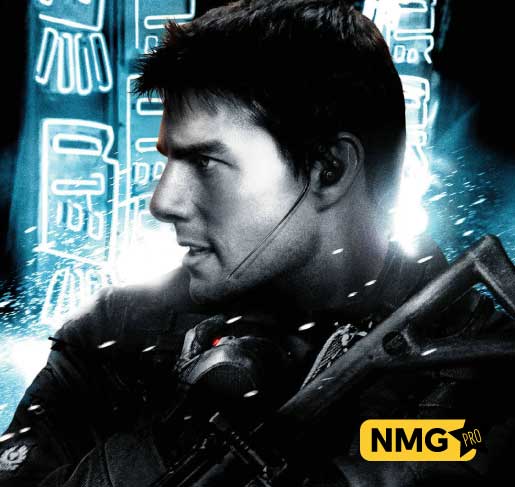 Who can forget the master class of this star agent of the Mission Impossible series? Whether it is masking a different face, chasing enemy or put down foes of the country, call Ethan Hunt & sit relaxed!
Starring Tom Cruise, this series has made an unceasing impact on the fans of thriller & spy genre.
Gru & Lucy: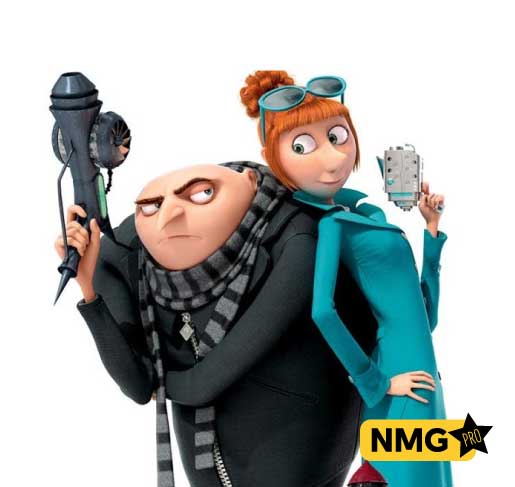 If you are looking for kids spy names, what would be great than choosing a name from their favorite movie, Despicable Me?!
The desirable's Gru & Lucy's chemistry in this animated series is awesomely applaudable. Lucy, an agent hunting down the bad eggs of underworld meets a villain-turned-honest man Gru in the second part of the series. Eventually, they fall in love with each other & end up tying the knot in the last part.
Sherlock Holmes: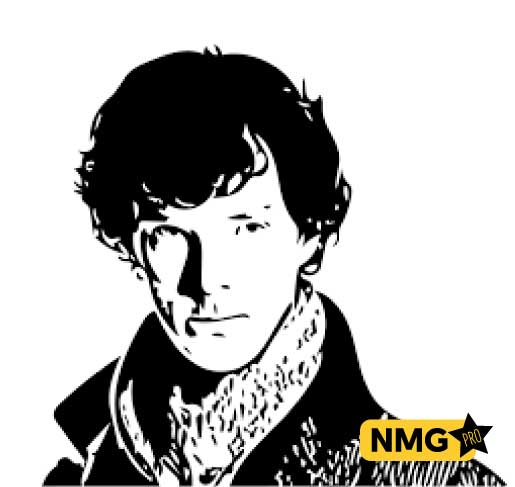 The legend of Sherlock Holmes is one of the most loved spy-cum-detective series around the globe. There have been many popular portrayals of the character Sherlock Holmes from Arthur Conan Doyle's books including HBO's 4 part series starring Benedict Cumberbatch.
Best Spy Name Ideas:
Here are some of the best spy name ideas generated with the spy name generator: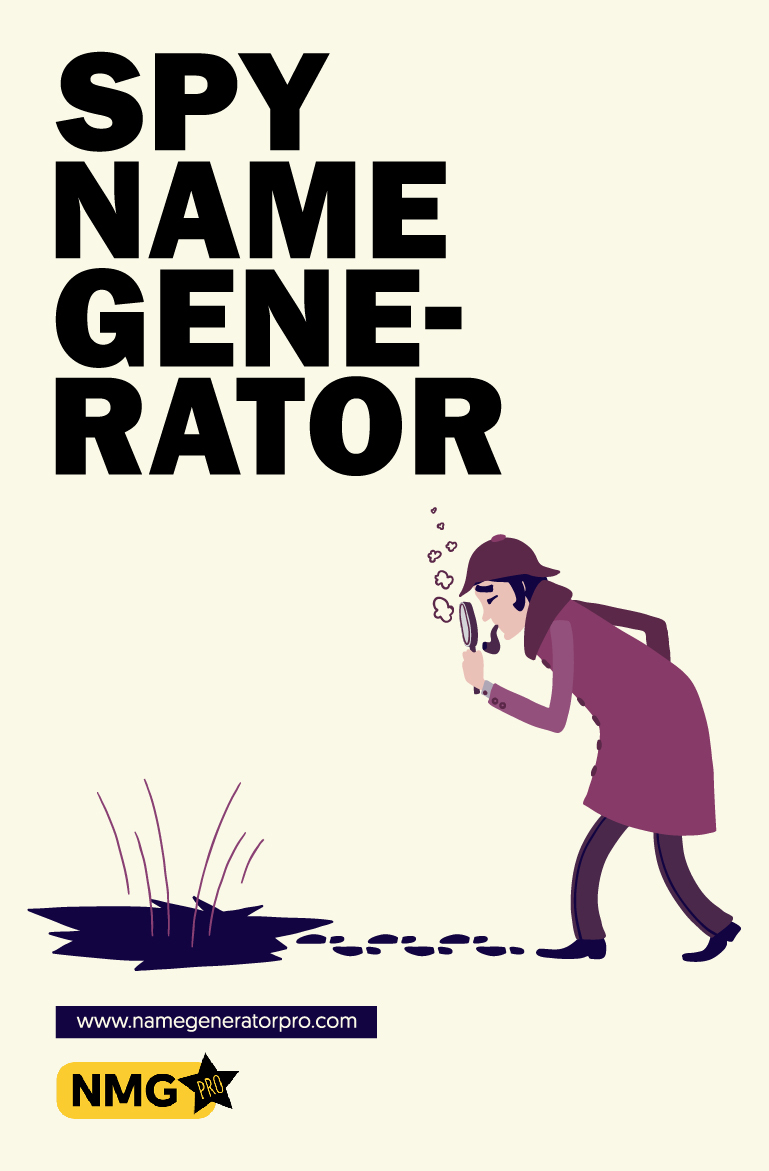 Ayadilo Manguish
Minnion 101
Agent anonymous
Matrix IIV
Peter Poker
Dump Star
Hazardous Stinger
Poetic Militia
Maxollen
Crying Tornado
Michael Mountainous
Agent Semyonov III
Bird of Birmingham
Eagle
Bull Star
Novice
Curios Cobra
Lapin
Petonous Putin
Severus Spider
The Madman
King of Streets
Dyanamo
Rio de Sparrow
Piercing Blade
Mini Mouse
Invisible Wolf
Agent Flawless
Lone Wolf
Man of Spirit
Night Walker
Lokie
Hammering Man
Partridge
Silly Woodpecker
Mr Sour
Grand Dad
Untiring Falcon
Halon Killer
Robber T. Lewis
Young Lion
Warrior
The Alien of Mars
Mars Man
Light Angel
Hulk
Marco III
Agent 999
Marshal Lawyer
Alex Rider
Thunderstorm
Scotty Boy
Algae
Scooby Dooby
Lord of the Secrecy
The White Widow
Mummy of Pyramids
A Dust Particle
Groot
Phoenix Thunderball
Kraven Indigo
Dr Denver
Doctor Red
Agent Pokemon
Gallion
Father Night
Dark The Immortal
09 Pixels
333
Brainless Robcat
Filthy Feral
Blue Jersey
Skinny Man
Living X-ray
Nothingness
Augustus Marvel
Call Black Prince
Shadow Lady
Swallow
Nose Pin
High Voltage
440 Volt
Victor
Drunk Me
Troubling Man
Beautiful Butterfly
O.T.U.S
Fast & Furious
Homerun
Nazgul
Falcon of Desert
Hair
Joker
Thor of Asgard
Agent Bay
Phsizoro of Sydney
Triple HHH
Queensman
Castle
Long Jumper
How to Use the Spy Name Generator:
Generating spy names with the spy name generator is super easy. Here's how it works:

Upon visiting the spy name generator, you'll be shown an empty field and a button named 'generate spy names'. On each click on that button, you'll see a unique spy name generated for you. You can generate as many names as you want until you find the one that's a perfect match for you.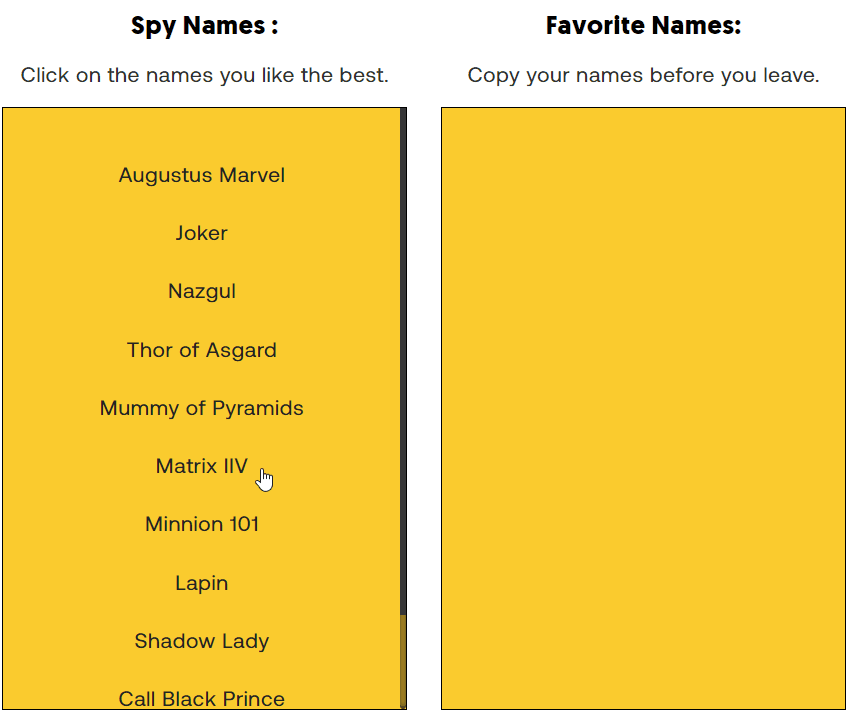 You can also review all the spy names you've generated with the spy name generator in the list given below. Upon clicking on any name, it will be moved to the favorite's list which is right beside it.
Spying is an art whether it is in movies or in any game. We wish you the very best of hard work & luck as both play important roles in the life of secrecy. Please let us know your favorite name in the comment box. If you have any spy name idea, it's more than welcome.
Leave a comment below with your favorite spy names in the comments below.