Ship Name Generator is here to make sure your ship name has the blended mix of creativity & uniqueness that magnetize everyone's attention. Start generating names for ship & let the sailing start!
Best Ship Name Generator:
Ship Names :
Click on the names you like the best.
Favorite Names:
Copy your names before you leave.
Thematic Ship Name Ideas:
Want to make your ship name stand out among the crowd?
Well, what can be better than choosing a name based on some special theme?
Thematic names get more attention because there is no need to add some other tastes to your name to popularize them.
You can name them after some big screen or sports stars, famous places, and historic events in history or wonder of the world!
Below are some ideas you can get inspiration from:
Mission Sail Possible:
Remember the blockbuster Mission Impossible featuring Tom Cruise? Well, here's the name for your Mission Naming!
Bean's Escapade:
Well, who can forget the legend of Mr. Bean & his 'mostly unsuccessfully successful' shipping adventures? We bet you'll get a rush with this legend's fans!
Wet Iron Throne :
Game of Thrones universe is big, so is its fandom! Who wouldn't want to be on the Iron Throne?
Titanic's Sister:
Does the Titanic family exist? Not, until you name it!
MI6 – My Independence 6 :
Not only a passenger. Be an agent for infamous Mission Impossible intelligence services MI6!
Shawn The Shipper:
The Ship version of infamous kids series Shawn the Sheep. Hey kiddos, let's sail with Shawn, the Sheep!
Best Ship Name Ideas: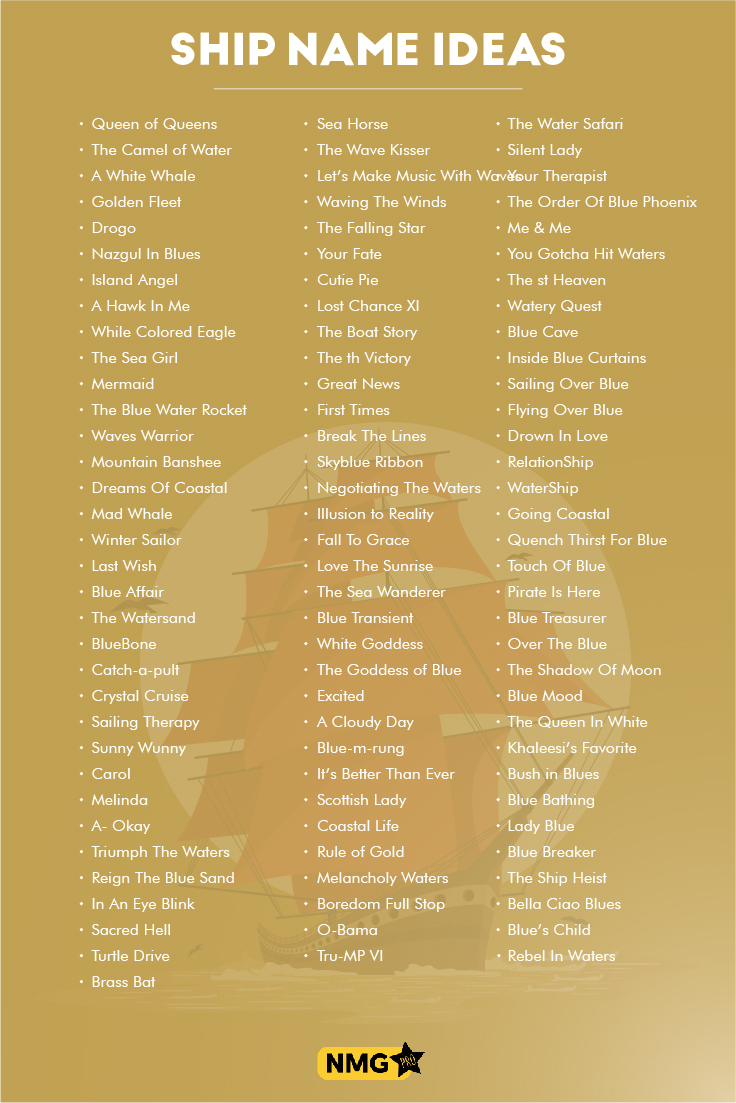 Queen of Queens
The Camel of Water
A White Whale
Golden Fleet
Drogo
Nazgul In Blues
Island Angel
A Hawk In Me
While Colored Eagle
The Sea Girl
Mermaid 11
The Blue Water Rocket
Waves Warrior
Mountain Banshee
Dreams Of Coastal
Mad Whale
Winter Sailor
Last Wish
Blue Affair
The Watersand
Your Fate
Cutie Pie
Lost Chance XI
The Boat Story
The 20th Victory
Great News
First Times
Break The Lines
Skyblue Ribbon
Negotiating The Waters
Illusion to Reality
Fall To Grace
Love The Sunrise
The Sea Wanderer
Blue Transient
White Goddess
The Goddess of Blue
Excited
A Cloudy Day
Blue-m-rung
It's Better Than Ever
Scottish Lady
Coastal Life
Rule of Gold
Melancholy Waters
Boredom Full Stop
O-Bama
Tru-MP VI
The Water Safari
Silent Lady
Your Therapist
The Order Of Blue Phoenix
Me & Me
You Gotcha Hit Waters
Lady Blue
Blue Breaker
The Ship Heist
Bella Ciao Blues
Blue's Child
Rebel In Waters
How to Use the Ship Name Generator:
Generating names for ship is super easy with the ship name generator. Here's how it works.

See that button on a small screen with a text bar? Just one click on that button and a unique name for the ship will be generated for you. The names are unlimited. You can keep generating names until you find one you were looking for.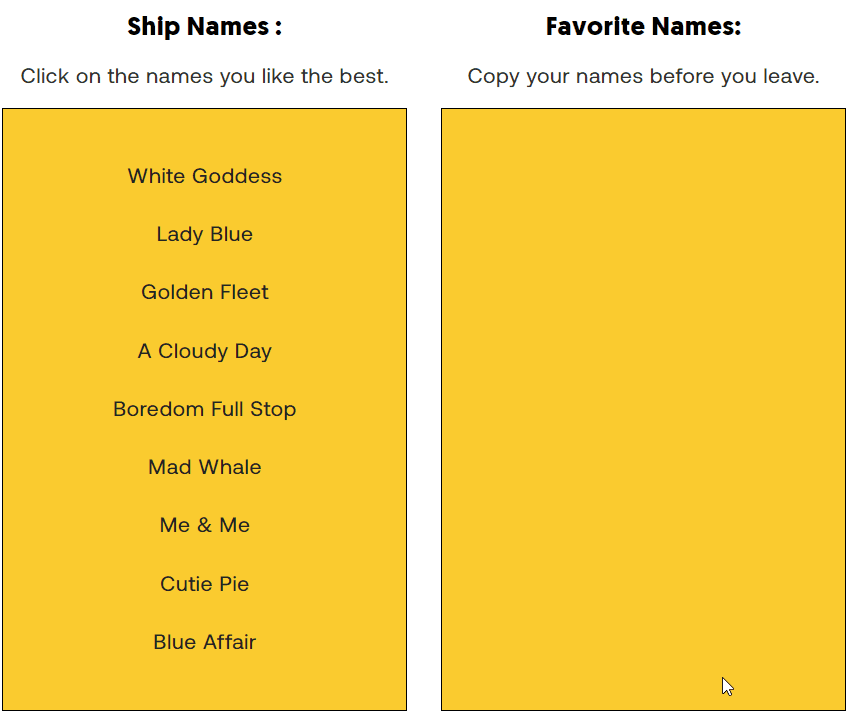 Tied between some names? Well, the ship name generator has a solution for that as well. It makes the list of recently generated names and lets you sort out the names which have the heartbeat of you. You can copy them & discuss it with your friends & family!
I hope you would've loved sailing in the universe of our ship names with the ship name generator! Leave a comment about your favorite boat names to help others find perfect shipping names.