Band name generator will help you generate some of the best band name ideas for you. From jazz band names to musician names, you'll get it all below.
Best Band Name Generator:
Band Names :
Click on the names you like the best.
Favorite Names:
Copy your names before you leave.
How to Choose an Amazing Band Name?
You are forming a band, dreaming of setting the parties on fire, fancying about rocking big stages but missing amazing band name? It should be a tensing moment for you until now! Band Name Generator has it all you are aspiring for!
Naming a band is bothersome. Music is your passion, not the philosophy behind naming! Band Name Generator feels the aching labor & is here to create some rocking names for your band!
Setting all up for your band but not getting a name or not meeting mutual agreement on the chosen name is unbearable frustration. It needs some patience & determination to come up with a name which is perfect for your band as well as on which all your bandmates agree.
While its time & energy-eating process, we have formulated some steps through which you can come up with a band name easily.
Read our guide below which will help you in curating some band name ideas on your own.
Define Your Music Field First:
It's really encouraging if you have gotten like minded band mates but it's not necessary at the same time that all members also have the same taste for music. Some of you may love pop & classical & some of the others may prefer rock music.
This difference could cause not only hurdles in the sound selection of your band but in the naming of your band as well.
So, It's important that you first set the tune of your band & then go on other tasks. Profusely rehearsing music together can help you all have a feel for the sort of music that you want to play as a band. Once you set your sound identity, you must set your targeted audience to get your band rolling.
When you get it all done, you can collectively brainstorm name ideas for your band.
Try One Word Names:
One word names have the ready-made advantage of easy to remember & catchy & punchy. Some of the greatest bands i.e. Queen, Aerosmith, Eagles have a single word name that's catchy & perfectly defines their music identity as well.
Trying some of the nouns or adjectives can get you a perfect name effortlessly.
But single word names are a bit risky to choose & most of them are found already taken by other bands. It's thwarting to finally come up with a name only to find it already owned by another band.
But here is the solution; you can add Articles like 'The' or 'A' to make a perfect short name for your band. How about a name like The Musicians? Or A Soul?
Try Adding your Birthplace to the Name:
The easiest way to name your band? Make your roots your band name!
Think of the town you hail from, or the famous streets or any other landmark from your town & add any other appropriate name you like the most.
If not hometown, you can simply make your practicing location your band name! It needs no extra effort. Just gather your bandmates around & start brainstorming some names.
Try Not to get Weird:
Going through thesaurus & try adding some flabbergasting words to your names or, thinking of adding some foreign names may sound good addition but the fact is; they aren't much practically!
You won't want your band to sound weird. Try to use local & easy-to-get words with whom the local audience can relate to.
Best Band Name Ideas: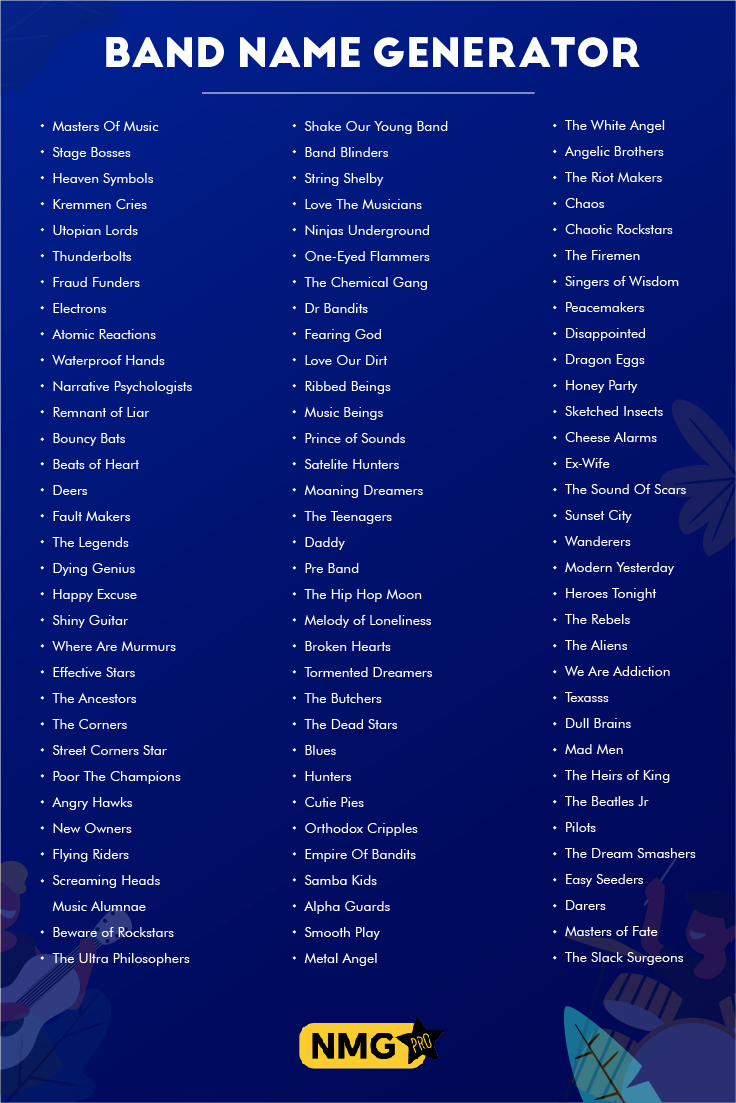 Music is a diverse field & has manifold effects on human nature. Band names don't vary much from music qualities as well!
Check out our Band Name Creator's Best Band Name Ideas for inspiration below:
Masters Of Music
Stage Bosses
Heaven Symbols
Kremmen Cries
Utopian Lords
Thunderbolts
Fraud Funders
Electrons
Atomic Reactions
Waterproof Hands
Narrative Psychologists
Remnant of Liar
Bouncy Bats
Beats of Heart
Deers
Fault Makers
The Legends
Dying Genius
Happy Excuse
Shiny Guitar
Where Are Murmurs
Effective Stars
The Ancestors
The Corners
Street Corners Star
Poor The Champions
Angry Hawks
New Owners
Flying Riders
Screaming Heads
Music Alumnae
Beware of Rockstars
The Ultra Philosophers
The Slack Surgeons
Kernel 69
Shake Our Young Band
Band Blinders
String Shelby
Love The Musicians
Ninjas Underground
One-Eyed Flammers
The Chemical Gang
Bandits
Fearing God
Love Our Dirt
Ribbed Beings
Music Beings
Prince of Sounds
Satelite Hunters
Moaning Dreamers
The Teenagers
Daddy
Pre Band
The Hip Hop Moon
Melody of Loneliness
Broken Hearts
Tormented Dreamers
The Butchers
The Dead Stars
Blues
Hunters
Cutie Pies
Orthodox Cripples
Empire Of Bandits
Samba Kids
Alpha Guards
Smooth Play
Metal Angel
The White Angel
Angelic Brothers
The Riot Makers
Chaos
Chaotic Rockstars
The Firemen
Singers of Wisdom
Peacemakers
Disappointed 009
Dragon Eggs
Honey Party
Sketched Insects
Cheese Alarms
Ex-Wife
The Sound Of Scars
Sunset City
Wanderers
Modern Yesterday
Heroes Tonight
The Rebels
The Aliens
We Are Addiction
Texasss
Dull Brains
Mad Men
The Heirs of King
The Beatles Jr.
Pilots
The Dream Smashers
Easy Seeders
Darers
Masters of Fate
How to Use the Band Name Generator:
Generating a cool band name with the band name generator is super easy. Here's how the band name generator works.

You'll be shown an empty screen and a button named 'generate band names'. On each click, a unique band name will be generated and shown to you on the screen. You can generate as many band names as you want.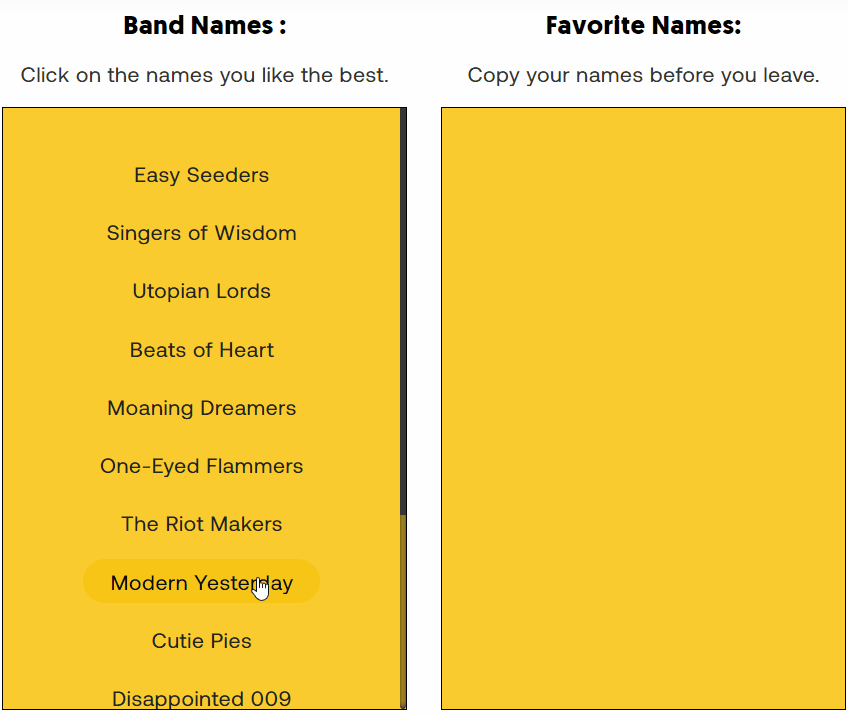 You can also review all the band names generated with the band name generator. Upon scrolling, you'll be shown two lists. The first list will contain all the band names you've generated. Whereas you can sort your favorite band names on the other list.