Beauty salon name generator will help you generate some of the best beauty salon names. Also, find out some unique beauty salon names in the beauty salon names list and beauty salons with best names.
Best Beauty Salon Name Generator:
Beauty Salon Names :
Click on the names you like the best.
Favorite Names:
Copy your names before you leave.
Starting a beauty salon is a perfect idea. What can be a great service than spreading the beauty in the world? But the most exciting part of starting a salon is choosing its name. Beauty Salon Name Generator is here to make your excitement hunt for salon name more exciting. Welcome to the home of unique beauty salon names!
You may also like: Beuty Blog Name Generator
How to Use the Beauty Salon Name Generator?
Take a paper & a pen, have your friends or family around & prepare some special food for a party because, we bet, you are not going 'name-less' from here!
Beauty Salon Name Generator is an exceptionally easy to use tool that you'll fall in love with its name generating process. You would have used many generators but this, you'll find, best among all!

To generate a catchy beauty salon name, simply go to the generator screen & press the button "Generate Beauty Salon Name"
After you hit it, a name will float up on the screen. If the name is good enough to catch your senses, just go for it. But if not, you can go on clicking the button until you don't kind the name you want! There is no stopping of creative beauty salon names on this generator!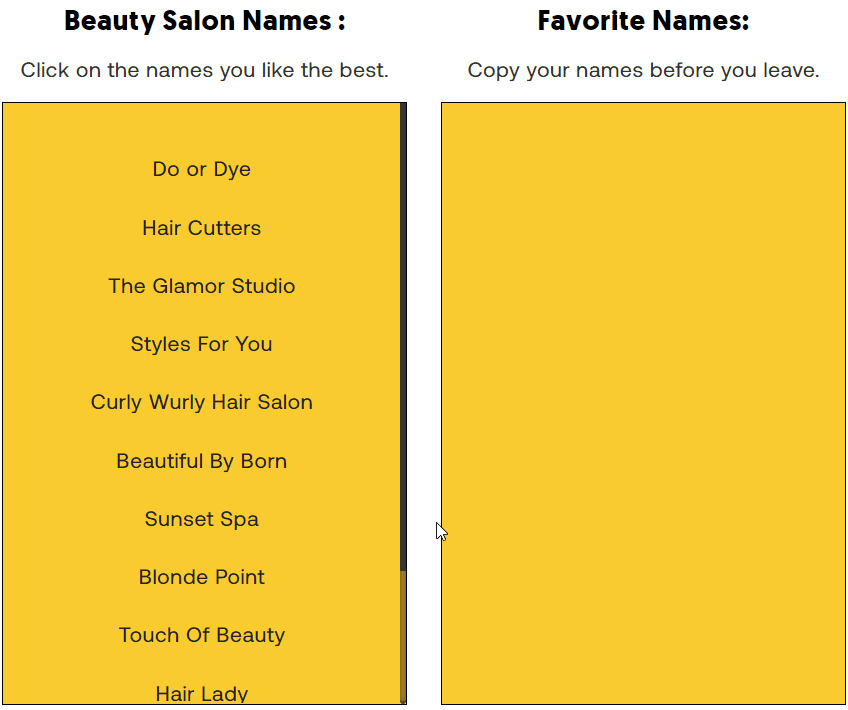 The generator also creates a list of generated names for your easiness to choose the names you like the most afterward.
Tips on How to Choose a Catchy Beauty Salon Name?
The best salon name ideas are nowhere but in our minds. They are always lurking around the flow of our thoughts. You may have discussed it with your friends or family at some point.
We just miss grabbing the nomadic ideas. But some tips always help. These are a few tips to help you brainstorm some creative ideas for naming your beauty salon.
What are you About:
Business names, not only beauty salon names, sketches an automated image in your customers' minds. They draft a very first impression. For instance, If you name it Eden's Beauty & Spa, customers are going to picture some comfortable & peaceful spa environment.
Think about what's the unique thing in your salon that makes you stand out. Try to reflect that in your beauty salon name.
Look For Your Competitors:
Check out what names are other beauty salons are using in your town & how their name is helping them attract customers. This will give you an idea about what names are already existing so you won't end up having the same name. Simultaneously, you could be able to see what name attracts the customer the most so that you could use it in your name.
We suggest you Google the name & check if it is available on the internet world or not.
Be Unique:
Following the last point, it is important for you to choose a name that is unique. By unique means, it shouldn't be inspired by other beauty salon names.
For instance, there is a bulk of beauty salons that include keywords like Beauty Box, Beauty, Glow, etc. Including a keyword from those would just make it 'another addition in the herd'.
This doesn't make you unique. Your name needs to be unique so that when customers hear the name, they say "Let's try this one. This sounds good!"
Be Simple, Be Realistic:
You might try to be clever & choose some words that sound interesting to you but keep in mind that you have to choose a name that will attract customers, not just you!
In your attempt to win a race, you can roll into a bog. So there is no need to do some heavy brainstorming. Just be simple. Choose simple words that reflect the true essence of your beauty salon. Doesn't matter if you have to choose the name Beauty Simplified. Just be simple, be realistic!
Brand Yourself:
Hey! You know what? There is no one like you in the town. So why don't you just brand yourself?
It's the most common practice among businesses. There is a long list of beauty salons that are named after their owners & founders. Branding yourself has a lot of advantages; it makes you stand out among others, it saves a lot of time & energy & it makes you unique.
Use Beauty Salon Name Generator:
Here's the bonus tip for you, If you are tired of trying every way & haven't got any name, Beauty salon name generator is a perfect pick for you. It gets you classy beauty salon name ideas in just a few clicks!
Best Beauty Salon Names:
Out of many popular beauty salons, here are some of the best ones with the most spectacular names:
Situation somewhere in the Maldives, Louise Galvin is a perfect example of how branding yourself can make your beauty salon extraordinary.

Louise Galvin is a passionate beautician who is the founder of this brand & also currently runs & owns this salon.

Another thing that makes this salon unique is its polished wooden floors & fully reclining chairs. Louise Galvin provides different hair & skin treatment in their salon.

Based in the center of Phoenix's Downtown, The Roose & Spa offers a wide range of services including hair, nail, facial, massage & head-to-toe beauty services. The staff at The Roose & Spa is exceptionally humble & experienced & it's because of their expertise that they were voted Best of the Valley by Phoenix Magazine in 2012.

The name of 'Muse Salon' is inspired by their environment. The dim lightings, polite staff, pleasing fragrance, & best makeup & hairstyling treatments make their Salon a perfect one. They came into the business in 2005 & since then, they have done a great job in providing the best beauty services. Micah Yarbrough Magee is the founder & director of Muse Salon.
Salon Name Ideas List – 100 Stylish Names for Beauty Salon:
Neo Look
Your Salon
Curly Wurly Hair Salon
Discover Beauty
Hair Are Rare
No To Skin Ailments
Salon Masters
Refreshing Beauty
Makeovers
Hair Solutions
Cute Cuts Salon & Spa
Set My Hair
Hear Hair
Your Fabulous Looks
Stylish Salon
Bubble Better
Glamour For You
Beautiful By Born
Hair Repair Point
Love Yourself
Hair Here
Wash The Pimps
Sunrise Salon
Care For Hair
Best Cuts Salon
Modern Kuts
Renew Beauty
Babe Salon
The Divine Looks
Beautiful Make up
Natural Beauty Point
Loom At You
King Kuts
The Barbie Boutique
Luxury Life
Fine & Shine
Beauty Land
Black Hair
Rainbow Beauty
The Barber
Hair Lady
Do or Dye
Hair She Comes
Hairway to Beauty
Love My Hair
Vodka Shot Salon
Let's Lift You
Angelic Touch
Marry Hair
Crowned With Best Hair
The Beauty Kingdom
The Second Combing
Hair Force
It's The Cut
Touch Of Beauty
Parlor of Pretty
Under The Hair
In The Shadow Of Venus
Venus The Beauty Goddess
Dreams Cut
Cutting & Loving
Cutting Art
The Hair Park
Hip Hop Styles
Styles For You
Hair Now Hair Then
We Hair
Set Wet
The Glamor Studio
The Cut Beyond Beauty
Red Carpet Beauty
Beautified!
Sunset Spa
Hair Pot
Blonde Point
We Love Your Hair
Glow Day & Night
Beautiful Salon
Beauty & Beast
Sweet & Smart
Curly Girl
Cuts For You
Hair Layer
Mirror The Beauty
The Slayer of Hair
Hair Cutters
Beauty Is Everywhere
The Lord of the Beauty
The Beauty King
Game of Makeover
The Glamor Tower
Beauty Infinite
The Makeover Point
Nail Cutters
T&T – Tips & Toes
Painting Nails
Cuts Crew
Master Barber
Zig Zag Layers
Your Colorist
You may also like: Makeup Store Name Generator
Everyone should look beautiful because of beauty matters! Whether it's external or internal beauty of anyone, both go parallel. We wish you the best of luck for a classy name & beauty salon.
Leave a comment below with your favorite beauty salon name ideas generated with the beauty salon name generator. Wishing you all the luck for the success of your beauty salon.