Mom Blog Name Generator will help you take your first step into mommy blogging by assisting you in choosing a creative mom blog name ideas. It's effortless to use. Few clicks & there you are with some of the best mom blog names.
Mommy blogging is one of the top industries that are growing day by day. It's really great to see you are also taking interest in helping mommies around the world about mama-things! So let mom blog name generator help you find a perfect name.
Unique Mom Blog Name Generator:
Mom Blog Names :
Click on the names you like the best.
Favorite Names:
Copy your names before you leave.
How to Come Up with Good Mom Blog Names?
Mom blogs are getting popularity among millennial moms at a rapid pace. Hence, mom blogs are also increasing in numbers day by day.
It is estimated that there are around 4.4 million mom blogs present on the internet!
So, before starting a mom blog, do some brainstorming about what makes you stand out among the bulk of mom blogs.
Mom Blog Names play an important role in making you stand out from others as they create a picture in a visitor's mind about your blog at the very first glance. A good mom blog name can distinct you from others & make you stand at top of other mommy blogs.
Here's how you can come up with a good mom blog names:
Write about Things You Love and Blog about on a Paper:
Writing about yourself is like creating a mirror in which you can see yourself more clearly.
So, writing about the things you love and want to blog about can be so useful in helping you get the hands-on catchy mom blog name.
You can write about yourself, the things you love or hate the most.
Write about your experiences being a mom or parenting your children. Write it with honesty without ifs & buts & without judging yourself.
Once you finish writing, hunt for your blog name into your own write up like a predator hunts for prey in the jungle. It'll be lying somewhere there!
Research about issues Modern Mama might be facing:
Doing research can help you in choosing a good mom blog name.
Generally, millennial moms look for blogs about the issues with whom they can relate. After all, we all need someone who can feel us!
While reading about the issues, make sure you are taking notes and writing down important points. This will help you in understanding today's mama more deeply & also in deciding the name & niche of your blog.
It'll also make you stand out among others as you'll come up as a knowledgeable person & will be targeting the problems mamas are facing nowadays.
Talk about your Ideas with Friends & Family:
Well, if you are lucky enough to have supportive friends who can understand you very well, just sit around them & discuss your idea of mom blogging with them.
It may not bring you a cool mommy blog name but it'll surely help you in better understanding & clarifying your idea of starting a blog with is essential in naming your blog
Choosing Good Mom Blog Names with Mom Blog Name Generator:
After all your research & laborious work about sketching a name in your mind, here's how you can perfectly shape your mom blog name:
It Should be Relevant to your Mom Blog:
There are always boundaries that you should respect. Irrelevancy kills the interest so just try to keep your name not so irrelevant from your blog. The name should itself reflect the mommy part in it.
Easy to Get:
It is the quality of a likable name which can be spelled & pronounced very easily. Try to avoid confusing & complex words. Just keep your name as simple as you can and as lovely as mom's love is!
Choose an Ideal Length:
You don't have to drag your name to a length where it loses its beauty & also keeping it short can be problematic. You have to brainstorm for an ideal length for your mom's blog name.
Some Good Mom Blog Name Ideas: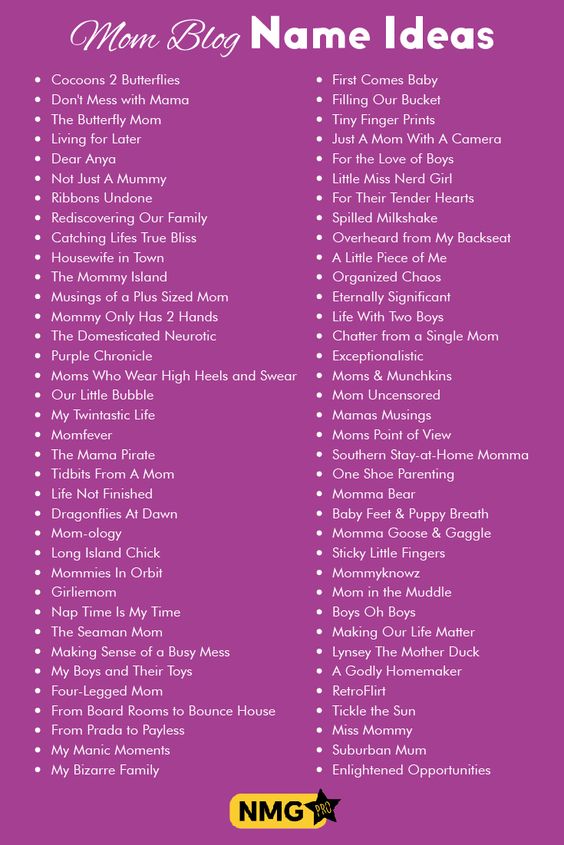 Here are some of the finest mom blog name ideas generated with the mom blog name generator:
Momfever
Tiny Finger Prints
Life With Two Boys
Nap Time Is My Time
Tidbits From A Mom
Miss Mommy
Life Not Finished
Mommy Only Has 2 Hands
Filling Our Bucket
From Board Rooms to Bounce House
Spilled Milkshake
The Mama Pirate
Housewife in Town
Moms Point of View
For the Love of Boys
Enlightened Opportunities
A Little Piece of Me
Living for Later
Not Just A Mummy
Our Little Bubble
Four-Legged Mom
A Godly Homemaker
Just A Mom With A Camera
Girliemom
Mamas Musings
Organized Chaos
Moms Who Wear High Heels and Swear
Cocoons 2 Butterflies
The Butterfly Mom
One Shoe Parenting
Purple Chronicle
From Prada to Payless
Little Miss Nerd Girl
Lynsey The Mother Duck
Ribbons Undone
Sticky Little Fingers
Baby Feet & Puppy Breath
Catching Lifes True Bliss
Tickle the Sun
RetroFlirt
Momma Bear
Making Sense of a Busy Mess
Overheard from My Backseat
Musings of a Plus Sized Mom
Eternally Significant
Dear Anya
Moms & Munchkins
Making Our Life Matter
Mom-ology
My Bizarre Family
Mom in the Muddle
My Twintastic Life
Long Island Chick
The Domesticated Neurotic
Southern Stay-at-Home Momma
My Manic Moments
The Seaman Mom
Mommies In Orbit
Rediscovering Our Family
First Comes Baby
For Their Tender Hearts
Suburban Mum
Don't Mess with Mama
Dragonflies At Dawn
Mom Uncensored
My Boys and Their Toys
Exceptionalistic
Boys Oh Boys
The Mommy Island
Momma Goose & Gaggle
Chatter from a Single Mom
Mommyknowz
How to Use Mom Blog Name Generator?
Generating names for your blog, either it's a fashion blog, a food blog or a mom blog is super easy now. Here's how you can use Name Generator Pro to generate some good blog names for your mom blog:

Click on the button 'Generate Mom Blog Names' and upon each click, you'll be shown a unique mom blog name that you can choose from.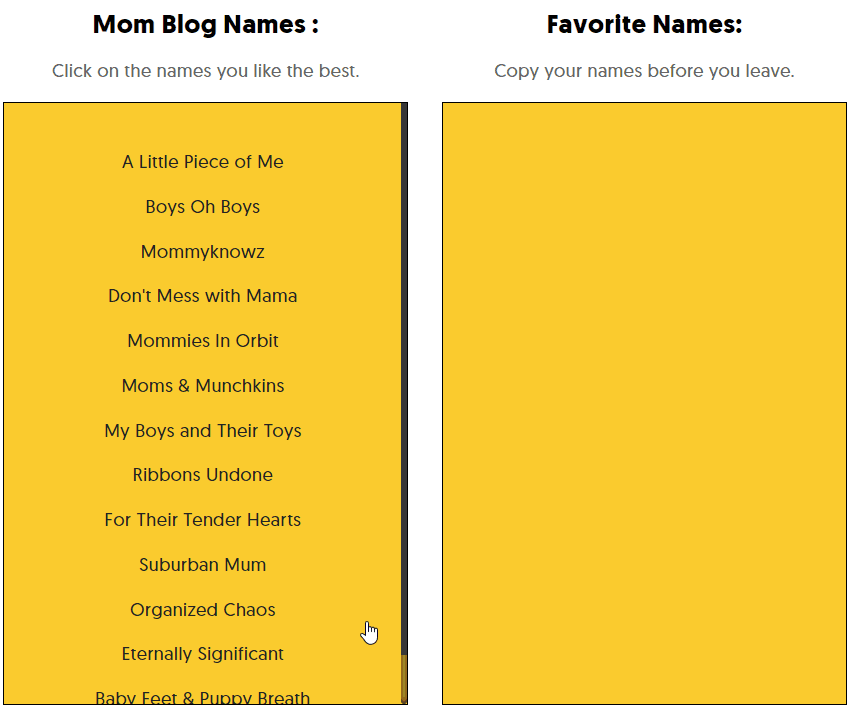 If anytime you want to review the names you've generated with the mom blog name generator, take a look at the list given below where all the mom blog names are stored. You can also store the best names in the favorites list given right beside it
Popular Mom Blog Names:
One great way to come up with some trendy mom blog name is to get inspired by some of thebest mom blogs of 2019. Here are some of the popular blog names: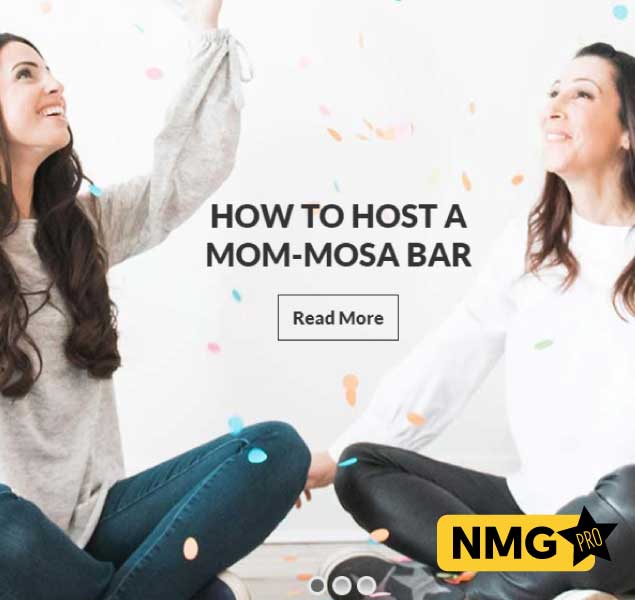 Jenna and Lisa, the founders of the Savvy Sassy Moms came up with this amazing name for their Mom blog. This mom blog name helped them caught the eye of their audience and build a huge fan following.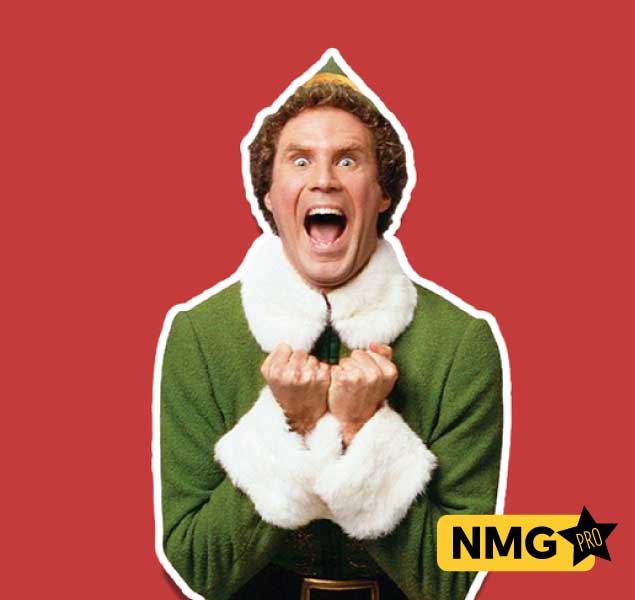 A super-relevant name for the majority of the audience who's going to read their blog. It's really important to keep the relevancy factor when naming your mom blog. With the name, Stay at Home Mum, the blog owner is really making sense to all the moms who stay at home.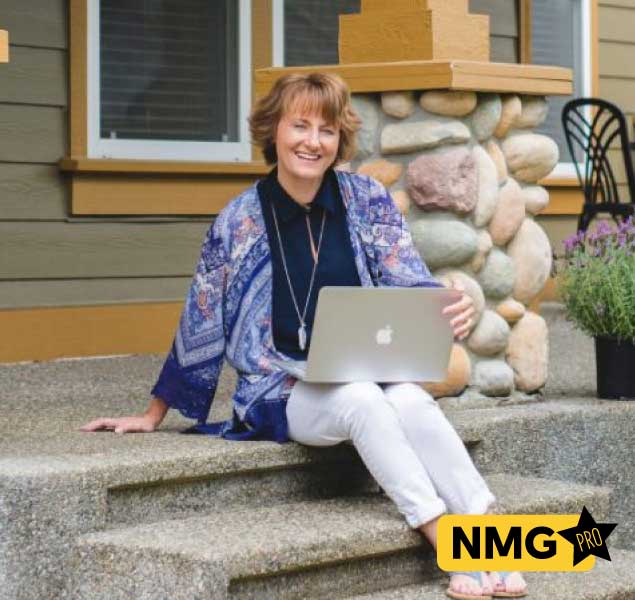 Trisha, the owner of 24/7 Moms has nailed the naming of her mom blog. Keeping the idea of 'Moms work 24/7', Trisha decided to implement this into her Mom blog. She also has a really nice that is worth your time.
Time to Start Generating Names for Your Mom Blog:
By now, you've got enough inspiration, tips, and ideas for naming your mom blog. Use the mom blog name generator to generate creative mom blog ideas. Leave a comment below with some of your favorite Mom blog names to help other Mammas on the web around.