Rap Name Generator has lots of gripping names for rap of every kind. Dive down & start generating!
Rap Names :
Click on the names you like the best.
Favorite Names:
Copy your names before you leave.
Best Rap Name Ideas: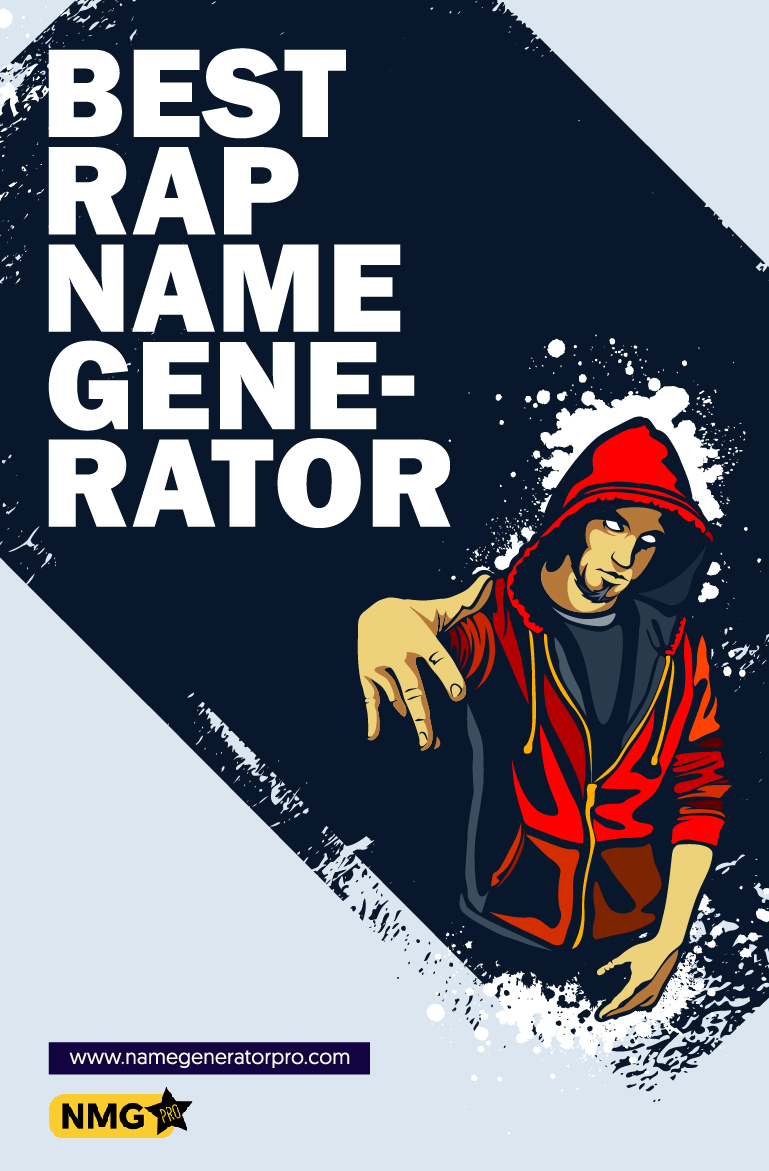 Interesting names make things more riveting. Your rap names needn't be trendy anymore. Make them catchy with our Rap Name Generator.
I Weep Not
Let's Drum it Boy
Rude Rude I am
Mail- Gee
Lmfao Me
DJ is Gone
Little Penny
Feelings In Dungeons
Volcano Inside Me
Sale Is No More Available
Big 5
Ugly Thrones
Dragon Wings
Crappy 09
Broken Screen
Cleaner
Bath In Blood
The Taste Of You
Visual Scars
Virtual Unreality
Artificial Love These Days
You Own Me
I'm High
Your Name Is Healing Me
Red Tears
MR GRU
Jesus Christ Said Do Love
AK009
Out Of The World
Dropped Here
Caged In The World
Spokenly Unspoken
Words Left Unsaid
Beat'em Up
Malybutt
Jim Ping Pong
Kings Who Are Gone
Sporadic Heart Beats
Fat America
Lil Lil Lillies
Crap You Are
Machine Gun
I Made Fans Hating You
World In My Pinch
My Time Shall Come
Sun Will Rise
Dawn Is The Time
Don't Leave Me
When You Will Stop Beating, My Heart?
I Quit
No More Pain
This Ain't A Game
Me After You
You 'pinned Fast
Joker Is Badass
You Can Win
My Soul May Runaway
Broken Hearts
A Sweet Pain
Parting Ways
Beautiful Goodbye
How to Choose a Good Rap Name?
Rap name tells the story of your inner world. It should represent you as you are. But sometimes it can be difficult to pick the best rap name for yourself.
Here is how you can pick a rap name that attracts a larger audience. Follow the steps properly & you'll have your name already till you reach the final step!
Try To Be Simple
You can invest days & brainstorm different rap name ideas but in the end, the only thing that matters is what you do.
We recommend you to save yourself time & energy & choose a simple name for your rap & focus more on lyrics & music.
There are many advantages to simple names without any disadvantage. They are easy to remember & easy to understand. They can work a great deal for you if you do a good work along with it as well.
Be Yourself At Naming The Rap
There is no one who can understand you better than yourself. So just be yourself at naming the rap.
Everyone's feelings, emotions & approach to certain things are different. Your thoughts are special which deserves a special name originally created by you.
So never copy other rappers & be yourself at naming your rap. Let the world know what you are about!
Use Alliteration
There are some poems from our early school life that keep drumming in our minds often
Do you know why? Because of the words used in the poems rhyme with each other
Try to use the alliteration technique in your rap names as well. This will make your name catchy & unique & easy to feed in the memory banks of mind.
Make Yourself Searchable
Once the listeners start loving your rap, they'll try to hit Google to play it & download it into their phone
So if you want them to find your rap, your name needs to be easy to spell & also search-engine friendly. Also look for the availability of the name by searching it on Google, iTunes, Spotify or any other music platforms
How To Come Up With A Good Rapper's name?
Your rapper name tells a lot. It reflects your personality, the style you prefer & the story behind you. Choosing a best-fitted rapper name is a bit challenging.
You have to be creative here because whatever you choose, will be with you on every big & small stage. A creative rapper name could magnetize a lot of attention towards you as well
Pick A Name That Best Suits Your Style
There is a good number of rap styles out there & it is obvious that you are not going to sing all those. It'll be a headache for you because the dimensions for all styles are different & getting a good grip on each will be a hectic task.
So go with the style that you love the most to sing. It can be Alternative Rap, Avant-Garde, Bounce, Chap Hop, Country Rap or any other.
But you'll have to pick a name for yourself that best represents the type of style you are going with. Selecting a rocking name wouldn't work out a good deal if your style is Hip Hop. So choose a name that can be easily linked with your rap style.
Introduce Yourself
If you can't find any name & still confused with many, well, you have you!
You can be creative with your name & take the first letter of your name & twist it into something different. Just like Eminem who uses first initials of his original name, Marshall Mathers.
Another example is Lil Wayne whose real name is Dwayne Michael Carter. Just take out a 'D' & there's a name for you!
Bring Nickname Into Action
We all have funny, cute or lovely nicknames that are jabbed with us from our childhood. Using your nickname as your rapper name can also be a great idea. It saves you time & mental labor by brainstorming names. It can also make you stand out among others.
But remember one thing; whatever you choose, the thing that matters is how good you do at your work!
Choosing a Rap Name with Rap Name Generator:
You want to compose rap lyrics but you are unable to find a suitable name for your rap. Well, you don't have to worry about it anymore!
Generating a rap name was never easier than before

Simply click 'Generate Best Rap Name' & a catchy rap name generator will appear. The rest lies upon you. If you find the name you are looking for, go with it! If not, keep clicking until you find one. That's how you can find a rap name very fast without wasting any time.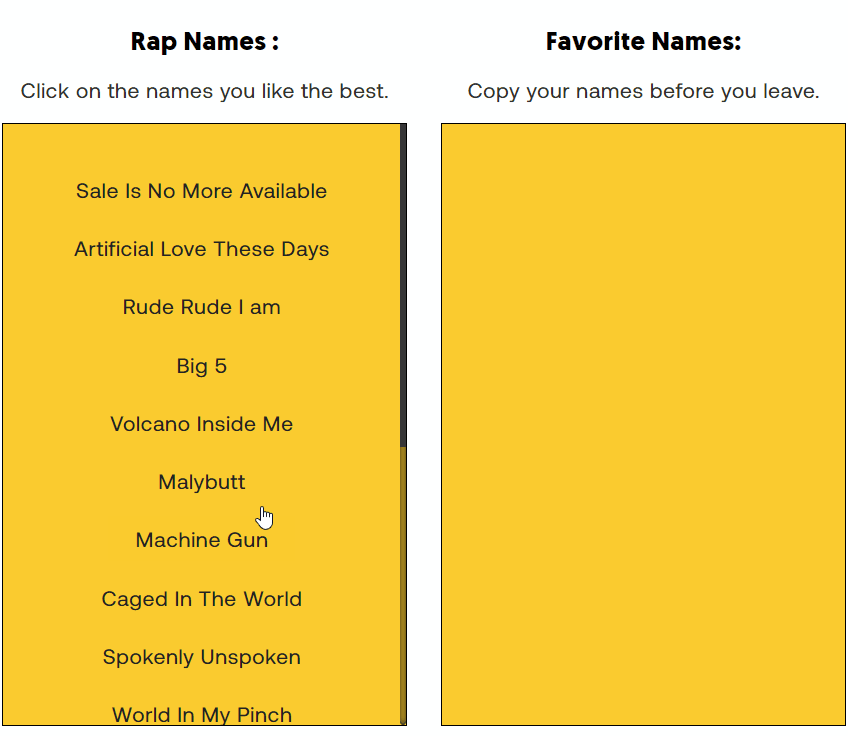 You can also review all the names you've generated with the rap name generator. Scroll down and you'll see two lists.
The first one will contain all the names you've generated. And the other one is to create your own list of favorite names.
I hope you found this useful & got the best rap name for yourself.
If you have found a unique rap name for yourself, help your friends to end their laborious work by leaving your rap name in the comments below.