Minecraft name generator will help you generate some of the coolest Minecraft name ideas with few clicks.
Check out some ideas, tips and how to use the name generator for Minecraft below.
Best Minecraft Name Generator:
Minecraft Names :
Click on the names you like the best.
Favorite Names:
Copy your names before you leave.
Best Minecraft Name Ideas: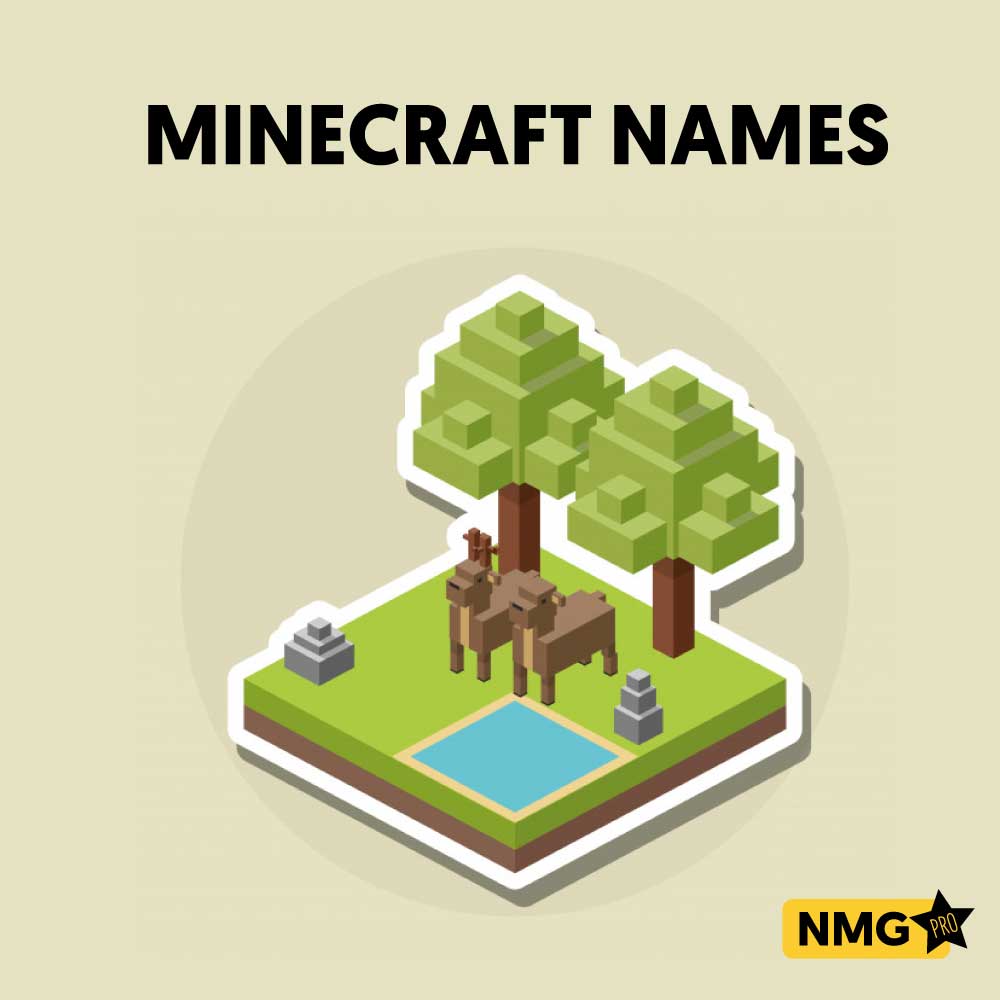 No wonder if you are a diehard fan of the world's top-selling game Minecraft. You are not alone. With 176 million copies sold, Minecraft still reigns the gaming world!
If you are so obsessed with this masterpiece & looking for some cool Minecraft names to name after your favorite things, Minecraft Name Generator is here to help you. Let us do the creative work for you in finding unique Minecraft names.
You have started playing Minecraft & found yourself a horse or dog that needs an awesome name but you can't have any idea or just don't want to do this laborious work?
Well, you just keep enjoying the game & let Minecraft Name Generator do this labor for you!
We have some creative, funny, amazing & cool names for your horses, dogs & other things. Read them below!
Funny Minecraft Horse Names:
Oldey Horsey
Not Very Horse Horsey
Don's Key
Dusty boy
Train wid 4 legs
Silly Boy
Neighslayer
Corse
Bear
Dat My Horse
Yo My Pumpkin
Jaaaaaaammeees Bondy
Bossterd
Boss Nerd
Chip Chop
Turtle
Evergreen
4 Leggy Angel
Butt Stallion
Lazy Leopard
Traditional Race Horse Names For Your Minecraft Horse:
Well, not everyone wants to be funny at naming especially when it is a beautiful horse. Here are some serious names for your Minecraft horse:
Battle General
Lieutenant Browny
White Angel
Leopard In Horse's Skin
Nomadic Bird
Barbarey
Cookie
It's Another
Veiling
Dark Knight
Racer
Shadow Sparks
Moonlight
Thunderstorm
Minecraft Dog Names:
Hunter
Butternut
Big Man
Max
Camel
Scooby
Nuke
Duce
Jack
Thunderbolt
Pepper
Ceito
Bella
Computer
Ricky
Meadow
Karl Barx
Kingsman
Sherlock
Zeus
Panda Minecraft Names
Chin Pong
Urusa
Diamond
B/W
Jede
Blacky
Bubble
Xin Xin
Jawa
Monster
Pearl
Big Boy
Snow Man
Nightangle
Professor Panda
Karate Kid
Hulk
Panda Boy
Cocomo
Molly
Random Minecraft Names
Plane
Arrow
Knukkle
Crabby
Zion
Dooper Sooper
Skyler
Dodge Ball
Bawyer
Huggy
Slow Man
Downy
Pluto
Aries
Blazing King
Titanic
Hot Packet
Twister
Potato
Caps Lock
The Ninja
Red Turtle
Pen Island
King MC
Red Head
Sad Frown
Sweeft
Happy Town
Vendi
Da Vinci
The Godfather
Blueberry
That Is My Name
Phoenix
King of Minecraft
Dragon
Ambeau
Raise
Havoc Warrior
Eris
Earth
Enderman Crafter
Farmer
Heart Hacker
Squid Donkey
Robber
Stealer
Eclipse
Galaxy
Juno
Harry Potter
Hercules
Achrid
Acrab
Alruba
Atik
Pigman
Ender
Gone South
Crystal
Dust
Rattlesnake
Monsterism
Craftism
Toshte
Rebius
Genius
Cactus
Soakes
Shelby
Hero
Villain
Time Bomb
Pen
Dancer
Furious Fighter
Mountain
Ulla
Umbrella
RIP
Rio
Marine
Twister
Gayle
Catfish
ABC
Twilight
Brown Bread
Furtile Land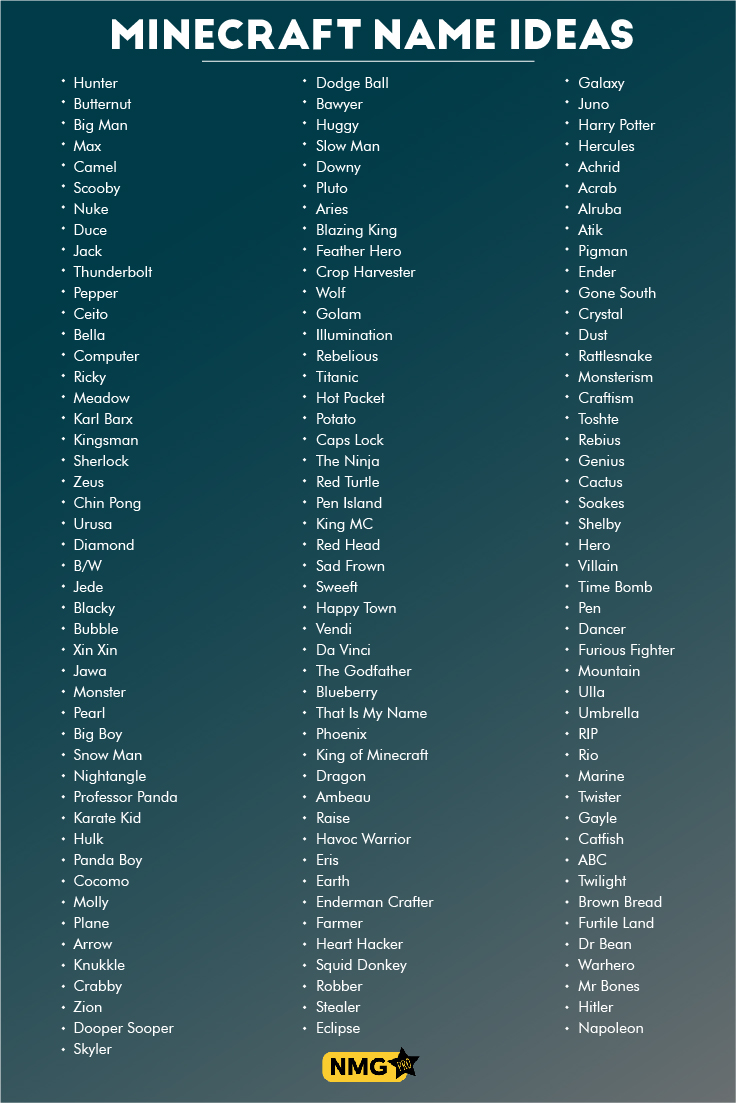 How to Use the Minecraft Name Generator:
Generating names with the Minecraft name generator is super easy. All you've to do is to take 1 or 2 steps. Here's how it works

You will be shown an empty field and a button named 'Generate Minecraft Names'. On each click, a unique name will be generated with the Minecraft name generator. You can generate as many names as you want.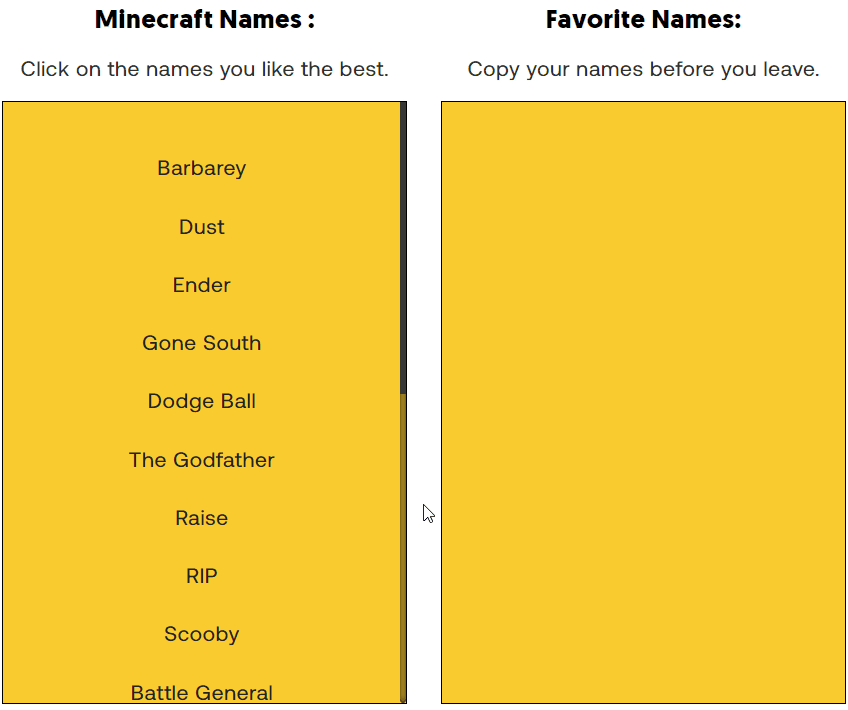 There is also a possibility of reviewing all the names you've generated with the Minecraft name generator.
Things become interesting with unique names. Hope this would have been a great help in finding the names you were looking for for your Minecraft. Go on & beautify your game with these names!