Hipster Restaurant Name Generator can help you find a unique hipster restaurant names. Dive down to get a name you want!
Opening a trendy restaurant business is an idea that can give you a great experience if you want to start your career in business. Hipster restaurant is cool, cheap, & easily accessible. But naming it can be a tedious task.
Best Hipster Restaurant Name Generator:
Hipster Restaurant Names :
Click on the names you like the best.
Favorite Names:
Copy your names before you leave.
How Hipster Restaurant's Name Should be?
Well, hipster restaurant means low budget items, exposed brickwork, no luxurious interface & all those things that we love in simplicity!
It's a bonus point for those who hate wasting lots of money on 5-star restaurants, hotels & luxurious cafes. If you love being a simple & customer-friendly, hipster restaurant is for you!
Naming it doesn't require bringing family & friends into it. You can simply sit & decide for a quick name for a quirky hipster restaurant.
Here are our insights on how a hipster restaurant name should be?
It Should Be A Simplistic Name
You don't have to jump into any dictionary to look for synonyms, antonyms, meanings or definitions of flabbergasting words.
Hipster Restaurants are popular for their simplicity. Their names should reflect the same tract. Choose a simple name that has a little foody taste as well.
You Can Brand Yourself
How about Joe's Pub? OR Kane's Kafe?
You have always yourself with you. Naming your hipster restaurant would be the best idea. It's simple, creative & can earn you a unique place in your community.
Name It After A Drink or Food
You can simply name it after your favorite drink or food. This tactic is rarely being used. All those looking for restaurant names are preferring high-class adjectives with confusing words.
You can simply choose a food or drink name & get yourself a logo & hang it outside your restaurant. Who doesn't love burgers? Glue it outside with a crispy name.
Best Hipster Restaurant Name Ideas: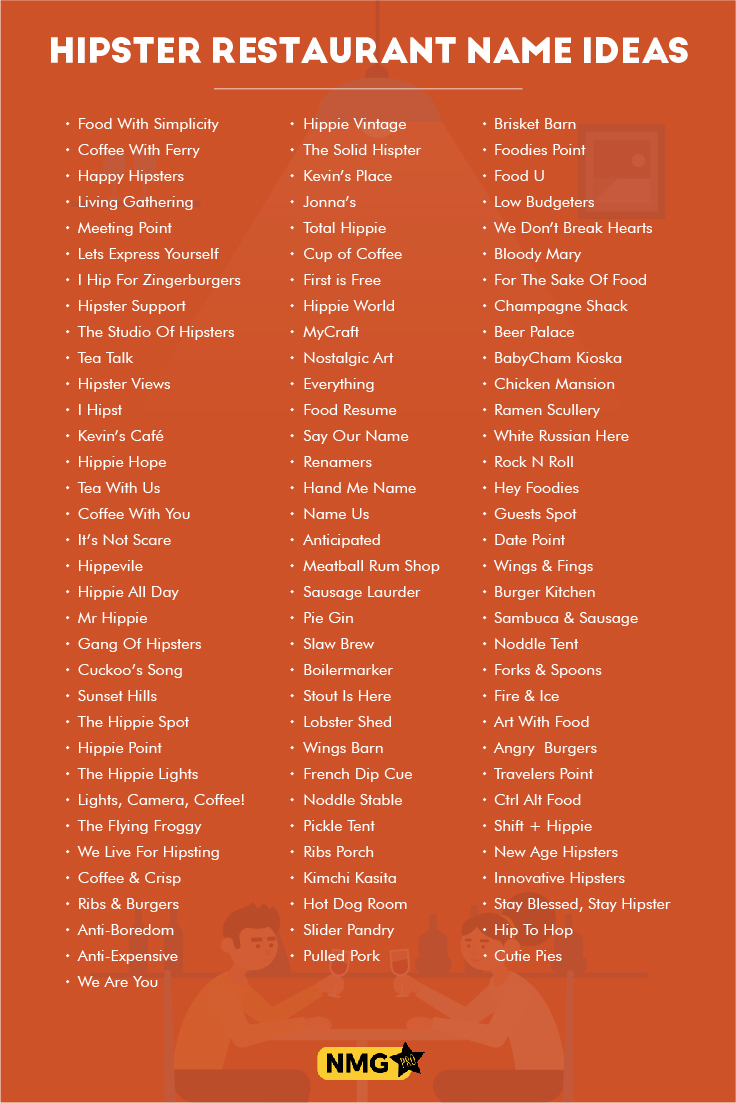 Food With Simplicity
Coffee With Ferry
Happy Hipsters
Living Gathering
Meeting Point
Lets Express Yourself
I Hip For Zingerburgers
Hipster Support
The Studio Of Hipsters
Tea Talk
Hipster Views
I Hipst
Kevin's Café
Hippie Hope
Tea With Us
Coffee With You
It's Not Scare
Hippevile
Hippie All Day
Hippie
Gang Of Hipsters
Cuckoo's Song
Sunset Hills
The Hippie Spot
Hippie Point
The Hippie Lights
Lights, Camera, Coffee!
The Flying Froggy
We Live For Hipsting
Coffee & Crisp
Ribs & Burgers
Anti-Boredom
Anti-Expensive
We Are You
Hippie Vintage
The Solid Hispter
Kevin's Place
Jonna's
Total Hippie
Cup of Coffee
First is Free
Hippie World
MyCraft
Nostalgic Art
Everything
Food Resume
Say Our Name
Renamers
Hand Me Name
Name Us
Anticipated
Meatball Rum Shop
Sausage Laurder
Pie Gin
Slaw Brew
Boilermarker
Stout Is Here
Lobster Shed
Wings Barn
French Dip Cue
Noddle Stable
Pickle Tent
Ribs Porch
Kimchi Kasita
Hot Dog Room
Slider Pandry
Pulled Pork
Brisket Barn
Foodies Point
Food 4U
Low Budgeters
We Don't Break Hearts
Bloody Mary
For The Sake Of Food
Champagne Shack
Beer Palace
BabyCham Kioska
Chicken Mansion
Ramen Scullery
White Russian Here
Rock N Roll
Hey Foodies
Guests Spot
Date Point
Wings & Fings
Burger Kitchen
Sambuca & Sausage
Noddle Tent
Forks & Spoons
Fire & Ice
Art With Food
Angry Burgers
Travelers Point
Ctrl Alt Food
Shift + Hippie
New Age Hipsters
Innovative Hipsters
Stay Blessed, Stay Hipster
Hip To Hop
Cutie Pies
How to Use the Hipster Restaurant Name Generator?
Using a hipster restaurant name generator is super easy. All you've to do is take one or two steps, and you're good to go. Here's how it works:

Simply click on the butto named 'Generate Hipster Restaurant Names' and you'll see a unique name appearing on your screen. You can generate as many hipster restaurant names as you want.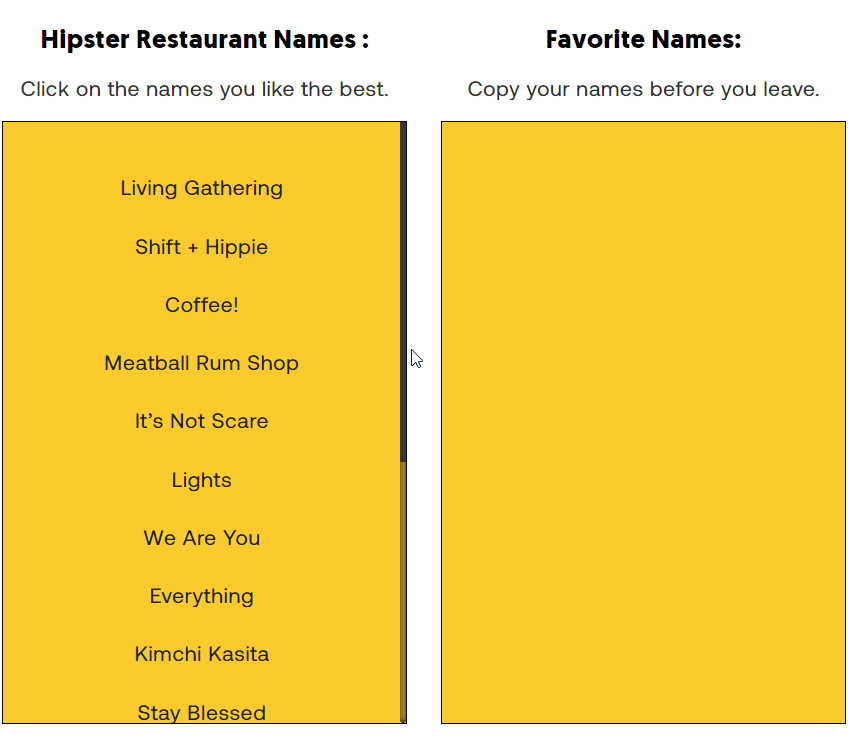 At any point, if you want to review the hipster restaurant names you've generated. Simply scroll down and you'll see two lists. All the names generated are stored in the first list whereas you make a favorite lists on the other one.
I bet you won't leave this page without an amazing hipster restaurant name. Hipster Restaurant Name Generator has all the laborious work for you.
Leave a comment below with your favorite hipster resturant name to help other restaurant owners. Wish you the best of luck with your hipster restaurant!