Looking for some good makeup store names ideas? Then the makeup store name generator can surely help you out.
Get tips and ideas for naming your makeup store, and start generating names for your cosmetic business from the makeup store name generator below:
Best Make Up Store Name Generator:
Makeup Store Names :
Click on the names you like the best.
Favorite Names:
Copy your names before you leave.
List of Top 100+ Makeup Store Names: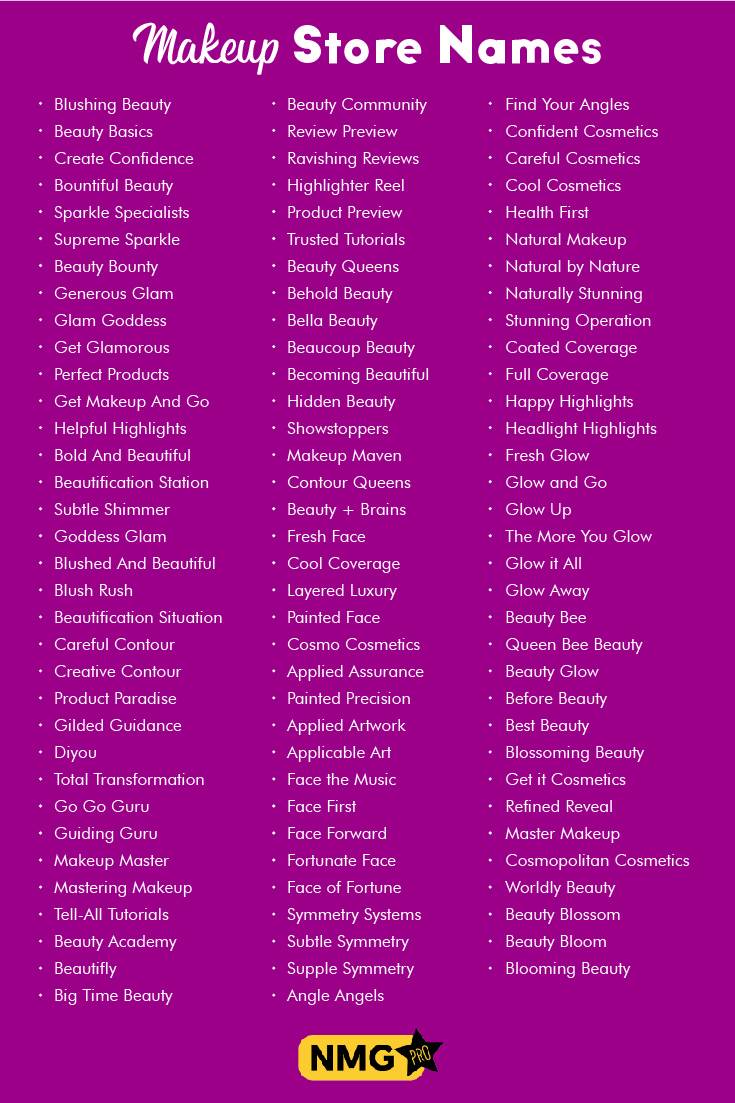 Makeup store name generator has thousands of makeup store name ideas curated by professionals. Choose a catchy name for your cosmetic store from the list given below:
Best makeup store names:
Blushing Beauty
Beauty Basics
Create Confidence
Bountiful Beauty
Sparkle Specialists
Supreme Sparkle
Beauty Bounty
Generous Glam
Glam Goddess
Get Glamorous
Perfect Products
Get Makeup And Go
Helpful Highlights
Bold And Beautiful
Beautification Station
Subtle Shimmer
Goddess Glam
Blushed And Beautiful
Blush Rush
Beautification Situation
Careful Contour
Creative Contour
Product Paradise
Gilded Guidance
Diyou
Total Transformation
Go Go Guru
Guiding Guru
Makeup Master
Mastering Makeup
Tell-All Tutorials
Beauty Academy
Beautifly
Big Time Beauty
Beauty Community
Review Preview
Ravishing Reviews
Highlighter Reel
Product Preview
Trusted Tutorials
Beauty Queens
Behold Beauty
Bella Beauty
Beaucoup Beauty
Becoming Beautiful
Hidden Beauty
Showstoppers
Makeup Maven
Contour Queens
Beauty + Brains
Fresh Face
Cool Coverage
Layered Luxury
Painted Face
Cosmo Cosmetics
Applied Assurance
Painted Precision
Applied Artwork
Applicable Art
Face the Music
Face First
Face Forward
Fortunate Face
Face of Fortune
Symmetry Systems
Subtle Symmetry
Supple Symmetry
Angle Angels
Find Your Angles
Confident Cosmetics
Careful Cosmetics
Cool Cosmetics
Health First
Natural Makeup
Natural by Nature
Naturally Stunning
Stunning Operation
Coated Coverage
Full Coverage
Happy Highlights
Headlight Highlights
Fresh Glow
Glow and Go
Glow Up
The More You Glow
Glow it All
Glow Away
Beauty Bee
Queen Bee Beauty
Beauty Glow
Before Beauty
Best Beauty
Blossoming Beauty
Get it Cosmetics
Refined Reveal
Master Makeup
Cosmopolitan Cosmetics
Worldly Beauty
Beauty Blossom
Beauty Bloom
Blooming Beauty
How to Come up with Makeup Store Name Ideas?
Starting a makeup store is an exciting job. So the name of your make up store should be exciting as well.
Naming any business whether it is fashion boutique, a clothing brand or a cosmetic store can be a hectic task.
But with proper planning, you can get it done, by yourself, completely free! You only have to take some time out of your busy period to brainstorm some names.
Here are some tips to come up with creative & catchy name ideas for a cosmetic store:
Use Acronyms:
Trying first names to abbreviate something is always a cool way to remember something. It can also make it catchy to attract customers.
Add Mash-Ups:
Mixing two or more words that means something to you & your makeup store inspiration can also be a great thing for you.
Make it a Little Descriptive:
Think of your makeup store, what is the one word, or pair of words that could describe what your makeup does best? Now write all your options on a piece of paper and visualize your new logo or a banner with your new name on it.
An example of a brand using this technique is the supermarket chain 7-Eleven, where the name tells you straight away what's special about this business: it's open from seven in the morning to eleven at the night, every day.
How to Use Makeup Store Name Generator:
Makeup Store Name Generator is very effortless to use & can ease your name choosing process in seconds! It only takes a few clicks to generate a creative, cool & catchy name for your makeup store.

You can see a small screen with a text bar & a button. All you have to do is to click the button & the name will be in front of you. You can generate as many makeup store names as many as you want.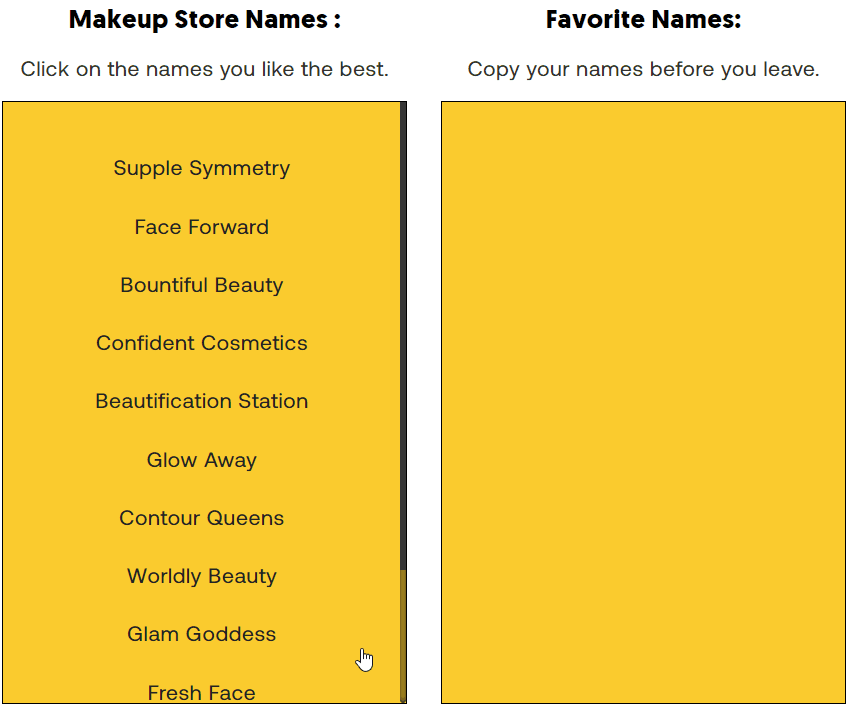 Once you've generated makeup names, they don't vanish away. Makeup store Name Generator saves it for you. When you finish generating names, you'll see the names that have been generated in the list given below. You can also sort your favorite names in the other list given right beside it.
We hope you will have already some ideas wandering in your mind to catch for your makeup store name.
We wish you the best of luck for the opening of your makeup store! Leave a comment below with your favorite makeup store names below.