Looking for a cool fantasy football name for your club? Or your LaLiga Premier Fantasy team? Well, pull your socks up because Fantasy Football Name Generator is here to get you the best name for your fantasy football team!
Best Fantasy Football Names Generator:
Fantasy Football Names :
Click on the names you like the best.
Favorite Names:
Copy your names before you leave.
Best Fantasy Football Name Ideas:
Shelbies Belbies
Starks of Winterfell
Lannister Lions
Avengers United
Goalers are Here
Lord of the Wringers
50 Shades of Winners
Game of Passers
Game of Kick-offs
Goal Heist
The Striker Things
Attackers Education
Winners XI
See Sharks On The Field
Things Don't Get Messy
Kane Can Do!
Row Now Doll
Xavi's Are Here
Dribble On The Nimbus
Cake-Off Here
Galaxy
Fuble Jumble
Rush To The Net
Soccery Rockers
Men That Scores
Men In The Socks
Good Lads In Shirts
Hail Down Penalty
He Is The Keeper
Quite a Crystals
Male Force
Bake, Make, Play Football
Yellow Card Vampires
Trophy Is Here
C. Menbeldone
Fathers Are Footballers
Scoring Gems
White Shirts, High Scores
Bats United
Owls In The Field
Rhinos Across The Goal
We Cum Football
Football Under Our Wear
The Yellow Card Lives
Made in FIFA
Black & White Circle In The Net
Nothing, Not, Net
Kick-off Specialists
The Dribbling Field
No Hats In Football
Helmets Aren't Allowed Here
Say No To Your Goals
We Goal The Best
Goal, Goaled, Goalest
Up On The Top
And The Winners Are Here
We Hit The Penalties
Tear The Nets With Speed
I Goal With Mind
Grass Kickers
Soldiers In Shirts
Battle Over Grass
Between The Two Goals
The Square Battlefield
360 Goalers
Catch Us If You Can
Wolves On The Field
Don't Call Barcelona
Born To Goal
Sorcerer By Birth
Burger On The Field
Don't Stop It Or Be Hell With It
Let's Scream Goal
Creampie Goal
Men That Dribble Fast, Win Fast
Oh My Goal
Lots Of Laterals
We Play Even In Ice
Rain Stop Someone Else, We are Footballers
Nothing But Nets & Goals
Why So Soccer?
Send Me The Ball
What The Holding
What The Punt
We, The Footballers
The Army Of Mad
Craze Kills Us But Anything For Football
Green & White is Heaven
Heaven Is On The Field
God Is Great Keeper
Hanged-Over By Football
Rio de Soccer
We Breath Football
We Bleed Soccer
East or West, The Men on The Field are Best
Eyes On The Nets
The Keeper Dives, Half Hearts Drown
Shootout at Penalty
Goals Are Seksy
Swingers Of The B&W Ball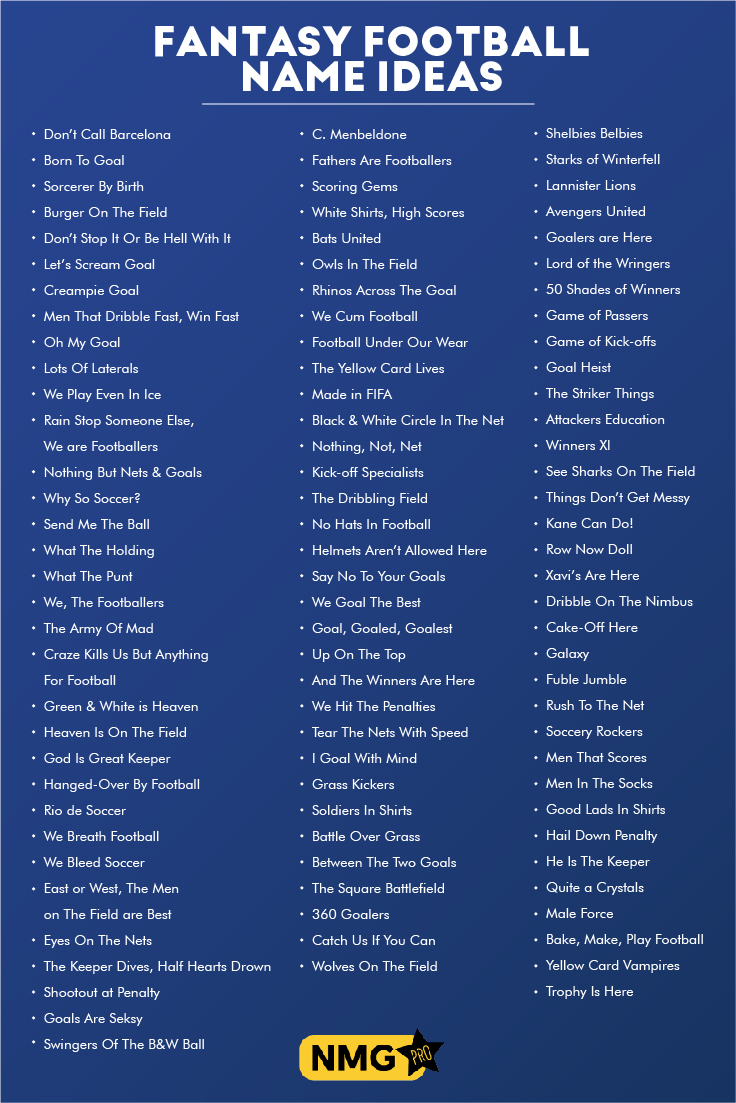 Star Player Themed Fantasy Football Names:
Guess what is the best & easiest way to name your fantasy football team?
Naming your fantasy team after your favorite player's name!
Being a football fan, we all have our different star players whom we copy in lifestyle & sports-style as well. Be it The Cruyff turn of Johan Cruyff, The Marseille Roulette of Diego Maradona or turbo-passing of Messi, we all have some styles & skills for which we fall for our favorite football players.
Here are some examples of the best fantasy football names:
Iker Keepers Eleven (San Iker, worlds famous for his goalkeeping skills. His brilliant career ended in May 2019)
Nemanja Ninjas (Nemanja Vidic, played for Manchesters United till 2016, famous for his strength & defending skills)
Wallcotty Leopards (Theo Wallcott, currently playing for Everton F.C., famous for his speedy running)
Bake'em The Win (David Beckham, the best crosser in the word & also in the history of football)
Goals Snatchers XI (Wesley Sneijder, Dutch footballer, famous for dead-ball situations)
Charming Chicharitos (Javier Hernandez, Spanish player, nicknamed Chicharito, famous for his head goal scoring skill)
Xoom Like Xavi (Xavi Hernandez, former Spanish player, ended career in May, 2019, famous for his ball passing skills)
Zig Zag Zalatan (Zlatan Ibrahimovic, Swedish Player, famous for his height & shot techniques)
Ronal-do it (Cristiano Ronaldo, Popular Portuguese professional footballer, famous for his shooting skills)
Messists Revolt (Lionel Messi, Popular Argentine player, famous for his dribbling skills)
No Andres, No Art (Andres Iniesta, Spanish footballer, famous for his dribbling skills, equaling with Messi)
How to Use the Fantasy Football Name Generator?
Generating names with the fantasy football name generator is easy. Here's how it works:

Click on the button named 'generate fantasy football names' and you'll get a cool fantasy football name on each click. You can generate as many names as you want.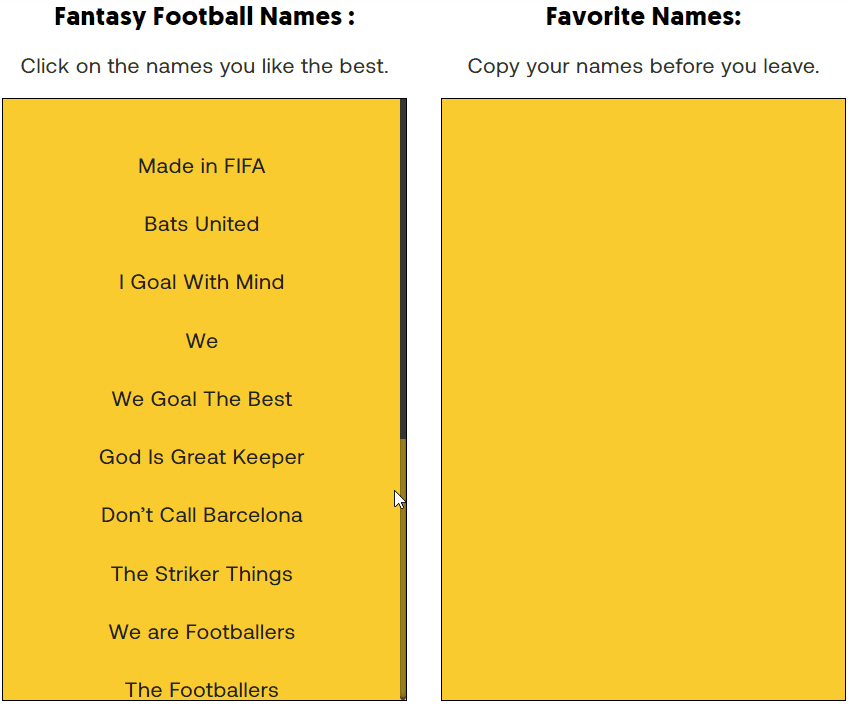 You can also review all the names you've generated with the fantasy football name generator in the two lists given below. One list will show you all the names you've generated and the other one is to create a list of your favorite names.
Football is an amazing sport, so are its fans, & so are its names!
I hope you loved the fantasy football names generated with the fantasy football name generator
Leave a comment below with your favorite fantasy football names to help other football lovers finding a perfect name.