Music producer name generator is here to give you some of the most incredible musicians and music producer names. Pick your music producer name as well.
Best Music Producer Name Generator:
Music Producer Names :
Click on the names you like the best.
Favorite Names:
Copy your names before you leave.
The music producer name generator will help you generate some of the best music producer names. You'll find a list of name ideas, tips along with the name generator below.
Decided to become a music producer but missing an amazing name? You should stop looking around because music producer name generator has the solution for you.
Generate hundreds of creative music producer names with just one click. Your music producer's name is hidden somewhere here.
How to Come Up with a Good Music Producer Name:
Creating music might not be as wearying as finding a good music producer name. Music is the passion & passion never make you sapping while choosing the name requires some different set of techniques and, can be exhausting as well.
Naming a music producer company or an individual is a tricky thing here. You have to be specific in naming the company because irrelevancy is hardly bare here. Read below guidelines for making your music producer name a creative name.
Make it Short & Simple:
We always expect people to remember our name but scientifically speaking, complex names are hard to recall.
It would be not less than a tragic scene if the people listen to your music, like it but unable to remember your name & fail to find you.
You have to make your Music Producer name short & simple so that it can be easy to remember for your listeners. Music Producer names have a different kind of fan base. People may forget the singer's name but they don't forget the producers!
Try Variations of Your Own Name:
There are many artists around the world who are using their own name in Music Producers, by using different variations.
You can try that as well by using your first name with a new last name. Or a new first name with your real last name.
You can also abbreviate your name using the first & last letter of your name. For instance, if Michael Jackson would be establishing a music producer using this variation, he could name it as M.J. Musics.
Try Not To Sound Trendy:
Before you start brainstorming for your names, take a little time to go through what names are already existing. This will help you sound original & make you stand out among other music producers.
Do some research to find out what names are being frequently used that you will have to avoid.
Ask For Feedback From Others:
Friends & family are great to have always. They are quite helpful & supportive in many races of life. Try asking for feedback on the names you choose for music producers.
You can get to see a different perspective on your name this way which may help you amend your name a bit or concrete your decision on the chosen name.
Use Music Producer Name Generator:
Still, facing trouble in finding a perfect music producer name?
Well, no worries. You can use our Music Producer Name Generator & generate some amazing names in just one click. We have done all the grueling work for you & have made it easy to find you a name for your Music Producer.
List of Best Music Producer Name Ideas: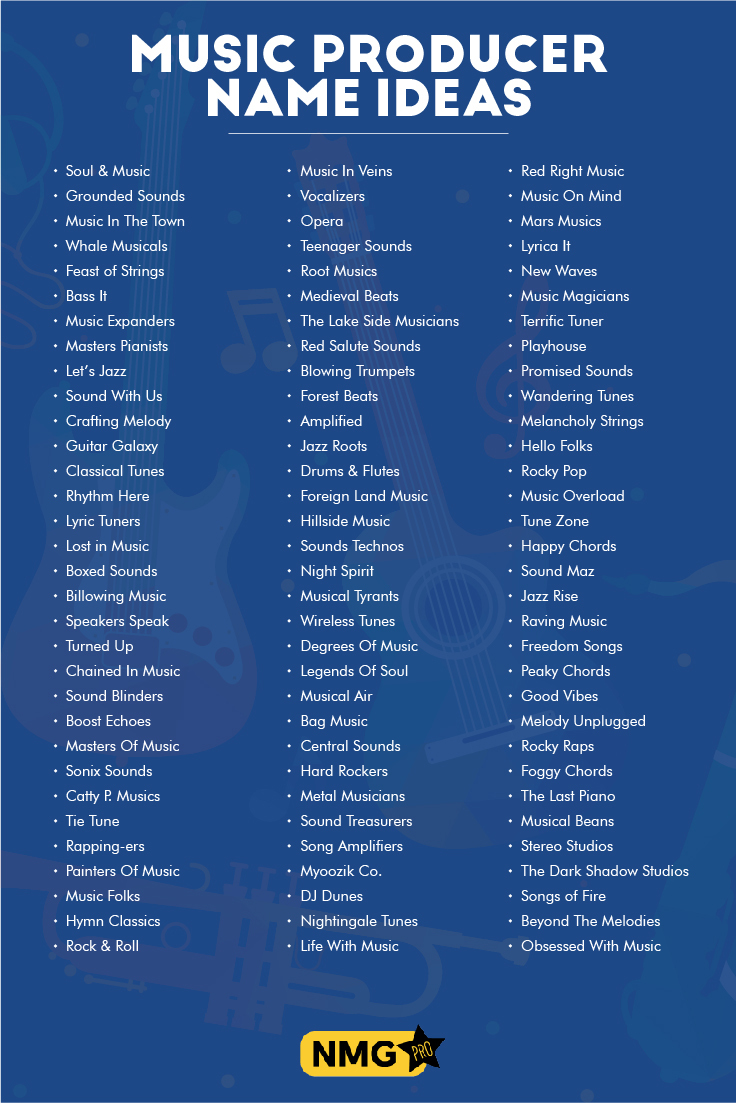 Soul & Music
Grounded Sounds
Music In The Town
Whale Musicals
Feast of Strings
Bass It
Music Expanders
Masters Pianists
Let's Jazz
Sound With Us
Crafting Melody
Guitar Galaxy
Classical Tunes
Rhythm Here
Lyric Tuners
Lost in Music
Boxed Sounds
Billowing Music
Speakers Speak
Turned Up
Chained In Music
Sound Blinders
Boost Echoes
Masters Of Music
Sonix Sounds
Catty P. Musics
Tie Tune
Rapping-ers
Painters Of Music
Music Folks
Hymn Classics
Rock & Roll
Music In Veins
Vocalizers
Opera
Teenager Sounds
Root Musics
Medieval Beats
The Lake Side Musicians
Red Salute Sounds
Blowing Trumpets
Forest Beats
Amplified
Jazz Roots
Drums & Flutes
Foreign Land Music
Hillside Music
Sounds Technos
Night Spirit
Musical Tyrants
Wireless Tunes
Degrees Of Music
Legends Of Soul
Musical Air
Bag Music
Central Sounds
Hard Rockers
Metal Musicians
Sound Treasurers
Song Amplifiers
Myoozik Co.
DJ Dunes
Nightingale Tunes
Life With Music
Red Right Music
Music On Mind
Mars Musics
Lyrica It
New Waves
Music Magicians
Terrific Tuner
Playhouse
Promised Sounds
Wandering Tunes
Melancholy Strings
Hello Folks
Rocky Pop
Music Overload
Tune Zone
Happy Chords
Sound Maz
Jazz Rise
Raving Music
Freedom Songs
Peaky Chords
Good Vibes
Melody Unplugged
Rocky Raps
Foggy Chords
The Last Piano
Musical Beans
Stereo Studios
The Dark Shadow Studios
Songs of Fire
Beyond The Melodies
Obsessed With Music
You may also like: Rap Name Generator
I hope you would've found the best name with the musician name generator by now. Wishing you all the luck for your journey in the music industry & hope you succeed.
As Plato says,
"Music gives a soul to the universe, wings to the mind, flight to the imagination and life to everything".
Leave a comment below with your favorite music producer names to help other musicians, bands and rappers to find exciting name ideas.