Pizza Shop Name Generator will help you generate some of the best pizza shop names ideas for your new pizza shop.
Finding the perfect name for pizza shop is one of the difficulties cna pizza shop owners face. So to solve your problem, the team behine name generator pro have collected some of the best pizza shop name ideas.
Pizza Shop Name Generator:
Pizza Shop Names :
Click on the names you like the best.
Favorite Names:
Copy your names before you leave.
How to Generate Names with Pizza Shop Name Generator:
Generating creative names for business wasn't that easier before! Pizza Shop Name Generator has revolutionized the process.

You don't have to surrender any of your online or social identity here. You just have to hit the button named "Generate Pizza Shop Names" for one time & a unique pizza shop name will appear in front of you.
Don't you find it a name you want?
Well, click more & keep clicking it until you don't get a name you want. We have hundreds of amazing pizza shop names!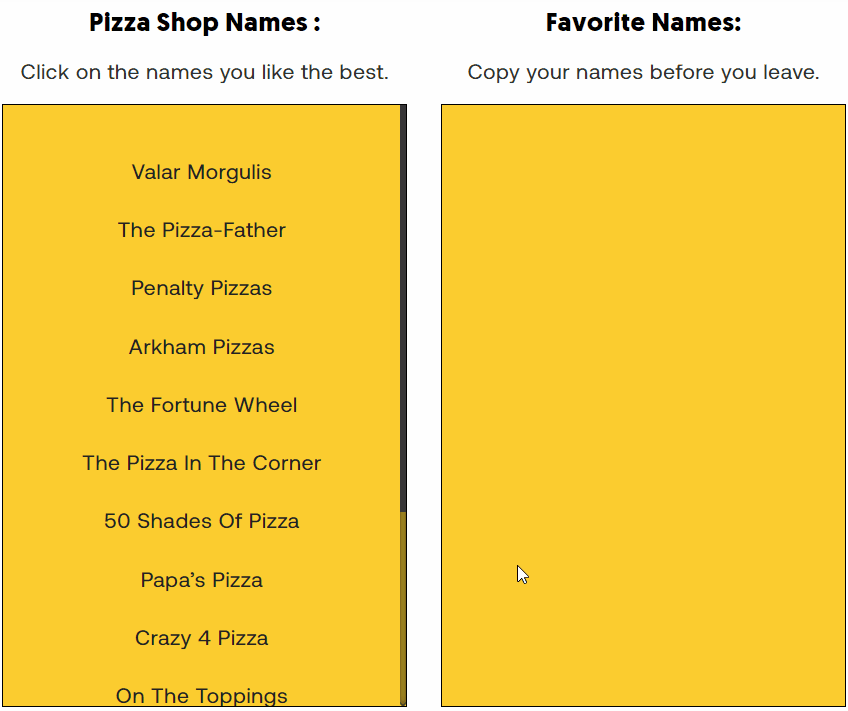 This generator also creates a list of the names you generate so that you can choose your favorite names from it afterward.
How to Open a Pizza Shop with Ease:
With 93% of Americans consuming pizza once in a month, the pizza industry is an ever-growing business nowadays. Pizza is also turning out to be a trendy fast food. Teenagers are loving it more than anything.
And guess what? It is a whole meme market these days as well!
Opening a pizza business can not only make you some profit but it can also lead you onto national mainstream platforms if you work things out creatively!
Don't worry. Here's our guide to make your pizza shop a guaranteed success:
Analyze the Current Market:
You have to make your business stand out otherwise you'll get crushed by other bulk of pizza shops opening almost every day!
But, here is a piece of good news: most of them do not last after a few months. Reason? Well, there are many but those all serve one reason: They do not analyze the market!
You see with Little Caesars & Pizza Hut & other businesses dominated in the pizzeria market, there are many hurdles for new businesses.
But, nothing is impossible! You can hit big only if you study the market properly.
Read the strategies that are applied by your competitors. Do research on the consumers about what they like the most. What services, flavors & prices they favor.
For suppose, there is a new discovery that shows most of the customers prefer healthier options in pizza so including vegan, low-carb or low-fat ingredients in your pizza will gain you some advantage over others.
Also, there are many new varieties of pizza are being introduced i.e. Keto Pizza, Breakfast Pizza. You can also innovate creative pizza ideas by initiating a different trend in pizza
Create a Business Plan:
Creating a good business plan is essential for any starter business.
You'll need to sketch out a good business plan for your pizza shop as well. The business plan includes the kind of market you are targeting, your recipes, your location, your projected revenue, taxes, and startup costs all. All you will need to add to your business plan.
There are different styles of pizza to offer in pizzerias as well so you'll have to choose some specific styles to add in your recipe.
Delivery, Dine-in, Take 'n Bake or Take-out?
Well, don't get confused. These are just types of pizza shops from which you'll have to go for one type.
Delivery pizzerias only take orders online or on telephones & send pizza at your doorsteps. This will add deliver staff expenses in your capital but will save you some décor, waiters & other expenses.
Dine-In is the typical restaurant where customers generally visit & spend some memorable moments of their life. It is the most expensive type of pizza shop but it can generate a lot of revenue for you as well.
Choose a Perfect Location:
There are some specific locations for a specific business. Like you can't place your cotton factory in the center of the city, can you?
Just like that, pizza shops deserve a place which is usually a busy street or a city center. Go on a little tour around your city & note down some crowded places, which should be VISIBLE as well.
You can simply place your shop into any mall but that can cost you monthly rent. So, choose wisely & start boosting your business up!
Acquire Equipment, Hire Staff & Create Menu:
We emphasize on creating a good business plan because if you do so, nothing can hesitate in making your decision first.
Equipment, hiring staff & creating the menu, all are part of distributing your expenses in your business plan.
In equipment, you'll need to acquire oven, refrigerator, a dough mixer pizza boxes & many other kitchen related stuff.
Just a little joke: That equipment isn't going to operate automatically!
So you'll need to hire staff as well. We recommend you to hire qualified or experienced staff for better management of your pizzeria.
Creating a menu is also important. It'll be aching for a waiter to remember all of your dishes & just tell it to a customer. Create a beautifully designed menu & place them on every table.
Market Vigorously:
No one will get to know what has brought you to them until & unless you don't make it possible the songs of your business to reach out to their ears!
The market as much as you can, especially at the start of your business. Just keep in mind that 50% of your business's success depends upon how better you market it.
Social Media ad services can come handy in this regard. You can also contact local administration to place your posters on billboards as well.
You may also like: Restaurant name generator
Best Pizza Shop Names Ideas: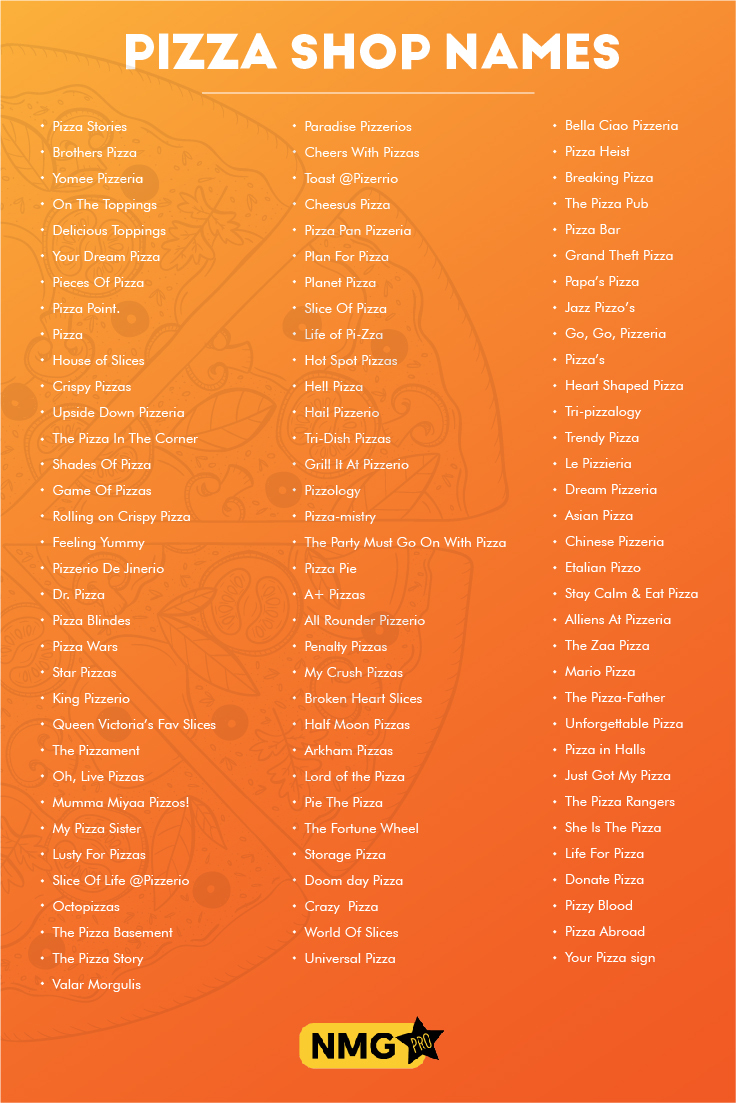 The Pizza Basement
The Pizza Story
2 Pizza Stories
On The Toppings
Delicious Toppings
Your Dream Pizza
Pieces Of Pizza
Pizza Point.
Pizza 360
House of Slices
Crispy Pizzas
Upside Down Pizzeria
The Pizza In The Corner
50 Shades Of Pizza
Game Of Pizzas
Rolling on Crispy Pizza
Feeling Yummy
Star Pizzas
Oh, Live Pizzas
Octopizzas
Pizza Pie
A+ Pizzas
All Rounder Pizzerio
Penalty Pizzas
My Crush Pizzas
Broken Heart Slices
Half Moon Pizzas
Arkham Pizzas
Lord of the Pizza
Pie The Pizza
The Fortune Wheel
Storage Pizza
Doom day Pizza
Crazy 4 Pizza
World Of Slices
Universal Pizza
Bella Ciao Pizzeria
Pizza Heist
Breaking Pizza
The Pizza Pub
Pizza Bar
Grand Theft Pizza
Papa's Pizza
Jazz Pizzo's
The Zaa Pizza
Mario Pizza
The Pizza-Father
Pizza Abroad
Your Pizza sign
Valar Morgulis
I hope our names will taste delicious & crispy to you as does the pizza! There is no one till now who has gone nameless from here. I hope you'll get it as well!
Leave a comment below with your favorite pizza shop names generated with the pizza shop name generator to help other pizza business owners.