Looking for good personal blog name ideas? The personal blog name generator will surely help you out.
Find out some interesting blog name ideas for personal blogs, tips to name your blog and some of the most popular personal blogs with creative names.
Best Personal Blog Name Generator:
Personal Blog Names :
Click on the names you like the best.
Favorite Names:
Copy your names before you leave.
What Could be a Perfect Personal Blog Name:
Choosing a perfect domain name for your personal blog can be a headache. It can eat a lot of your time if not cope properly. Perfection the in this context becomes a tricky thing.
But if you know what are the principles of naming your blog, you can craft it by yourself very easily!
Here are some suggestions on how to name your personal blog?
Try Alliteration:

Words that share the same sounds give a musical taste. They are also easy to remember & a catchy one to attract the audience.

If you turn out successful in rhyming the words in your name, congratulations! You have already a perfect name for your personal blog!

Avoid Hyphens, Please:

Hyphens give a bad image to your name. They are difficult to type & remembered as well. Try to choose a name for your personal blog that has an available domain name. You can check the domain name availability on websites like GoDaddy

Be Humoristic:

Try to mix up some humoristic taste in the personal blog name. Humoristic names win the heart of visitors at the very first glance. If you are successful in spreading a smile on a visitor's face with your blog name, then they are more likely to succeed in personal blogging.

Use Your Name:

Facing trouble finding a name with all the techniques mentioned above?

Well, there's always a person that can help you, and that is you & you only! Why apply some extreme brainstorming when you can also start your personal blog with your name? After all, it's all about you!

You can add any creative or humoristic adjectives with your blog name. You are good to go. You can generate plenty of examples with the personal blog name generator.
Creative Personal Blog Names List: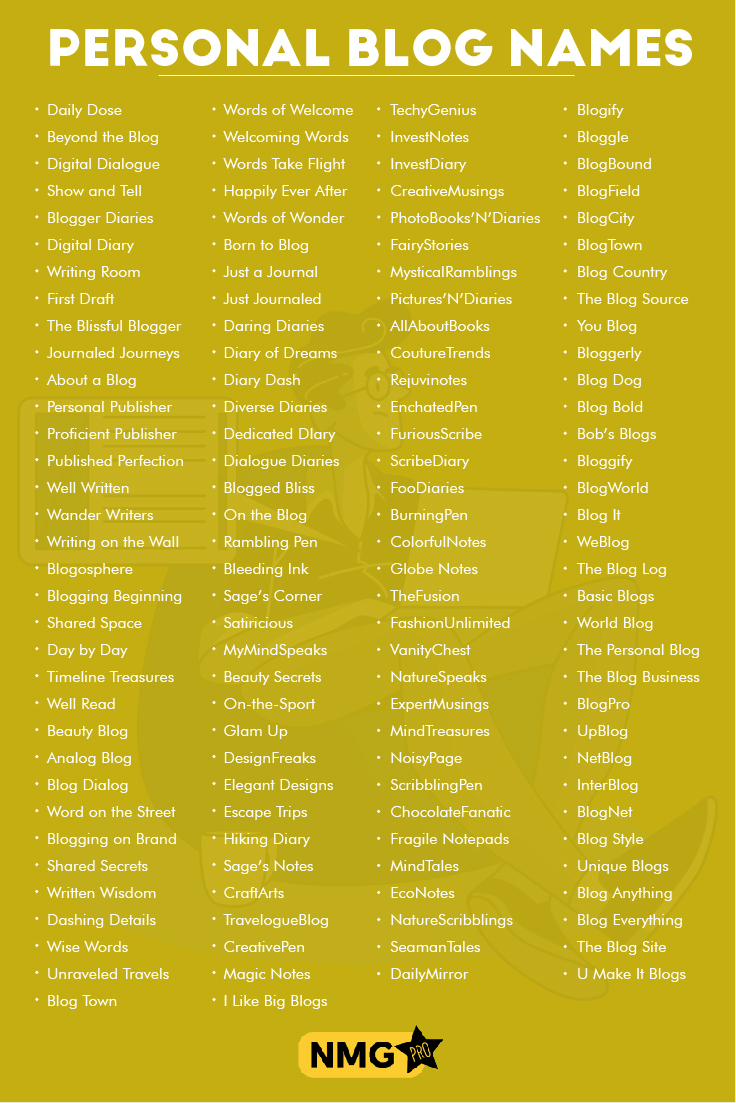 There is a huge number of creative personal blog names that have been generated by the Personal Blog Name Generator. Few are given below for your inspiration in this personal blog names list:
Wise Words
Words of Welcome
Words Take Flight
Happily Ever After
Words of Wonder
Born to Blog
Just a Journal
Just Journaled
Daring Diaries
Diary of Dreams
Diverse Diaries
Blogged Bliss
On the Blog
Rambling Pen
Bleeding Ink
Sage's Corner
Satiricious
MyMindSpeaks
Beauty Secrets
On-the-Sport
Glam Up
DesignFreaks
Elegant Designs
Escape Trips
Hiking Diary
Sage's Notes
Craft Arts
CreativePen
Magic Notes
TechyGenius
InvestNotes
InvestDiary
CreativeMusings
PhotoBooks'N'Diaries
FairyStories
MysticalRamblings
Pictures'N'Diaries
AllAboutBooks
CoutureTrends
EnchatedPen
FuriousScribe
ScribeDiary
FooDiaries
BurningPen
ColorfulNotes
Globe Notes
The Fusion
Fashion Unlimited
VanityChest
NatureSpeaks
ExpertMusings
MindTreasures
NoisyPage
ScribblingPen
ChocolateFanatic
Fragile Notepads
MindTales
You may also like: Lifestyle Blog Name Generator
Why Everyone Should Start a Personal Blog?
If you are living a life that has a different story to tell & should be a source of inspiration for others, then you must go for having a stage to share your story with the world. Starting a personal blog would be a good fit for this.
It is now a universal truth that the man is a curious being. We all remain curious to know what's happening around the world.
We crave stories, it doesn't matter what kind of, but stories take us to a different world sometimes. A world that is unheard, unspoken, untold, unseen.
Personal blogs are always enveloped with stories of different tastes. That's why people love them. People around the world have found personal blogs a very efficient tool to share the story of their culture, traditions, personal life & much more.
Here is what we think of why it is important for everyone to have a personal blog:
It Works as Your Personal Diary:
Those days are flying away now when we used to go to the market & buy ourselves a personal diary to write about the important events happened in our life. They may still be available in markets but they are now mostly unlooked & untouched.
There are many tools that have played their role in replacing personal diaries & personal blogs in one of them.
Because to be very honest, if I got the chance to choose between a keyboard and pen for jotting down a write-up, I'll go with the keyboard. Well, one reason for that is my bad handwriting. I literally mourn over my zig-zag type of handwriting.
But, apart from that, it is so effortless to edit your content on a computer. Now when many features are being introduced to facilitate writing on a computer, it has become easier to create a beautiful write-up. You can check your spelling mistakes or grammar mistakes in no time!
You Can Generate Passive Income:
Writing is something that isn't any cup of tea for everyone. Only a few are blessed with this very unique art of wordsmithing.
I believe that if all those revolutionaries in 19's, who wrote their personal diaries for years in jails, were still around us in this age, or the internet would be available at that time, they would be earning in millions!
Why waste your talent for writing if you can earn money with it?
With a good personal blog, you can actually fill your pockets with cash! Yes, the only thing you'll have to deal with crafting your blog according to the requirements of search engines and practicing some Search Engine Optimization.
Personal Blog Helps You Stand Out:
If you ask me about the teenager's activities nowadays, I would put that they are only swimming with the flow. To stand out from the crowd, you have to swim against the tide.
Going with your personal blog makes you stand out from all others. You are actually doing something which is so challengeable that most people fear to give it a try!
So, if you have already decided to build yourself a personal blog, we congratulate you on standing out from the crowd!
Popular Personal Blogs with Creative Names:
One good way of coming up with a good personal blog name is to take inspiration from some popular blogs with creative names.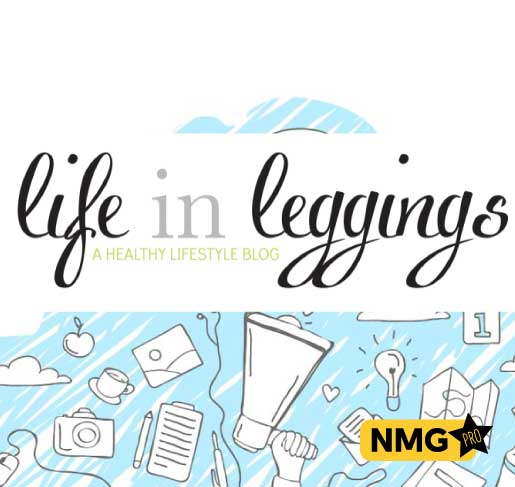 Heather, the talented blogger behind this personal & fitness blog, came up with a really creative name for her blog. She is a personal trainer from New York talking about fitness, health, and lifestyle. She proved her creativity in her blog and definitely the blog name as well.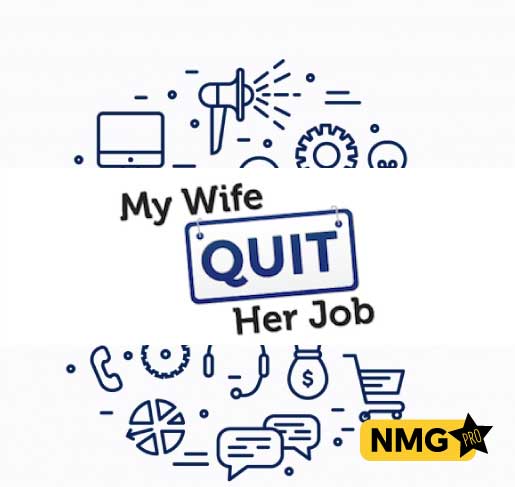 When it comes to choosing an attractive name for your personal blog, then this one might stand at the top position. The element of humor, that we discussed earlier, is added into this blog. And look how much uniqueness they've included in their personal blog name.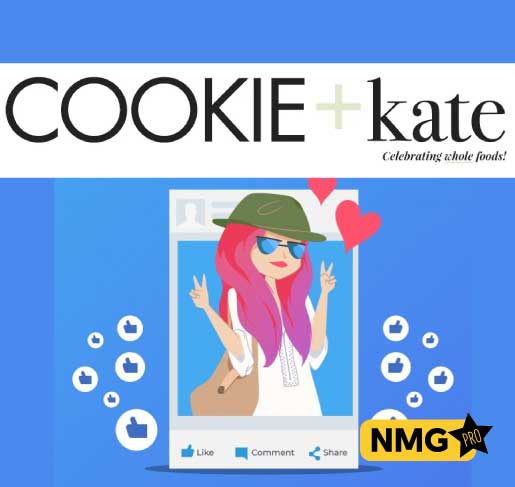 Perfect name for a food blog. Kate, the creative blog owner, has made sure to include her name as well as the niche she's working on. I'm pretty much sure anyone can have only two 'first-thoughts' when they hear this brand name. Either it's a cookie business name or personal blog name talking about food.
How to Use Personal Blog Name Generator?
Using the personal blog name generator to get blog name ideas is as easy as it actually sounds like. Here's how you can use the name generator:

Click on the button named 'Generate Personal Blog Names' to get started. Each click will generate a unique name for you to choose from.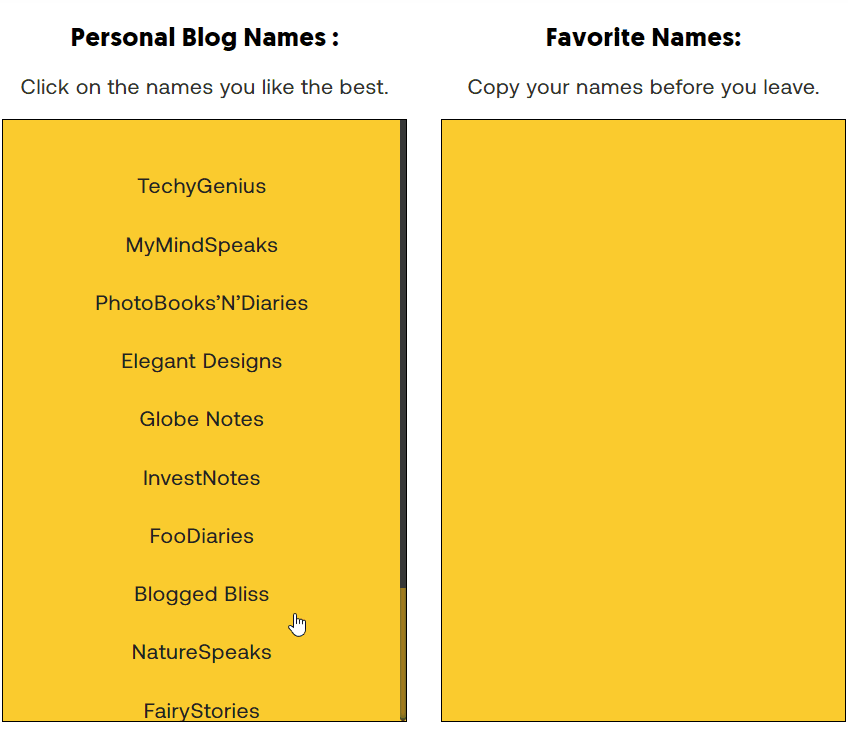 You can also review the names you've generated in the list given below the personal blog name generator. Sort out your favorite names and copy them for further brainstorming.
It's your time start generating some good personal blog names. Leave a comment below with some of your favorite personal blog names that you come up with.