Are you looking for some thrift store name ideas? If yes, then the thrift store name generator will surely help you out.
Naming a thrift store is not as easy as it sounds. So for your convenience, here are some tips, ideas and popular thrift shop names and of course the thrift store name generator.
Best Thrift Store Name Generator:
Thrift Store Names :
Click on the names you like the best.
Favorite Names:
Copy your names before you leave.
Best Thrift Store Names Ideas: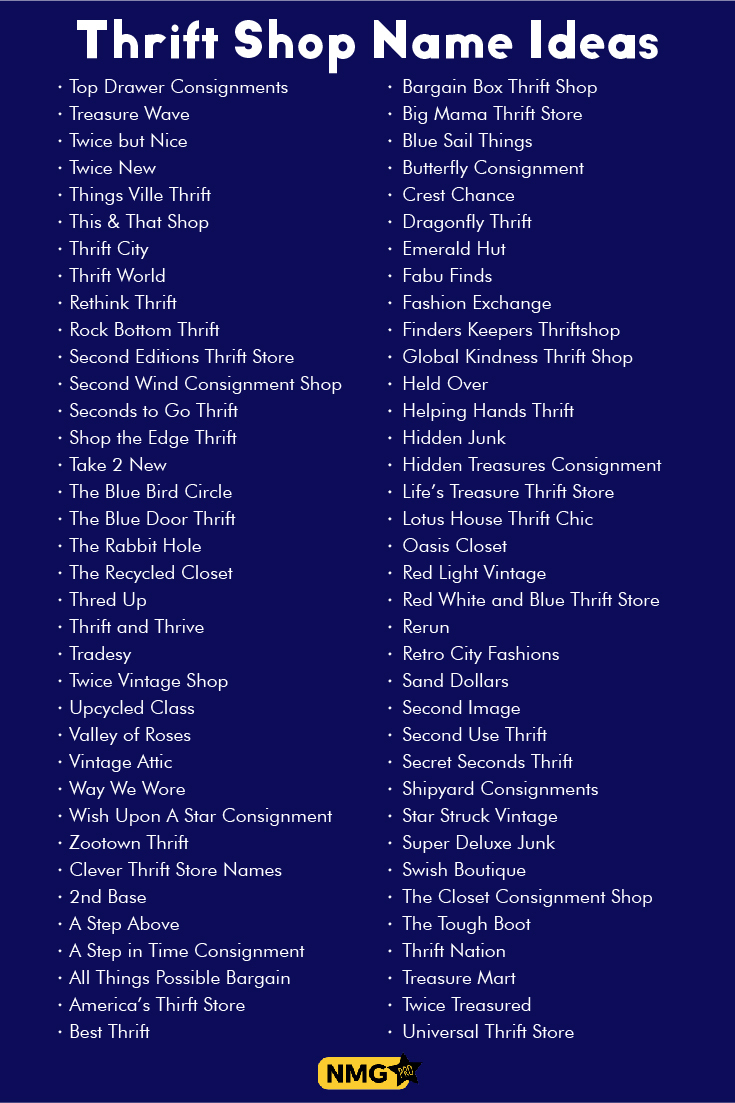 The consignment store's name should be as creative as the art of reselling itself is. It literally takes a lot to mold an item is a completely different shape.
Here are some catchy thrift store names ideas.
Bag it All Thrift Store
Finders Keepers
Finding Treasures
Forever Young Consignment
Golden Purge Consignment
Here We Go Again Thrift
Hidden Treasures Resale
It's Raining Discounts Shop
Kiddin' Around
Joyful Consignment
Let's Thrift
ThriftEra
Consignment World
Ambitious Shop
Bargain Zone
Deals & Steals
Age Of Reselling
Better Bargaining
Let's Bag It
Thriftism
Thrifting World
Wish Shop
Enriched Shopping
Thrift Wind
Thriftonic
Thrift Holic
Thrift Machine
Thrift Cave
Shop Cheap
Secondhand Centre
We Store Gems
Cave of Treasure
Nearly New Shop
Now & Again Thrift
On the Fly Thrift
Out of the Closet
ReStyle
Rummage Around
Second Chance
Stacks on Racks
Stop n' Shop
The Attic Addict
Thriftomatic
Thrift Tunnel
Warrior Consignment
Thrift Empress
Deluxe Thrift
Lust For Thrift
Retail Intensity
Admire My Thrift
Harvest Oldies
Cheapish Retail
Economized Shopping
Bargain Basement
Bargainous Thrift
Secret Thrift
Clinical Thrifting
Thrift Blaze
The Golden Hour
Thrift City
Thrift World
Second Hand Clothes Store Names:
Bargain Basement
Consignment Barn
Consignment Genie
Fashions in Time
Old Is Gold
Singing Thrift
Precious Dust
Crystal Artefact
Consignment Bits
Johnny Thrifts
Resaling World
Everything Thrift
Thrift Genie
Consignment Pyramids
Thriftful Towers
Things Economized
Prudence Mahal
Rio de Thrift
Thrift is Prudence
Game of Thrifts
Thriftopedia
Pinching Pennies
Again & Once Again
Thrift 2.0
Consignment Parlour
Love Oldies
Thriftie Wish
Eternal Store
Peaky Thrifters
Funky Munky Store
The Recycled Closet
Thread Up
Vintage Attic
Way We Wore
Crest Chance
Dragonfly Thrift
Emerald Hut
Fabu Finds
Fashion Exchange
The Tough Boot
Thrift Nation
Treasure Mart
Blue Boutique Thrift Shop
Resale Shop Names:
Cottage Thrift Shop
Crayons Children Resale
Diva Dollz
Elsewhere Vintage
Emilies Treasures
Fashionphile
From Our Home to Yours
Fury Women's Trading
Glad Rags
Hope Store
Shop on Mars
Economy Class
Thrift Divine
Heaven is Here
Thrifty Bank
Consignmentooze
Wow Consignment
Hurray Thrift
Consignment Palace
Best Thrift
Greatest Resale
Top Sales
Being Thrifty
Consignment Express
World Wide Thrift
Lily Thrifty
Save the Luxuries
Intimate Thrifting
Shop & Share
Thrifty Dove
Consignment Blossom
Addictive Thrift
Thrift Mania
Consignment Street
Resale League
Consignment Jungle
Thrift Victoria
Second Things
Show Pony Boutique
Simply & Just
The Consignment Chick
Simply Spring Thrift Store
Small Clothes
Star RainbowThe Red Bank Thrift
Three Little Birds
Tinker Thrift
Trendy You
Underground Thrift
Value Village
Tips for Coming up with Good Thrift Store Names Ideas:
Thinking of opening a second-hand items shop? It's a great idea. Consignment shops can turn junk into antiques and also can be a profitable source of income. If your passion is gathering and collecting old-aged items, well you can actually build a business empire with that.
But even empires need names. Thrift Store Name Generator can help you in choosing creative second-hand store names. You don't have to worry about it anymore. Just sit at ease & start generating the most catchy & unique names for your resale store.
Here's how to name your thrift store in 2020:
Keep it Short and Simple:

You need to be specific at naming your reseller. It's important that your customer should remember your thrift store name once he visits it. Don't overstep here.

Ask for Feedback:

No problem if you have come up with multiple names for your thrift shop but stuck on choosing one of them. You can set a poll on facebook or any other social media platform to ask your friends for the voting the name they think is best.

Easy to Pronounce:

When starting a thrift store, make sure the name you choose is easily pronounceable for anyone. You definitely don't want your customers to misspell your business name. Avoid using complex words and you're good to go.
How to Use Thrift Store Name Generator?
Naming your thrift store is easier than never before. You can generate thousands of unique thrift store name ideas with the thrift store name generator. Here's how it works:

You'll see a button named 'Generate Thrift Store Names' below the empty field where the names will be generated. Simply click on the button and a unique name will be generated on each click.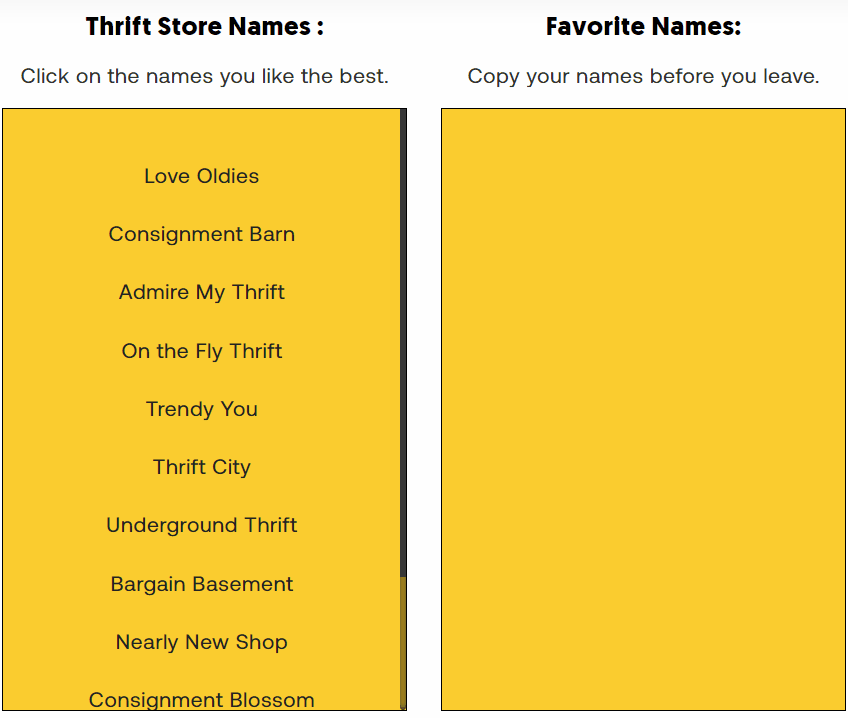 Upon scrolling down, there are two lists given below. All the thrift store names you've generated are stored in the first list, whereas the other list is for sorting your favorite names.
I hope there will be many ideas clouding your mind by now. So, why to waste any more time? Start generating the names with the thrift store name generator. And leave a comment below with your favorite names and I'll add them in the list.