Find out some of the best computer store names ideas with the computer shop name generator. Choose your favorite computer store name or pick some ideas for further brainstorming.
Best Computer Shop Name Generator:
Computer Shop Names :
Click on the names you like the best.
Favorite Names:
Copy your names before you leave.
The world today is entirely changed & the reason behind that is the evolution of computers. Computers have revolutionized the technological advancements & are an eminent part of human life today.
Everyone needs a computer today. If you have chosen to start your own computer shop, you have made a great choice to make your business a cash cow. Stucked with naming it? Computer Shop Name Generator is here to help you out of this.
How to Use the Computer Shop Name Generator:
Computer Shop Name Generator is as easy as the computers themselves are. You can generate as many creative & unique computer shop names as you want.
The computer shop name generator will also save all the names you've generated. Once you are done generating the names. You can scroll down to see all the names stored within the list. Click on any name and it will be added to the favorites list from where you can copy them.
Related Article: How to Become a Computer Genius?
This name generator makes the process of finding computer shop names so easy that you no longer have to ask anyone about what are the best computer shop names? Here are some of the best computer shop names for this year:
Best Computer Shop Name Ideas: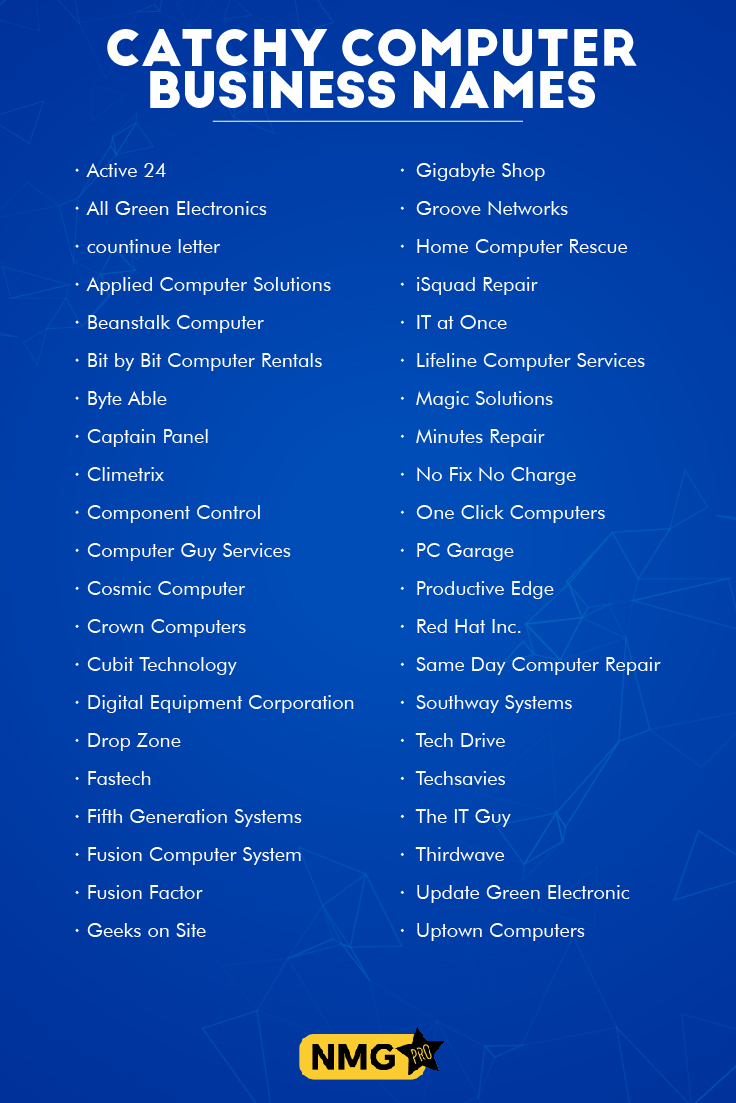 Speedy Computing
Swifty Puters
Computer Tailor
Professionals Of Processors
Hard Drive Builders
Works At Networks
IT-Land
QWERTY Shop
Computers Villa
RAM – Real Ammunition Machines
House of Softs & Hards
Desktop Level
Precise Computing
Parts Of Computing Body
Harmless Computing
Pros of Processor
Open Windows PC's
Computerism
Professor Processor
Cross Computers
Computer Stable
The Palace Of Processor
A to Z Computers
Computer Drivers
Em' Programmers
Hard Disks Point
Scientists of Computing
Software Basement
Computer-aunt
Uncle PC
Miss Tech
PC Made Easy
East to West Computers
Personalized Computers
C-Plus Plus Robots
Command Your Computer
Computer Tree
Modern Age Computers
PC 4U
Catch Your Laptop
Hey Computer!
Computers Heist
Computer Throne
Game Of Softwares
The Lord Of Codding
Computers On Demand
Budget-Friendly Computers
Mad For Processors
Processor Mafia
Doctorate In Computing
Computers From Corners
My Crow Softwares
Deal Computers
Thunderstorm Of Personal Computers
This & That Computers
Hi-Computer Service
PC Point
Obsessed With Computers
National Computers
Productive Computers
Shop Tech With Us
Best Computers
Let us Grab GB's
Computers Showroom
Rewind My Memory
Your Database
Take A Kega Byte
Grand Computers
The Supreme Court of Computers
Clear Bytes
Matter-Tech
Mind Tech
Computers in Hearts
Computer Physician
Techinify
Networked
Supplying Tech
Kega Bytes in Veins
Computer Yoga
Techno-Fix
Tech Beats
Tera-Byte Knight
Bee Computer
Gate To Digitalism
Techno Cratic
Tips for Choosing a Perfect Computer Shop Name?
Names are important. Before visiting your shop, there are few things that customers look for & name is one of them. If the name is techno-creative enough, then you must be always prepared to welcome a new customer. If not, then you can just wait for some passerby to visit & investigate what kind of shop is this.
Naming a business is a hectic job. But a few tips can solve this jigsaw puzzle task very easily. Here are a few of our tips on how to name your computer business.
Make it Precise:
Customers aren't going to wait for a few minutes & try to read & understand the name of your shop if your shop is lengthy. They will just look at your name & walk away. Long names can make it easily ignorable. Try to make it precise.
Make it Easy to Pronounce:
You are just naming your shop. Not marketing a tongue twister. If your name is enough complicated & difficult to pronounce, the chances are high that it'll cut half of the customer's visit to your shop. You need to use simple words & make it easy to pronounce.
Make it Easy to Spell:
Difficult spellings suit only on spelling bee or other spelling competitions. With a creative computer shop name, you aren't only naming your business but also marketing it to reach & impress masses.
Keep it Relevant:
You need to choose a name that perfectly reflects the computers or anything related to them. It is important because if your name can't state what kind of business is, you may lose many customers in a day.
You may also like: Robot Name Generator
Computers can be a great source of income whether you sell them or use them efficiently. I hope that you'll have enough material to start brainstorming some names for your computer shop.
Leave a comment below with your favorite computer store name generated with the computer shop name generator. Wishing you all the best for your computer business success.