If you're looking for some cool dog training business names then the dog training business name generator is your go-to place. Get started with your dog training business name today!
Best Dog Training Business Name Generator:
Dog Training Business Names :
Click on the names you like the best.
Favorite Names:
Copy your names before you leave.
Pets are a great source of joy & entertainment to have at home. And when it comes to dogs, they are not only special entertainers but your friends for life!
Almost half of the households in the US are having a dog today. Opening a dog training business is indeed a great idea.
Find out all you need to know along with the dog training business name generator for perfectly naming your dog business name:
<strong">You may also like: Cool Dog Name Ideas Generator
How to Use Dog Training Business Name Generator?
Dog Training Business Name Generator is a one-click solution to all your business naming hurdles. It's so easy to use & can gift you with so many name ideas for your dog business.
What you have to do is to just click the button 'Generate Dog Training Business Names' and a unique name will appear in front of you on each click.
If you don't find the name you are looking for, the button can bear uncountable clicks. Hit the till you get your ideal name!
Found more than one name? No worries. The generator creates a list of all the generated names. You can sort your favorite names and make a separate list of those with just by clicking on each name.
How to Choose a Perfect Name for Dog Training Business?
Names can help you stand out from the crowd or even grab some customers' attention towards you. It's really important to give good thought and brainstorm every possible idea when naming your dog brand.
For a dog training business, you'll need to choose a catchy name that also reflects the idea behind your business.
While you can choose a perfect name for your dog training business with the dog training business name generator, here are some of the do's & don'ts that you need to consider.
Choose an Ideal Length:
Make sure the name of your dog training business is of an ideal length. A maximum of three words will good enough for any dog brand name.
Lengthy names can make a brand look unattractive. Names are a perfect source of telling your whole story in short words. Choose short words that best describes you or your business.
Do Make it Easy to Pronounce:
Complex names usually fumble with the tongue. Try not to choose some heavy words. Instead, choose a simpler name to make your name sounds clear & easy to pronounce. 'Woof' sounds easy while 'The Docile Dog' doesn't!
Dog Training Business Name Ideas: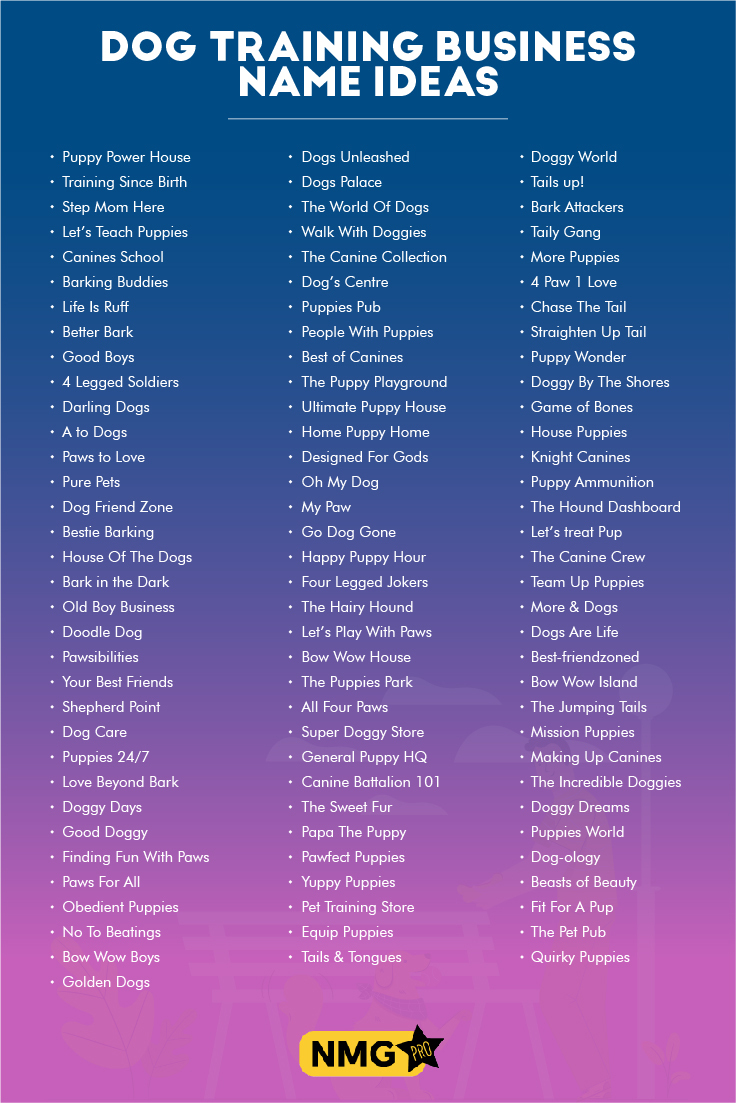 Puppy Power House
Training Since Birth
Step Mom Here
Let's Teach Puppies
Canines School
Barking Buddies
Life Is Ruff
Better Bark
Good Boys
Darling Dogs
A to Dogs
Paws to Love
Pure Pets
Dog Friend Zone
Bestie Barking
House Of The Dogs
Bark in the Dark
Old Boy Business
Doodle Dog
Pawsibilities
Your Best Friends
Shepherd Point
Dog Care
Love Beyond Bark
Finding Fun With Paws
Paws For All
Obedient Puppies
No To Beatings
Bow Wow Boys
Golden Dogs
Dogs Unleashed
Dogs Palace
The World Of Dogs
Walk With Doggies
The Canine Collection
Dog's Centre
Puppies Pub
People With Puppies
Best of Canines
The Puppy Playground
Ultimate Puppy House
Home Puppy Home
Designed For Gods
Oh My Dog
The Hairy Hound
Let's Play With Paws
Bow Wow House
The Puppies Park
All Four Paws
Super Doggy Store
The Sweet Fur
Papa The Puppy
Yuppy Puppies
Pet Training Store
Equip Puppies
Doggy World
More Puppies
Chase The Tail
Straighten Up Tail
Puppy Wonder
Doggy By The Shores
Game of Bones
House Puppies
The Incredible Doggies
Doggy Dreams
Puppies World
The Pet Pub
Tails & Tongues
How to Start a Dog Training Business?
With almost 50% of the population in the United States petting a dog, the space for opening a dog training business has been left wider. It contains a great business potential & if you are passionate enough for the dogs, it brings you an opportunity to meet new dogs & their owners every day & train the loving pet with some amazing moves.
But after coming up with this idea, there are a few things that come with the idea that you'll have to consider. Like the registration of your business, investment plans, location & a few other things.
Read below to read a few guidelines about opening a dog training business.
Dogs are such a love! Training them must be challenging but an exciting job. We hope you'll get a name for your Dog Training Business & start training little canines with love & care!
Choose a Perfect Location:
Although it is a fact that half of the population pets a dog, but we have to see the other side of this fact which is; only a few of them need training.
By opening a dog training business, you'll expect a good number of lovely canines to train which will fulfill your wish of being a dog trainer as well as earn you some money, which is the ultimate purpose.
For this, you'll have to choose a location where the number of dogs is higher. The more the density of dogs, the more you'll get in your train house. So choose a location carefully. Don't step into wrong-area in the very first phase!
Don't think of rural areas in this regard. The best place for a dog training business is urban areas where the density of dogs is a little higher than in rural areas.
Choose Your Services:
There is a diversity of services a dog trainer can offer. But you can't set out for all of them or if you do, It'll be a lot to put on shoulders. You'll need to be specific here.
The services include competition obedience, pre-pet awareness, owner participation, on-and-off leash, puppy obedience, and hand signal & voice command. Choose the skills which match your expertise.
Research Competitors:
You definitely want to stand out among other dog training businesses. So for that, you'll have to research your competitors, the services they offer, their plans, their prices & every other important detail can make you understand what will you need to do to stand a unique dog trainer among others.
Obtain Mentoring Experience:
Being a dog trainer means you'll need to train not only the dogs but their owners as well. You want to satisfy your customers with your services? You'll need to adopt some mentoring skills as well. Mentoring dogs isn't enough. If you can't explain to your clients, all your services might drop into a bog.
So along with opening dog training business, adopt some interpersonal & mentoring skills as well.
More Tips: Starting a dog training business
Dogs are such a love! Training them must be challenging but an exciting job. I hope you would have got a name for your dog training business by now.
Leave a comment below with your favorite dog training business name generated with the dog training business name generator. Wish you all the luck for your dog business success.