Opening a bakery & getting stuck in naming it is not the issue anymore. Cake Shop Name Generator has made it a matter of only a few seconds. Sweet & delicious names are awaiting you in the ever-expanding universe of our bakery names.
Best Cake Shop Name Generator:
Cake Shop Names :
Click on the names you like the best.
Favorite Names:
Copy your names before you leave.
Top Famous Bakery Names Around the World:
Our Earth is afloat with sweet people & the delicious tastes pouring out of their hands. These people are serving the sweet at their best in around every corner of the world.
Bakeries have become a great source of that. They have been playing a prominent role in such regard.
Although there are many who may be sparing no efforts in opening successful bakery businesses & unfurl the sweetness among people, yet there are few that have counted their names in this industry.
Here's the list of some of those delicious bakeries with unique names:
Sadharu Aoki, Paris: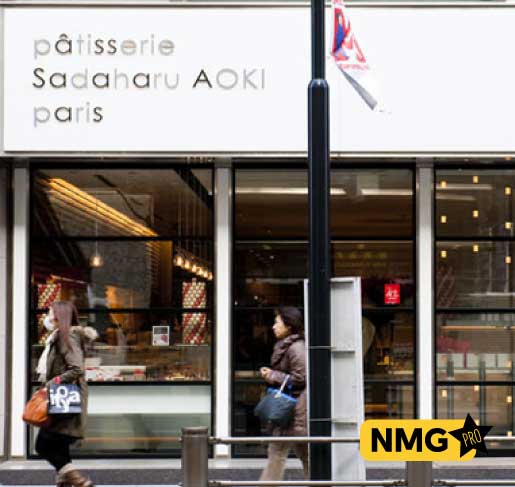 Named after Japanese Chef Sadaharu Aoki himself, the bakery itself seems like a heaven of cakes inside & give a reflection of some kind of art exhibition. Sadaharu Aoki has been serving the sweetest taste across France for a long time now.
Bouchon Bakery, New York: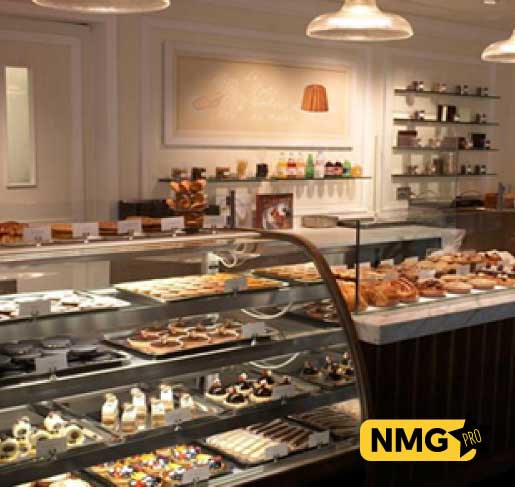 With having a master & award-winning chef like Thomas Keller as it's head, Bouchon Bakery is an Instagram stuff for customers to come in his décor as well as in the appetizing taste of its foods!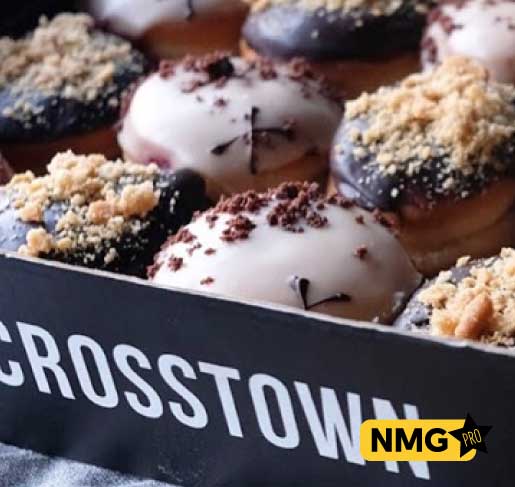 Traveling London & moving out without tasting doughnuts of Crosstown? Now, that's what we call unfair!
Crosstown has the honor of having expertise in baking the world's doughnuts. Must try it! It also has a very exciting name for any donut or coffee shop.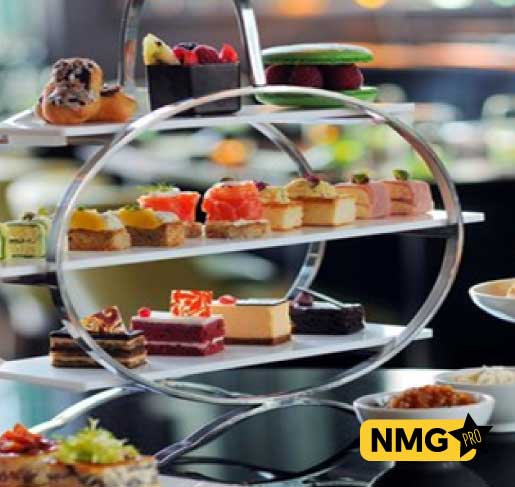 Missing the French taste in Dubai?
Well, you don't have to miss it anymore! – La Farine has brought the delicious taste of gourmet food, cookies, cakes, baguettes & tasty pastries on the deserty land of Dubai!
How to Name your Cake Shop or Bakery?
So, all is set for you to launch your own bakery but still, the name is missing from your plan!
Well, it may be for good because as much as the time it takes, the more creative idea is expected to come
But there are a few things that you should consider while planning a name for your business.
Keep it in your mind that name is equally essential & an important player in the success of your baking business. Cakeshop names demand vigorous creativity with a sweet taste.
Here are some do's & don'ts to consider while naming your baking business:
Do Make It Clear It Is A Cake Shop:
You obviously would not want your potential customers to think of your shop as a boutique shop. But naming it like Mr. Kane's Creations can make this a happen!
You gotta have to be specific in your name & make it clearly portraying your shop like a bakery. Your cake shop name can work like a magnet to attract customers if you blend some creativity in it.
Mr. Kane's Cookie Creations sounds much clear as a bakery shop.
Do Little Research About Names:
A little research doesn't hurt at all. Take out some time & look for the names that are already existing. It'll prevent you from choosing an already existing name for your business & can give you bundles of creative name ideas for your cake shop.
Choosing an already existing name, if even accidentally, if even that name is glued with a shop in some foreign land, it'll create some errors for you while making your website, Facebook page & other sources of online identity
Try Out a Family Name:
It is not a bad idea using your own name or taking the family's business into account for this. The fact is, the family's name or yours are always available & they can also make you stand out as well.
So if you tried finding a unique name, you have your family! There are many successful & famous businesses that are being run with family names.
Don't Use Confusing Words:
The most emphasizing point in this guide – Never ever use mind-baffling names words!
Confusing words cut half of your chances of being promoted. It also makes it aching for customers to remember your name.
They may not even find you on Google maps if they try to find you or post a story on social media accounts using your location.
That'll be worse for you, isn't it?
Don't Drag It Too Long:
Your name doesn't have to reflect as a manifesto for your business. It is merely a name so it's duty is to reflect the idea behind the business, not telling a whole story!
So, just try to make it as short as you can. There are many advantages to short names. They are easy to spell, easy to remember & easy to understand. Avoid dragging your name, please!
Best Cake Shop Name Ideas: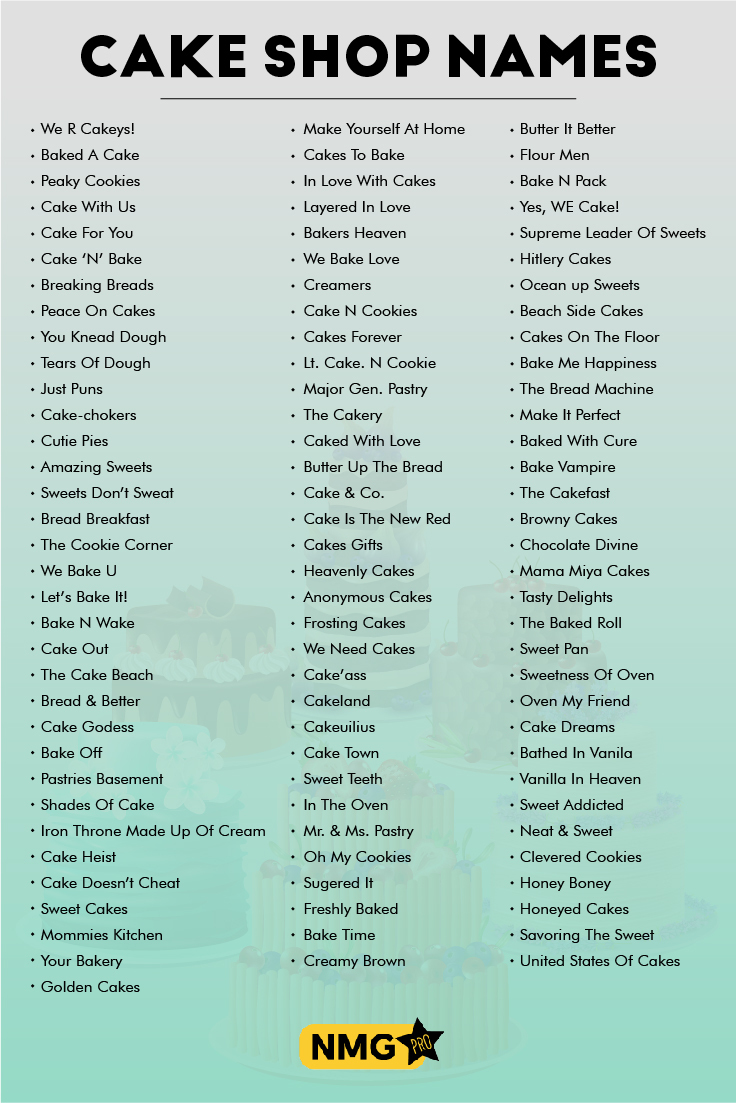 We R Cakeys!
Baked A Cake
Peaky Cookies
Cake With Us
Cake For You
Cake 'N' Bake
Breaking Breads
Peace On Cakes
Amazing Sweets
Sweets Don't Sweat
Bread Breakfast
The Cookie Corner
We Bake 4U
Let's Bake It!
Bake N Wake
Cake Out
The Cake Beach
Bread & Better
Cake Godess
Bake Off
Pastries Basement
50 Shades Of Cake
Iron Throne Made Up Of Cream
Cake Heist
Cake Doesn't Cheat
Sweet Cakes
Mommies Kitchen
Your Bakery
Make Yourself At Home
Cakes To Bake
In Love With Cakes
Layered In Love
Bakers Heaven
We Bake Love
Creamers 360
Cake N Cookies 24/7
Cakes Forever
Cake. N Cookie
Major Gen. Pastry
The Cakery
Caked With Love
Butter Up The Bread
Cake & Co.
Cake Is The New Red
Cakes Gifts
Heavenly Cakes
Anonymous Cakes
Freshly Baked
Bake Time
Creamy Brown
Golden Cakes
Butter It Better
Flour Men
Bake N Pack
Yes, WE Cake!
Supreme Leader Of Sweets
Hitlery Cakes
Ocean up Sweets
Beach Side Cakes
Cakes On The Floor
Bake Me Happiness
The Bread Machine
Make It Perfect
Baked With Cure
Bake Vampire
The Cakefast
Browny Cakes
Chocolate Divine
Mama Miya Cakes
Tasty Delights
The Baked Roll 90
Sweet Pan
Sweetness Of Oven
Oven My Friend
Cake Dreams
Bathed In Vanila
Vanilla In Heaven
Sweet Addicted
Neat & Sweet
Clevered Cookies
Honey Boney
Honeyed Cakes
Savoring The Sweet
How to Use the Cake Shop Name Generator?
Generating bakery names with the cake shop name generator is easy. Here's how it works.

All it will take a few seconds and one or two steps. You just have to click on the button named 'generate cake shop names'. Each click will generate a unique name for your cake shop.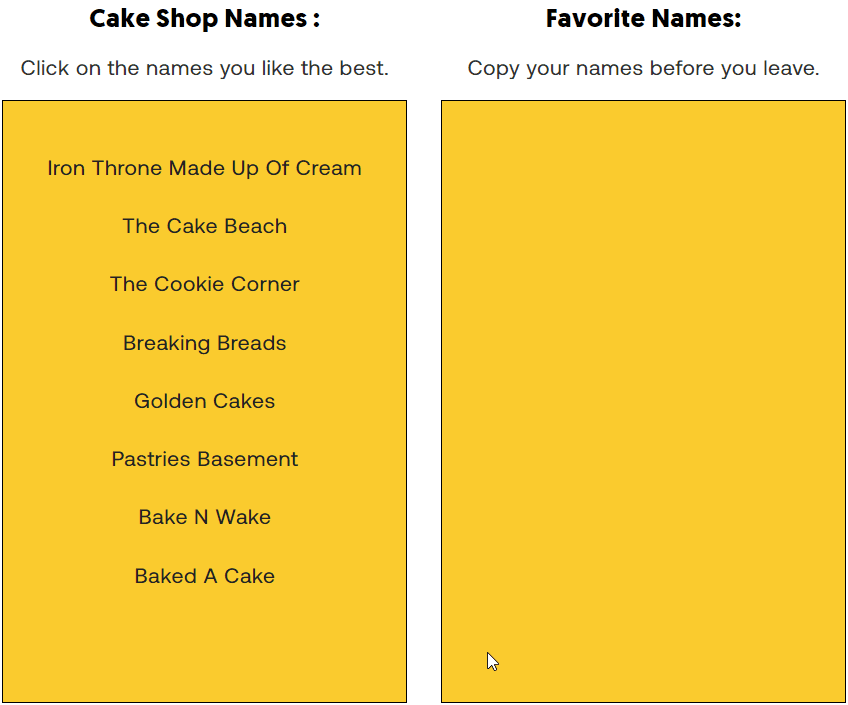 You can also review all the bakery names you've generated in the list given below. Scroll down through the list and click on any name to add to the favorites.
I'm sure cake shop name generator has solved your problem in choosing a perfect name for your cake shop. Leave a comment below with your favorite cake shop names to help other business owners find a perfect name.