If you're looking for some great flower shop names then the flower shop name generator will surely help you out.
The team behind the flower shop name generator has made sure to collect some cute, creative and unique floral business names for you to choose from.
Best Flower Shop Name Generator:
Flower Shop Names :
Click on the names you like the best.
Favorite Names:
Copy your names before you leave.
How to Start a Flower Shop?
Opening a flower shop is a great idea because who doesn't need flowers anyways?
Be it a birthday party, wedding or wedding anniversary, or if there is any kind of celebration or even a funeral, going with flowers in hand is the kindest gesture.
But opening any kind of business including flower shop needs a bit of expert advice. Here is our guide for you for starting a flower shop.
You may also like: Craft Store Name Generator
Invest your Time in knowing about Flower industry:
Your love for the flowers is not the only thing that will come handy in opening the shop.
You'll have to learn every little detail about the flowers. Be it flower arrangements at the shop or just knowledge about the flowers, you'll need every information if you want to run a successful flower business.
In this regards, you can simply take any course to educate yourself about flowers. Such courses will provide some systematic studies about flowers.
Or, you can just start working with any florist in your town. This will help you understanding the dealing with customers as well as do's & don'ts in the flower industry.
Develop a Business Plan:
Developing a business plan about a flower shop is just like doing base work for your business.
It will help you define what will be your marketing, inventory or design target. A clear business plan will also help you define your business goals & what are you going to offer through your shop.
Business plans are necessary as you can apply for some loans on behalf of them.
Business plans envelops A to Z of your business like what likely will your customers be? What they love the most?
What prices they prefer? What locations they would love for a flower shop? It answers to your every question that you must ask yourself.
Know your competitors:
Before opening a flower shop of your own, you'll have to study the ways your competitors are running their business.
For a successful business, you'll need to stand out among the other flower shops in services, products & in other things.
Look for what they are missing in providing that you can offer in your shop.
Choose a Catchy Flower Shop Name:
Name plays a very important role in marketing your business.
In modern era, where creativity is most loving tract, business names have also become extremely important & choosing a creative name is compulsory for any business. It does half of your job in marketing.
Choose a name that better reflects the flower shop & your mission. It should give a fragrant feeling, not a spicy. After all, it's a flower shop, not a restaurant.
Sounds tedious? Well, you can use Flower Shop Name Generator. We have done all the creative work for you. Just one click & get you creative flower shop name!
Have an Online Presence:
This is the internet age. Having your online identity will help you in reaching out to your community easily, if not masses.
Flower shops love to have a sweet-scented & aromatic website nowadays. Have yours as well. It will help you to stand out among other competitors. Make it as creative as you can. Set up a home delivery option & an online payment feature to guarantee yourself a success in your business!
Best Flower Shop Name Ideas: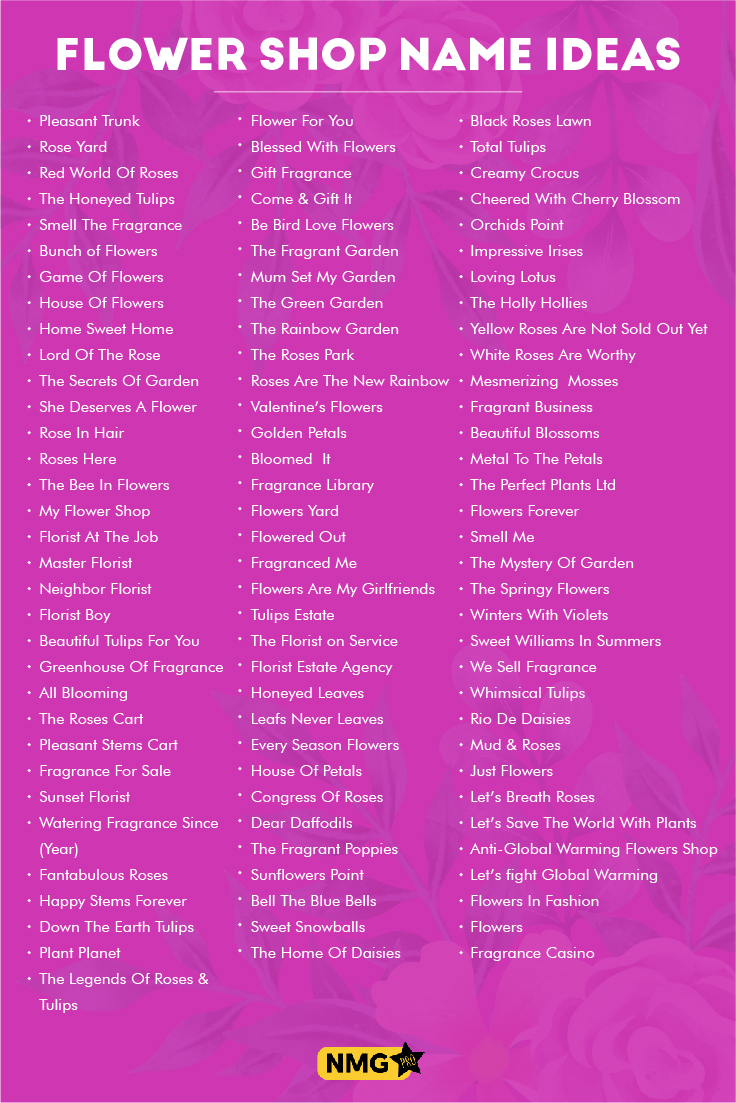 The Bee In Flowers
Florist At The Job
Master Florist
Neighbor Florist
Florist Boy
Pleasant Stems Cart
We Sell Fragrance
Fragrance For Sale
Sunset Florist
Watering Fragrance Since (Year)
Fantabulous Roses
Happy Stems Forever
Down The Earth Tulips
Be Bird, Love Flowers
The Fragrant Garden
Mum Set My Garden
The Green Garden
The Rainbow Garden
The Roses Park
Roses Are The New Rainbow
Flowers Are My Girlfriends
Tulips Estate
The Florist on Service
Florist Estate Agency
Honeyed Leaves
Sweet Snowballs
The Home Of Daisies
Black Roses Lawn
Total Tulips
Creamy Crocus
Cheered With Cherry Blossom
Orchids Point
Impressive Irises
Loving Lotus
The Holly Hollies
Yellow Roses Are Not Sold Out Yet
White Roses Are Worthy
Mesmerizing Mosses
Fragrant Business
Beautiful Blossoms
Metal To The Petals
The Perfect Plants Ltd
Flowers Forever
Smell Me
The Mystery Of Garden
The Springy Flowers
Winters With Violets
Sweet Williams In Summers
We Sell Fragrance
Whimsical Tulips
Rio De Daisies
Mud & Roses
How to Use the Flower Shop Name Generator:
Collecting cute and creative flower shop names is no more a headache now. The flower shop name generator has all the creative flower shop names within it. Here's how you can generate simple flower shop names:

Upon clicking on the button named 'generate flower shop names', you'll see a unique flower shop name on your screen. You can generate as many flower shop names as you want.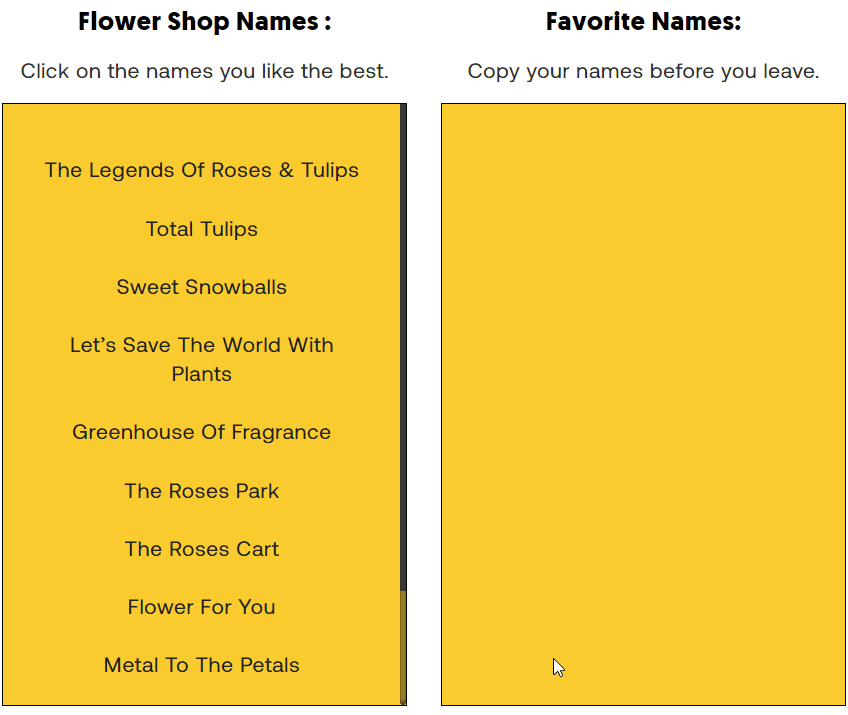 The flower shop name generator not only generates name on a single click but also saves a list of generated names for you from where you can choose your favorite names & send it to your family & friends for further discussion.
I hope you could smell out some fragrance out of our flower names! If you also have any floral business name idea, please drop it down in the comment box along with the names you loved the most from the list.