Looking for some good fitness blog names? Fitness blog name generator can sure help you out. Starting a fitness blog is really a great idea. But finding a good name for that is a troubling issue. Are you facing a problem finding good fitness blog names?
If yes, then don't worry anymore. The fitness blog name generator can solve your problem within a few minutes. The team behind Name Generator Pro has curated thousands of fitness blog names and will keep doing so to help you find a perfect name for your blog.
Best Fitness Blog Name Generator:
Fitness Blog Names :
Click on the names you like the best.
Favorite Names:
Copy your names before you leave.
What to Name Your Fitness Blog?
Naming your blog can also be a hectic job for you if you don't follow the pattern. It might be a headache for you & a hurdle blocking your way.
But what we are going to suggest you may help you find the best fitness blog names. Figuring out what to name your fitness blog can pave your way to the successful beginning of your blog.
Here's how to perfectly name your fitness blog:
Be Specific in Your Fitness Blog Name:

You've already decided on the niche you want to write about. Now the next thing you have to do is being specific about the niche in your fitness blog name as well. This sounds complex but, it is not. With the proper way, you can get it done easily.

Write down all the nouns, adjectives or any other relevant words about your niche. Then start matching every word with everything. There's a chance of getting a creative fitness blog name this way. Or you can use the fitness blog name generator if you don't want to do it manually.

Stay Relevant:

Don't go for complex words that are hard to pronounce. Callisthenic Muscles may sound like a good domain name for fitness blog but it's actually not.

Look for the spellings & pronunciation. They both cannot be neglected in giving your fitness blog a perfect name.

Adding complex words & spellings will make a visitor disinterest at the very beginning. Try catchy words to attracts customers towards your blog.
100+ Appealing Health & Fitness Blog Names: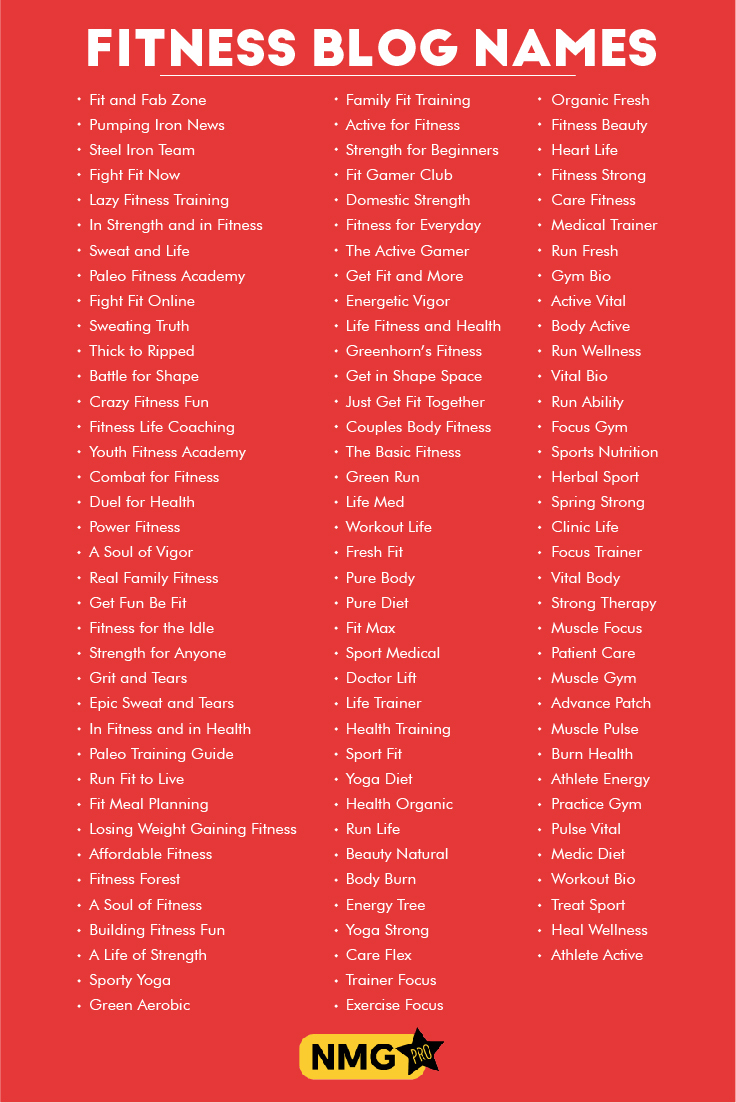 We have a great amount of fitness blog names that have been generated by the fitness blog name generator. We love to share those with you. Here we present the 100+ creative names for health & fitness blog:
Fit and Fab Zone
Pumping Iron News
Steel Iron Team
Fight Fit Now
Lazy Fitness Training
In Strength and in Fitness
Sweat and Life
Paleo Fitness Academy
Fight Fit Online
Sweating Truth
Thick to Ripped
Battle for Shape
Crazy Fitness Fun
Fitness Life Coaching
Youth Fitness Academy
Combat for Fitness
Duel for Health
Power Fitness
A Soul of Vigor
Real Family Fitness
Get Fun Be Fit
Fitness for the Idle
Strength for Anyone
Grit and Tears
Epic Sweat and Tears
In Fitness and in Health
Paleo Training Guide
Run Fit to Live
Fit Meal Planning
Losing Weight Gaining Fitness
Affordable Fitness
Fitness Forest
A Soul of Fitness
Building Fitness Fun
A Life of Strength
Family Fit Training
Active for Fitness
Strength for Beginners
Fit Gamer Club
Domestic Strength
Fitness for Everyday
The Active Gamer
Get Fit and More
Energetic Vigor
Life Fitness and Health
Greenhorn's Fitness
Get in Shape Space
Just Get Fit Together
Couples Body Fitness
The Basic Fitness
Green Run
Life Med
Workout Life
Fresh Fit
Pure Body
Pure Diet
Fit Max
Sport Medical
Doctor Lift
Life Trainer
Health Training
Sport Fit
Yoga Diet
Health Organic
Run Life
Beauty Natural
Body Burn
Energy Tree
Yoga Strong
Care Flex
Organic Fresh
Fitness Beauty
Heart Life
Fitness Strong
Care Fitness
Medical Trainer
Run Fresh
Gym Bio
Active Vital
Body Active
Run Wellness
Vital Bio
Run Ability
Focus Gym
Sports Nutrition
Herbal Sport
Spring Strong
Clinic Life
Focus Trainer
Vital Body
Strong Therapy
Muscle Focus
Patient Care
Muscle Gym
Advance Patch
Muscle Pulse
Burn Health
Athlete Energy
Practice Gym
Pulse Vital
Medic Diet
Workout Bio
Treat Sport
Heal Wellness
Athlete Active
Exercise Focus
Sporty Yoga
Trainer Focus
Green Aerobic
Popular Fitness Blog Names:
One great way to get some fitness blog name ideas is to look for popular fitness blogs with interesting names. Here are few of those: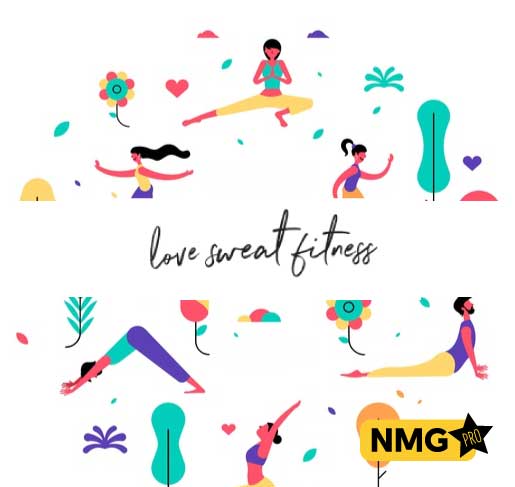 This is indeed one of the finest fitness blog names to attract the eye of anyone who loves 'love, sweat, and fitness'. The blog owner, Katie, not only came up with a good blog name, but she also built a huge audience around it.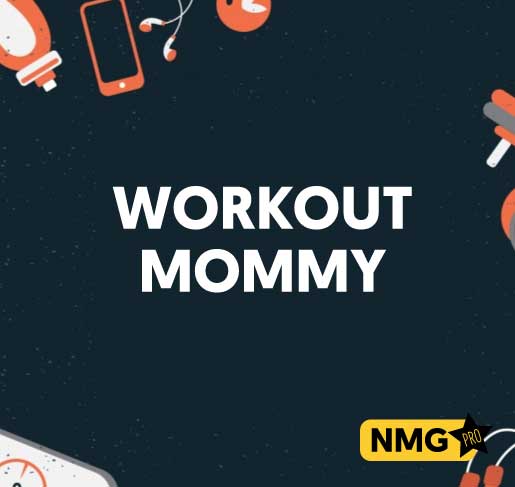 If you're a mommy blogger and into fitness! Then this is a great example of how you name your fitness blog. This blog is for all the moms out there who are passionate about their fitness and health.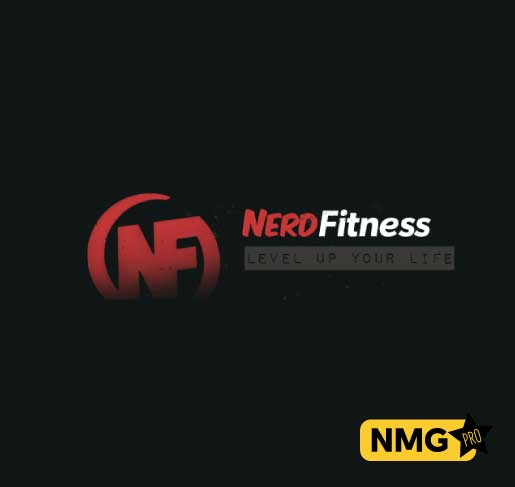 Nerd fitness! A really cool name for a fitness blog. Who else you can go to for getting the best fitness advice than the nerds in the fitness. Such a catchy and unique name!
How to Start a Successful Fitness Blog:
Well not only fitness blog but, the method we are going to share with you will help you in understanding the basics of stepping into the blogging world. No matter if you're starting a travel blog, a beauty blog or a food blog.
The very first step you have to take before taking a 'real first step' is to ask yourself if you really want to start blogging or not. Believe me, it'll save you a lot of time, if not months.
Who doesn't want to earn today? People today are wearing magnifying glasses, focusing only on the cheap ways & short cuts to earn money, without knowing if that is what they really want to do.
To be very honest, blogging isn't a shortcut nor a downhill to fill your bank accounts. Keep in mind that everyone is not made for blogging!
So, congratulations if you really want to blog because it's really incredible!
Now we can start counting our steps for starting a fitness blog.
Figure out what do you want to write about:
Feeling blurred about what do you really want to write about? It's okay! It's quite natural to face such a situation. The majority of successful fitness bloggers have gone through this stage before leaving a mark.
It's just a matter of how do you cope with this confusion.
All you have to do is to be SUPER HYPER SPECIFIC about your niche in fitness blogging. There is a huge diversity of topics in fitness blogging. Some write about running & some write about different parts of the body in health & fitness blogging.
Read more: How to Write a Fitness Blog
Our suggestion for you here is to write roughly about everything!
Yes, and then look for the topics that excite you more for writing.
Sketch an Image for your Fitness Blog in your Mind:
It will help you in figuring out what are you going to add in your blog and whatnot.
There's always bulk about fitness blogging that comes in the way when we settle down to start a fitness blog. Write what categories you are going to add at first in your fitness blog.
We suggest that you should write at least 3-5 categories in the beginning and write a description of the categories you wish to add in your health & fitness blog.
This will be very handy in sketching a picture of your blog into your mind.
Write 5-10 Blog Post Titles for each Category:
After you finish categorizing your blog, try to write 5 to 10 blog posts titles for each category in your fitness blog. According to successful bloggers, this has been a way forward in their blogging career.
Writing blog titles will help you drawing a map for your content on your fitness blog and it will be much easier for you as well to write about them when you finally start blogging.
How to Use Fitness Blog Name Generator?
Using a fitness blog name generator to generate unique fitness blog names is a piece of cake. Here's the simple process:

Simply click on the button named 'Generate Fitness Blog Names' and you'll start seeing a unique fitness blog name on each click. You can generate as many names as you want until you get what you want.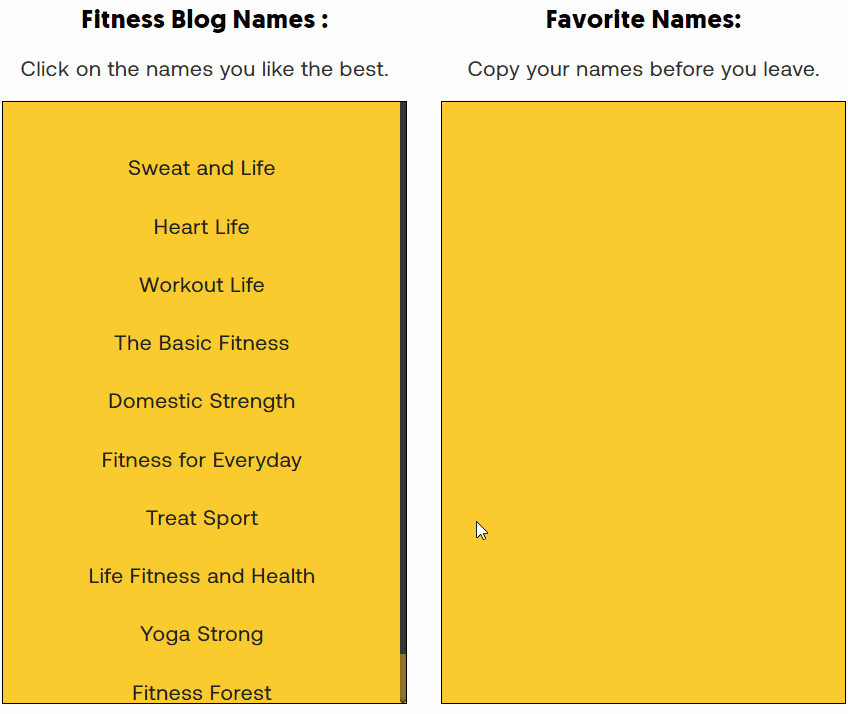 If you want to review the names you've generated, simply scroll down and you'll see two lists. One list contains all the names that you've been generating. And the other one is to make a separate list of your favorite names.
It's your time to start generating names for your fitness blog with the fitness blog name generator. Leave a comment below with your favorite fitness blog name and I'll add it into the list.