Comic Book Store Name Generator will help you with everything you need to get you started walking with your business. Let's get started generating some catchy comic book store names.
Best Comic Book Store Name Generator:
Comic Book Store Names :
Click on the names you like the best.
Favorite Names:
Copy your names before you leave.
If you are a bookworm who loves to blend with the pages of books & thinking of opening a business, what can be a great idea than turning your bookshelves into a bookstore? And if you love comics, then you have already a great business plan in your mind. Just settle it down!
How to Use the Comic Book Store Name Generator?
Choosing a book from a bookstore may not be easy, or naming it may be a hectic task but, using Comic Book Store Name Generator is way easier out of your expectations!

It needs no identity or your online presence on the internet. It just requires you to click the button 'Generate Comic Book Store Name' and a unique comic bookstore name will appear in front of you.
Now, if it is the name you were looking for, you can go with it. If not, you can keep clicking the button until you find your lovable name!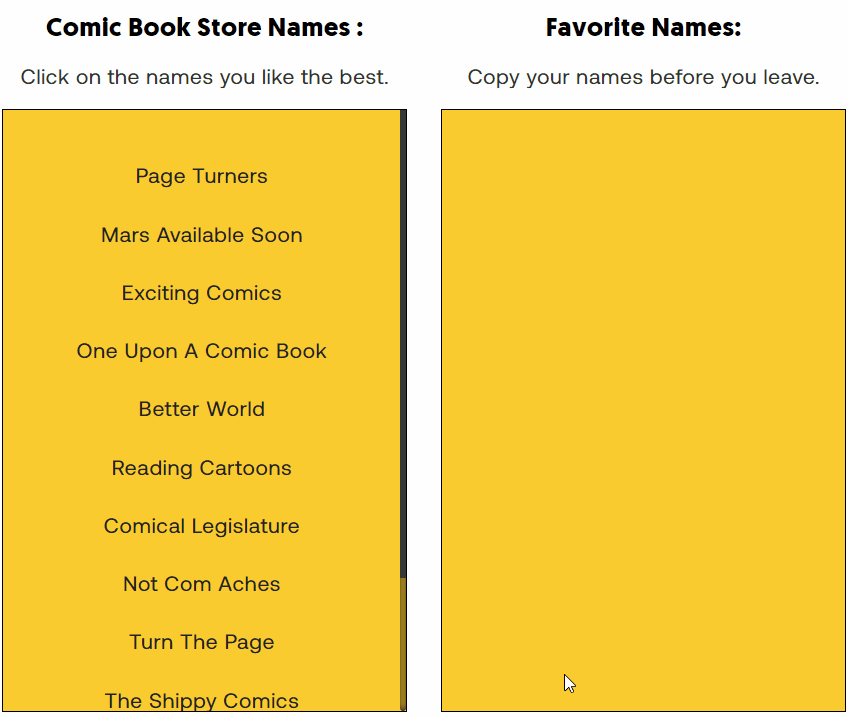 This generator also creates a list of the generated names so you don't have to note down every name on a page. You can choose the names you like the most & discuss it later with your friends & family.
How to Name a Comic Book Store?
Naming any business requires you to invest a good time. And when it is a comic book store, you will have to be more careful in this regard because book readers love creativity & they know a creative comic book store name when they see one.
You need to be specific at this phase & brainstorm some creative ideas to invite book readers to your store. Names are an efficient source of marketing nowadays. They do half of your marketing job if you have successfully named your store after a creative name.
Here is our guide to help you in naming your comic book store:
Blend yourself with comic book culture:
You may be a crazy comic book fan or a regular reader but just that part is not enough in understanding the dynamics of bookstore businesses.
If you have made your mind for opening a comic book store & want to make it a huge success in the comic book industry, then you will have to know the ground realities in comic book store business & see it from very close.
For that, we recommend you to attend trade shows & conventions to keep yourself informed of new trends in the industry. Talk to the client about their buying habits & note the price ranges they prefer the most. Don't forget to bring bookstore owners in this case. Talk to them as they are already experienced in the field.
It will fill your basic requirements for naming a business.
Note down your learning from the survey:
You have filled your mind with enough with the ideas of starting a comic bookstore & naming it & the difficulties that come in the way. You also know that what clients love the most in bookstore names or what bookstore names are most attractive. Now put down all your learnings in bullet points & give them a particular name.
For suppose, in your survey, you have found that children comic books are top-selling books in the industry. Now you will need to brainstorm ideas for children comic book store names.
Or you found that bookstores with shorter names were the ones who got most visitors. So you will need to look for short names for your comic book store.
Set your Target Audience:
Who you are going to target? Is it the children? Or teenagers?
Well, both will have an impact on your names. If you are going to target children, you'll have to specify in your name & find the simplest words for your store name. Store for teenagers can use some tricky or humorous names.
If you are targeting both, you will have to keep a balance in your name.
Brainstorm Ideas:
It's time to start brainstorming name ideas for your comic book store.
With laying all the foundation & getting the information you need for opening a comic book store & naming it, you have almost everything to start your discussion, table talks, late-night chit chats, meetups & brainstorming process for naming.
Keep the following points in your mind while brainstorming ideas:
Keep it Specific:
We don't emphasize on keeping it short, but you must be specific. Your name should mirror the idea behind the store.
Use Simple Words:
Comics is an art of making stories simple & interesting through different animation. Its name should do the same. Avoid using flabbergasting words. Use simple & easy to understand words instead.
Avoid Hyphens:
Hyphens become itchy in the eyes. Avoid using them in your book store name.
Use Rhyming Words:
Everyone loves music. Words that rhyme with each other creates a piece of music. Try to use rhyming words.
Use the Comic Book Store Name Generator:
If you are unable to curate some names for your store & start hating this laborious task, comic book store name generator is here to rescue you! Save your time using our generator because we have already done this time-eating task for you. Start generating right away!
Best Comic Book Store Name Ideas: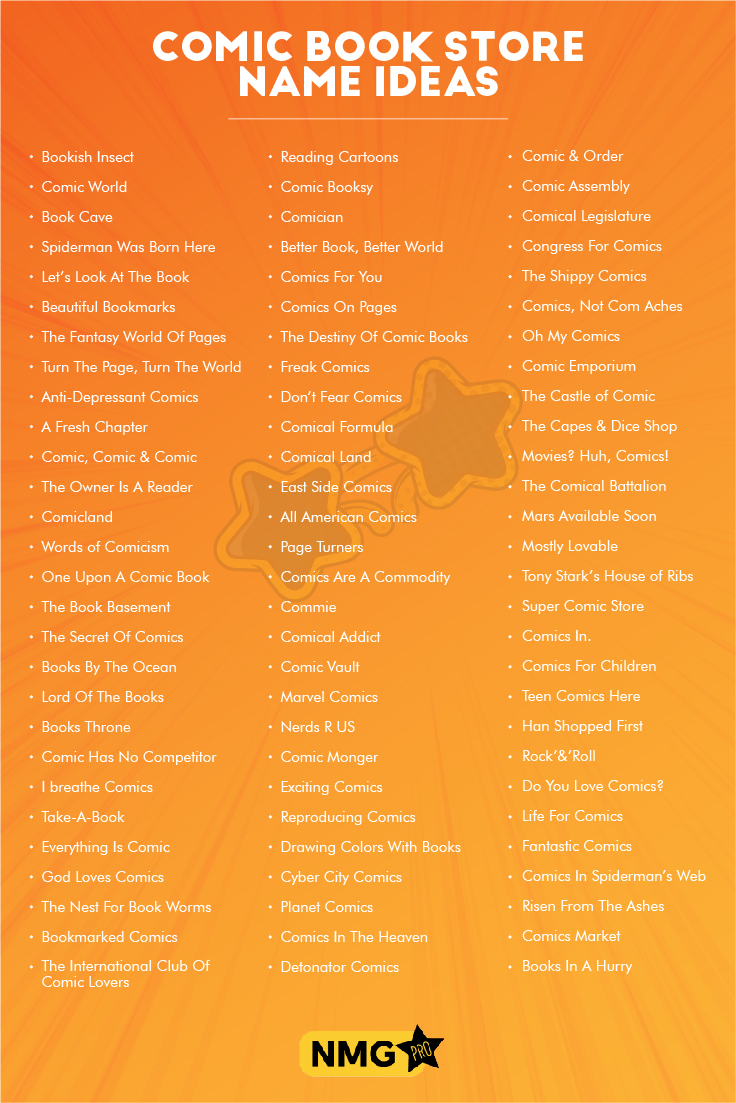 Bookish Insect
Comic World
Book Cave
Spiderman Was Born Here
Let's Look At The Book
Beautiful Bookmarks
The Fantasy World Of Pages
Turn The Page, Turn The World
Anti-Depressant Comics
A Fresh Chapter
Comic, Comic & Comic
The Owner Is A Reader
Comicland
One Upon A Comic Book
The Book Basement
The Secret Of Comics
Books By The Ocean
Lord Of The Books
Books Throne
Comic Has No Competitor
Everything Is Comic
God Loves Comics
The Nest For Book Worms
Bookmarked Comics
Books In A Hurry
Reading Cartoons
Comic Booksy
Better Book, Better World
Comics For You
Comics On Pages
The Destiny Of Comic Books
Freak Comics
Don't Fear Comics
Comical Formula
Comical Land
East Side Comics
All American Comics
Page Turners
Comics Are A Commodity
Commie
Comical Addict
Comic Vault
Marvel Comics
Nerds R US
Comic Monger
Exciting Comics
Reproducing Comics
Drawing Colors With Books
Comics Market
Comic & Order
Comic Assembly
Comical Legislature
Congress For Comics
The Shippy Comics
Comics, Not Com Aches
Oh My Comics
Comic Emporium
The Castle of Comic
The Capes & Dice Shop
Movies? Huh, Comics!
The Comical Battalion
Mars Available Soon
Mostly Lovable
Tony Stark's House of Ribs
Super Comic Store
Comics In.
Comics For Children
Teen Comics Here
Han Shopped First
Rock'&'Roll
Do You Love Comics?
Life For Comics
Fantastic Comics
The International Club Of Comic Lovers
Comics In Spiderman's Web
Risen From The Ashes
Cyber City Comics
Planet Comics
Comics In The Heaven
Detonator Comics
Comics is the best source of fun & entertainment for everyone. We wish you the best of luck for your comics store.
Leave a comment below with your favorite comic book store name generated with the comic book store name generator. I'm sure you would've found the favorite name by now. Happy Generating!