Electronic Shop Name Generator is a full stop to your laborious & back-breaking process of finding a catchy name for your electronic shop
Electronic shops are meant to make life easy. Their naming should be too. End your hunt for the name by finding the best electronic shop names below.
Best Electronic Shop Name Generator:
Electronic Shop Names :
Click on the names you like the best.
Favorite Names:
Copy your names before you leave.
The electronics are changing the world. I hope you will be the agent of change & provide the best facilities to electro-consumers! Wish you the best of luck! Below you will find some more interesting topics related to the Electronic shop name generator, such as:
How to Start an Electric Store
Best Electronic Shop Name Ideas
How to Use the Electronic Shop Name Generator
How to Start an Electronic Store:
The Electronic store contains different varieties of electronic devices & parts for its consumers which include television, mobile phones, air conditioners, laptops, computers & many more. Technological evolution has made these all things essential & requisites to live in the modern era. If you are thinking of opening an electronics store, you are just hitting straight into bull's eye!
But going impromptu, you may fall like the leaves in autumn. Some information & advice may help you start big. Read below the basic guide to start an electronics store.
Read other Electronic Businesses:
Before even you take your first step, spend some time reading existing businesses of name niches that you are targeting. This includes their business models, marketing strategy, branding, & other many tactics that your competitors are using for maximum customer satisfaction.
It's a prerequisite for opening any business as well because by this you'll know your competitors as well as the demands of the consumer market. The more you research, the more vital information you'll have.
Draw a Competitive Business Plan:
A business plan is crucial for the start-up of your business. Generally, a business plan includes the total investment, the costs & the revenue that you may generate. The importance of a business plan lies in the quotation of Benjamin Franklin that says:
"If you fail to plan, you're planning to fail."
You must not fail at drawing a business plan for your electronic shop. Try to hire an accountant for making a competitive business plan or you can do it on yourself as well. Just make sure you do make a business plan!
Find a Good Electronic Shop Name:
Branding deserves an even break in the electronic industry as well. If you are underestimating it, you are making a blunder here!
Naming, being an important part of branding, plays a vital role in the marketing of your business. In fact, it does half of your job in promoting your business. Name is what can make you stand out among your competitors. So read the market properly so you can have a better idea of how your competitors are using their names & how you can make yourself stand out.
If you are facing mind blocks in naming your electronic shop, you can use our Electronic Store Name Generator. We bet you'll end up naming your business creatively!
Raise Funds for Your Electronic Business:
Electronic Business is a kind of business that requires significant capital to invest in the initial stage. You will be needing money for storage space, the store lease, the merchandise, your staff, and marketing. If you are thinking of an online appearance as well, you'll need to hire some developers & designers who don't come without a penny.
So make sure you have enough figures in your account to get your self started with your business plan.
Find Out Your Electronic Supplier:
Before you plan your investments for your electronic store, you'll need to find out your electronic suppliers & their terms & conditions for a contract. Constructing a strong relationship with your suppliers is one of must-have skill that you will have to adopt.
You can call out well-known manufacturers of electronic products about having a strong business relation or you can just go to the same shops around your town & ask them about some suppliers. You can go through the internet & business journals as well to find your suppliers.
You may also like: General Store Name Generator
Best Electronic Shop Name Ideas: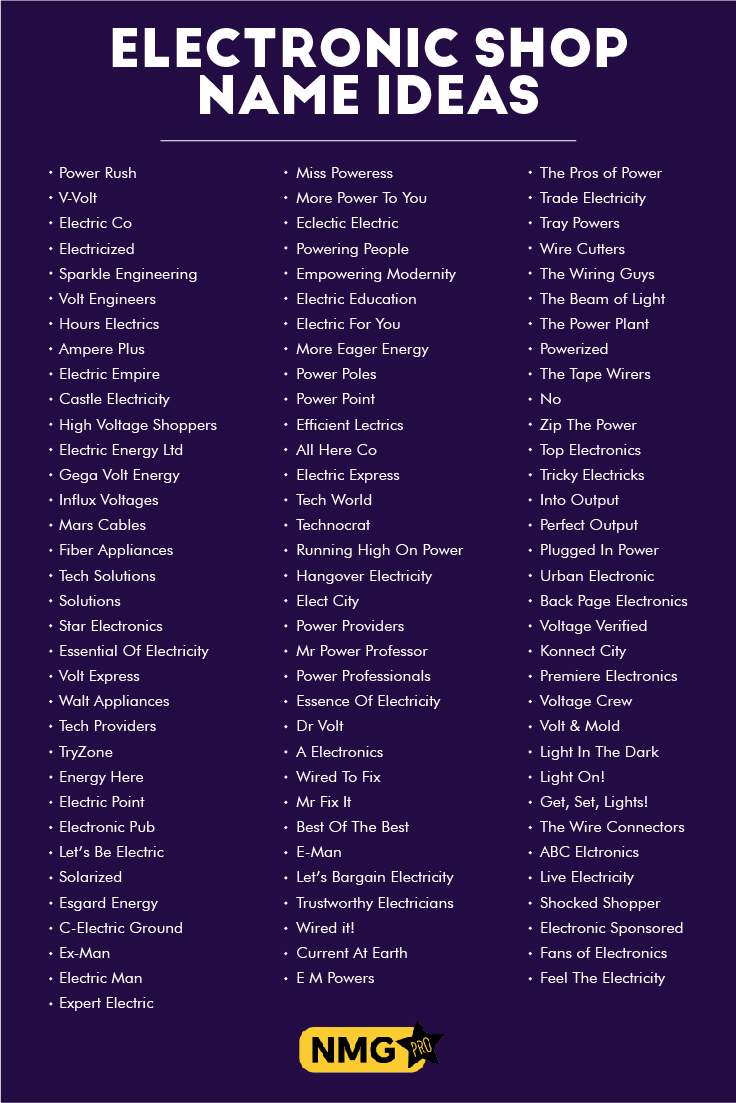 Power Rush
V-Volt
Electric Co.
Electricized
Sparkle Engineering
Volt Engineers
24/Hours Electrics
Ampere Plus
Electric Empire
Castle Electricity
High Voltage Shoppers
Electric Energy Ltd
Gega Volt Energy
Influx Voltages
Mars Cables
Fiber Appliances
Tech Solutions
24/7 Solutions
5 Star Electronics
Essential Of Electricity
Volt Express
Walt Appliances
Tech Providers
TryZone
Energy Here
Electric Point
Electronic Pub
Let's Be Electric
Solarized
Esgard Energy
C-Electric Ground
Ex-Man
Electric Man
Expert Electric
Miss Poweress
More Power To You
Eclectic Electric
Powering People
Empowering Modernity
Electric Education
Electric For You
More Eager Energy
Power Poles
PowerPoint
Efficient Electrics
All Here Co.
Electric Express
Tech World
Technocrat
Running High On Power
Hangover Electricity
Elect City
Power Providers
Power Professor
Power Professionals
Essence Of Electricity
Volt
A1 Electronics
Wired To Fix
Fix It
Best Of The Best
E-Man
Let's Bargain Electricity
Trustworthy Electricians
Wired it!
Current At Earth
E M Powers
Feel The Electricity
The Pros of Power
Trade Electricity
Tray Powers
Wire Cutters
The Wiring Guys
The Beam of Light
The Power Plant
Powerized
The Tape Wirers
No 440
Zip The Power
Top Electronics
Tricky Electricks
Into Output
Perfect Output
Plugged In Power
Urban Electronic
Back Page Electronics
Voltage Verified
Konnect City
Premiere Electronics
Voltage Crew
Volt & Mold
Light In The Dark
Light On!
Get, Set, Lights!
The Wire Connectors
ABC Elctronics
Live Electricity
Shocked Shopper
Electronic Sponsored
Fans of Electronics
How to Use the Electronic Shop Name Generator?
Choosing a name with the help of an electronic shop name generator is easy. You just have to follow the given steps to generate some cool electric shop name ideas:

You'll be shown a button named 'Generate Electronic Shop Name Generator' and an empty screen. Yes, you guessed it right, clicking the button will enable you to get a unique electronic shop name idea.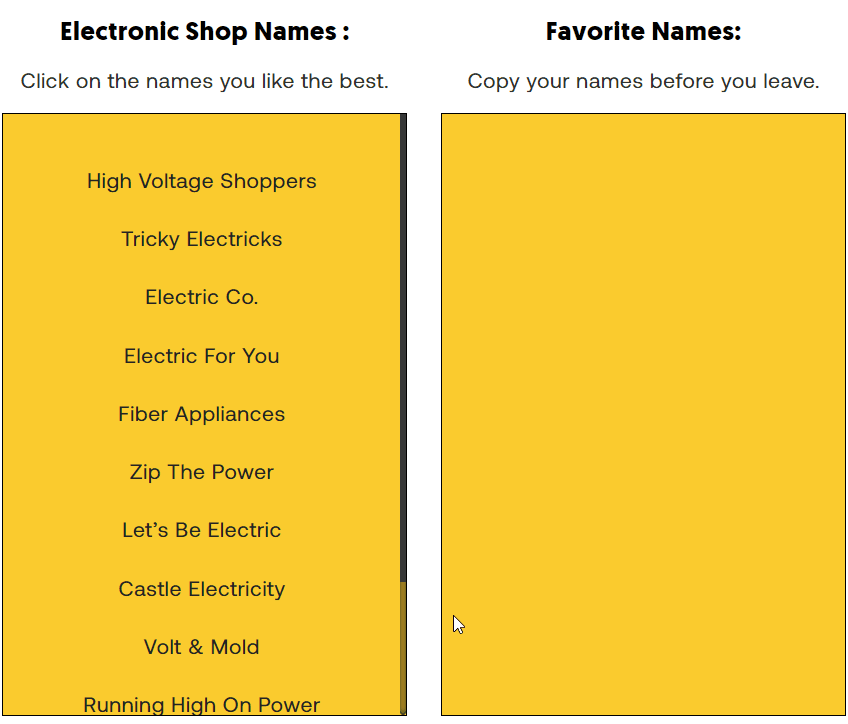 You can generate as many names as you want. And you can also review each name generated with the electronic shop name generator. There are two lists given below the name generator, list one contains all the names you've generated. Whereas you can sort out your favorite names on the other list.
You surely have chosen your electric shop name with the electronic shop name generator. Leave a comment below with your favorite electronic shop name generator in the comments section below.