Robot name generator will help you generate some cool robot names for you with ease. The team behind the robot name generator has made the process of collecting robot names easier than ever now.
Best Robot Name Generator:
Robot Names :
Click on the names you like the best.
Favorite Names:
Copy your names before you leave.
Best Robot Names of All Time:
Welcome to the world of cool artificial intelligence & robot names!
Robotics these days has gone far ahead & is an important topic to be discussed even in family meetings! You might be thinking of making your own robot. Robot Name Generator will help you in naming it
There have been remarkable discoveries & inventions in the field of robotics & the process is still ticking. Robots haven't been only invented physically. But the imaginary robots have also been successful in scratching the memory walls of millions of people.
These inventions, along with wonderful robots, have given birth to some cool & unique robot names. Here's our list of some of the infamous robot names of all time:
Robonaut: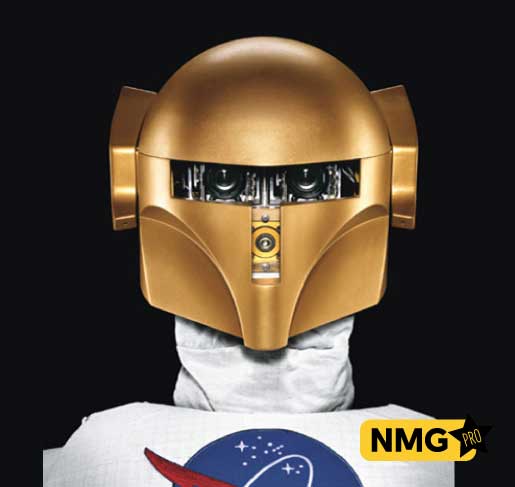 This amazing robot is one of the extraordinary inventions carried out by NASA. Robonaut, just like its name showcases, is a perfect alternative for astronauts, and maybe of humans in the time to come!
Specifically designed for performing astronaut functions in the space, Robonaut is designed as same as a human in size and shape. It was first sent into space on August 22, 2011.
Roomba Discovery: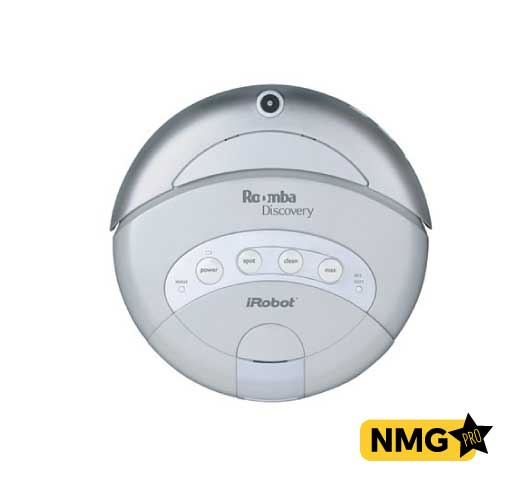 The surface on the floor we walk on is often dusted with particles of dust that we can't see with the naked eye. But Roomba Discovery can discover them in no time!
iRobot, a second-generation robotic vacuum is specially designed to clean the floors. Just hit the power button & relax at the couch, this AI maid will automatically sweep your floor off!
Optimus Prime: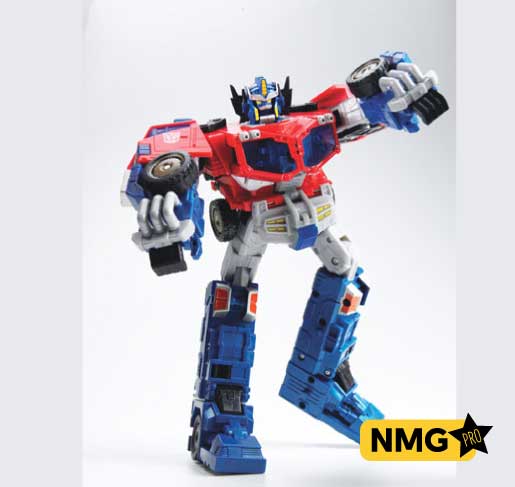 Who isn't familiar with Sci-Fi blockbuster The Transformers?
Who doesn't love the robots who can turn into cars, trucks & back into a giant robot & lead a whole fleet of robots?
Well, we do love them! Optimus Prime would probably be the most loved & cherished Sci-Fi robot character! The Transformers were introduced in 1984 but even after 3 decades, it's still ruling the hearts of fans!
Best Robot Name Ideas: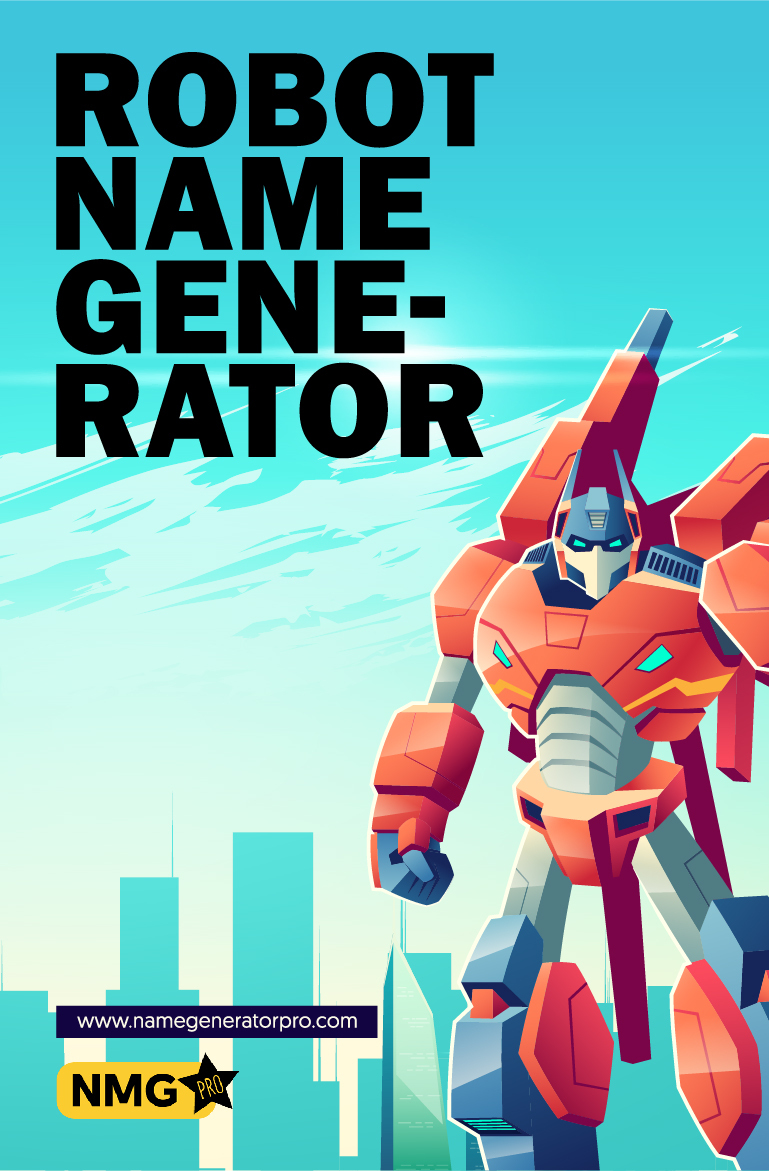 King Obot
Obotify
Super Robot
Robo Man
Roboticted
Robust-tic
Gentleman
Cavalier
Man of Machine
Revolutionized Man
Sir
Squire
Knight
Sheik
Lord of Lords
Prince
Duke
Hitler
Gandhi 109
The Nawab
Commoner
Peasant
Your Peon
Cute Waiter
Master of Machines
Robestocrat
Captivator RII
My Buddy
Proletarian
Senior Citizen
Digital Daddy
Mommy
Player
Intelligentia
Reboot The U
Ready to Rob-OT
Machine Man
Robopicks
Know The Robo
Robo Is Inside Me
Robistic Heart
I am a Bot
Hell AI
AI Expert
Electric Veins
Robotered
Robo Godfather
Gene Bots
Genie The Robot
Buttery Bots
Bet Bot
Cement Giants
Mr Roboto
Rapbot
Dot Matrix
Lima
R.A.I.N
I.F.E
Phitti Bot
Vector
Sci Bots
Denny & Venny
Mobby
The Robo of Robovile
Pieceful Botty
Windam
King Joe
Jymie The Robot
Wanderer
Maunderer
The K2 Robot
The Saint
Your Answer
Dad
Universe
Strange Thing
Automated Protection
Brainstormer
Golum
Operate-Bot
Everything
Mouthpiece
Bot In Bottom
You Need Me
O Between You
Data Lover
How to Use the Robot Name Generator?
Using the robot name generator to generate cool robot names is super easy. Here's how it works:

You will be shown an empty field and a button named 'generate robot names'. Simply click on the button and a unique robot name will be generated. You can generate as many names as you want until you found the best one.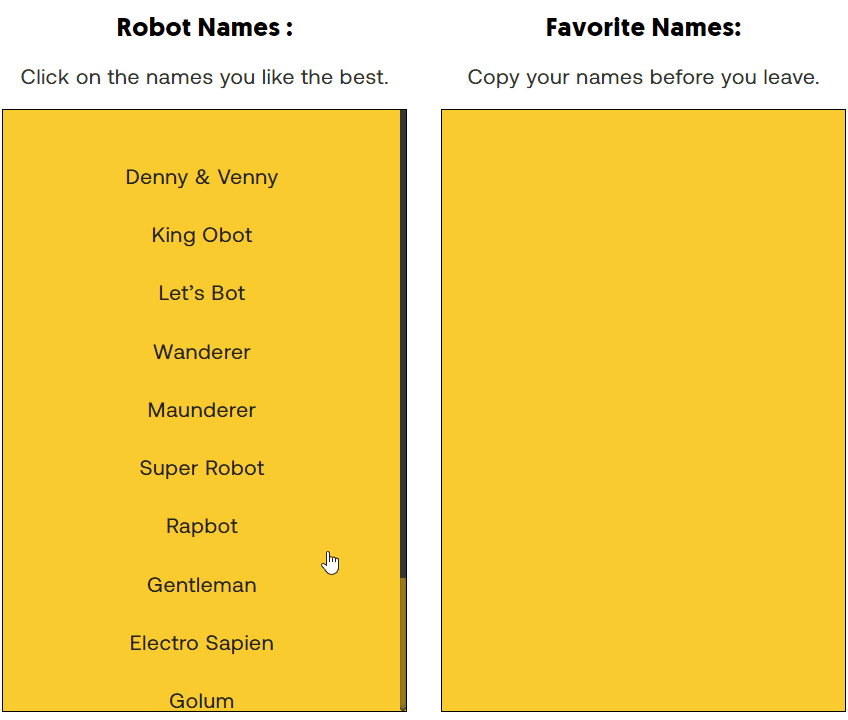 While generating random robot names, you can also review them in the list given below. Scroll through the whole list to review all the names you've generated.
You can also create a list of your favorite names to sort out the best names. Simply click on the name you like and it will be moved to the list beside it.
We wish you the best of luck for whatever you are up to in the world of robotics! Leave a comment below with your favorite robot names generated with the robot name generator.