The podcast name generator will surely help you generate some of the best podcast names. Also, find out some tips and popular podcast names to get inspired.
Starting your own podcast is indeed an incredible feeling. I congratulate you for that. Scroll down below to find the name generator for your podcast and start generating name ideas!
Best Podcast Name Generator:
Podcast Names :
Click on the names you like the best.
Favorite Names:
Copy your names before you leave.
The days of searching for a right radio channel are long gone. Radio listeners are also rapidly falling every day. Podcasts are taking positions as an alternative for radio. If you are starting a podcast channel, just go with the idea.
Need a creative podcast name? Don't worry! Podcast Name Generator will find you one.
How to Use the Podcast Name Generator?
Podcast Name Generator is easier than tuning in a channel that you actually like on the radio! And it's not a time-consuming tool as well!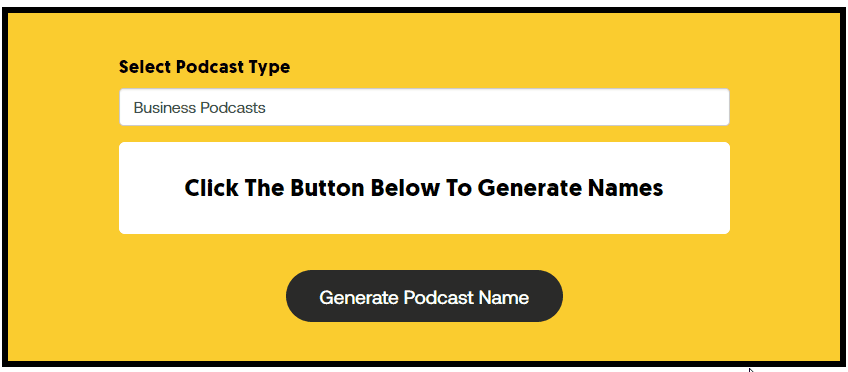 This name generator for podcast can generate names in all sorts of categories. What you need to do is to select the category you want to have a name about. For instance, select the 'comedy podcasts names' from the drop-down menu & hit the button named 'Generate Podcast Names'.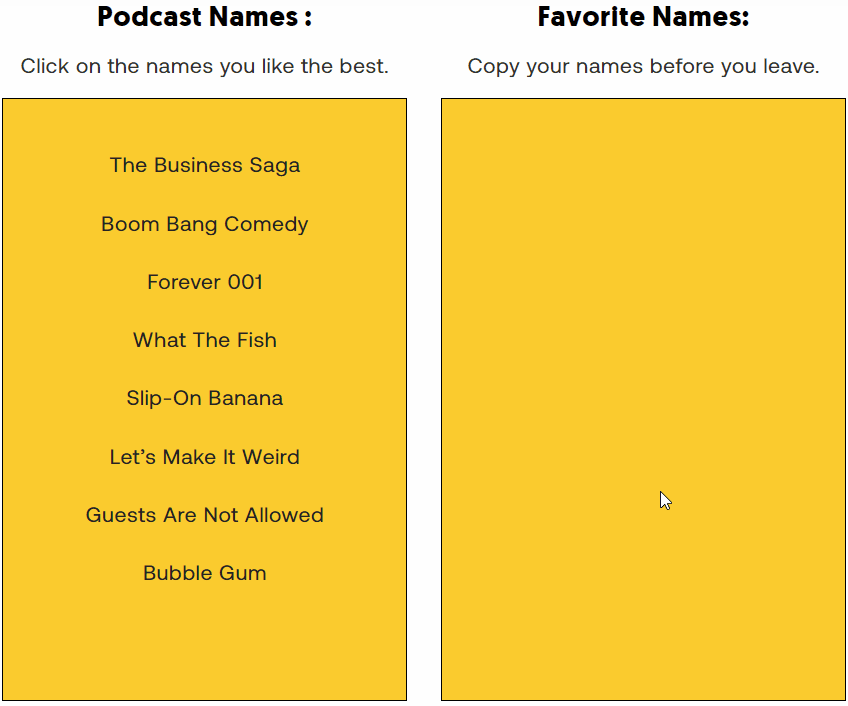 You'll be shown a unique podcast name on each click. You can generate as many names as you want until you find the perfect and effective podcast name.
There is also a possibility of reviewing all the names you've generated with the podcast name generator. The generator makes a list of generated podcast names from where you can choose the names you feel are appealing enough.
What is a Good Podcast?
Podcast in an audio version of blogging, or we can say, it's basically audio blogging.
A podcast is a series of lectures, sermons, episodes or alternatives in an audio format that you can listen to anywhere at any time you want. It's just like talk radio. The only difference is, Radio can't be rewound, but Podcasts can!
The name "Podcast" is a portmanteau of two words; iPod & broadcast. It was first suggested by The Guardian columnist & BBC journalist Ben Hamersley who used it first while padding out an article for The Guardian. The audio blogging community used the name Podcast for the first time in 2004.
Podcasts revolve around a particular topic or theme, just like politics, religion, and health etcetera. It is a series of word-reading from stories or novels, or it can be a recorded message by anyone. You can just plug in your headphones & listen to anything at any time while relaxing on your bed.
You may also like: The 20 Best Podcasts of 2019
Types Of Podcasts:
Having an audio format with the purpose of communicating with a larger audience, the types of podcasts become more diverse.
The types of podcasts are expanding in numbers day by day. It had started as word-reading only & now it has become a huge industry on the internet.
Now, anything can be a podcast. A recorded message or story, an interview or panel discussion, a solo podcast or duo. Below are some podcast types that are popular & trending on the internet nowadays.
The Interview Podcast:
The interview podcast is a series of interviews with different personalities every week. Interview podcasts can be exceptionally profitable for your online channel as it opens up the gate for the larger audience if your guest shares the podcast. An interview show also blends many varieties of content in your podcast.
The Solo Podcast:
It's the most common type of podcasts & used by the people who have expertise in particular fields of interest. It only requires mic, you & the audience on the other side! Most podcasters use this type of podcast before hitting big. This is the simplest way to fly high in the long run. It has been a preferable type of starting a podcast business for two reasons. One, it makes a podcaster free. He can make podcasts on any topic by himself. He doesn't have to run after guests or co-hosts in order to market his podcasts.Second, it's a great way to build a personal brand. You can create your own fan base, subscribers, listeners & an audience that will be waiting anxiously to listen to you every week!
The Panel Show:
The Panel Show podcasts are often chaired by some panelists & a host that discusses any particular topic from politics, sports or from any other business of life. The panelists are the guests that are experts in that particular field & the host is often the podcaster himself.Panel Show podcasts are great for attracting the masses as there are many people who love to listen to experts on panel shows. It keeps things interesting for your audience.Such shows are a great comfort for the podcaster as well as his job is only to keep the talking rotating.
Co-hosted Podcast:
This is the basic setup of two persons running the show. Although the setup might be changed. Sometimes, the show is co-hosted by both persons & sometimes the next person is only responsible for helping out the host. These types of shows are common & fan favorites as well.
Storytelling Podcast:
This type of podcast is rapidly galloping online nowadays. If you are a writer & have story narrating skills, then this type of podcast can be a perfect fit for you as it requires only a mic, a story & your voice than can touch the hearts of people.
List Of Different Podcast Names: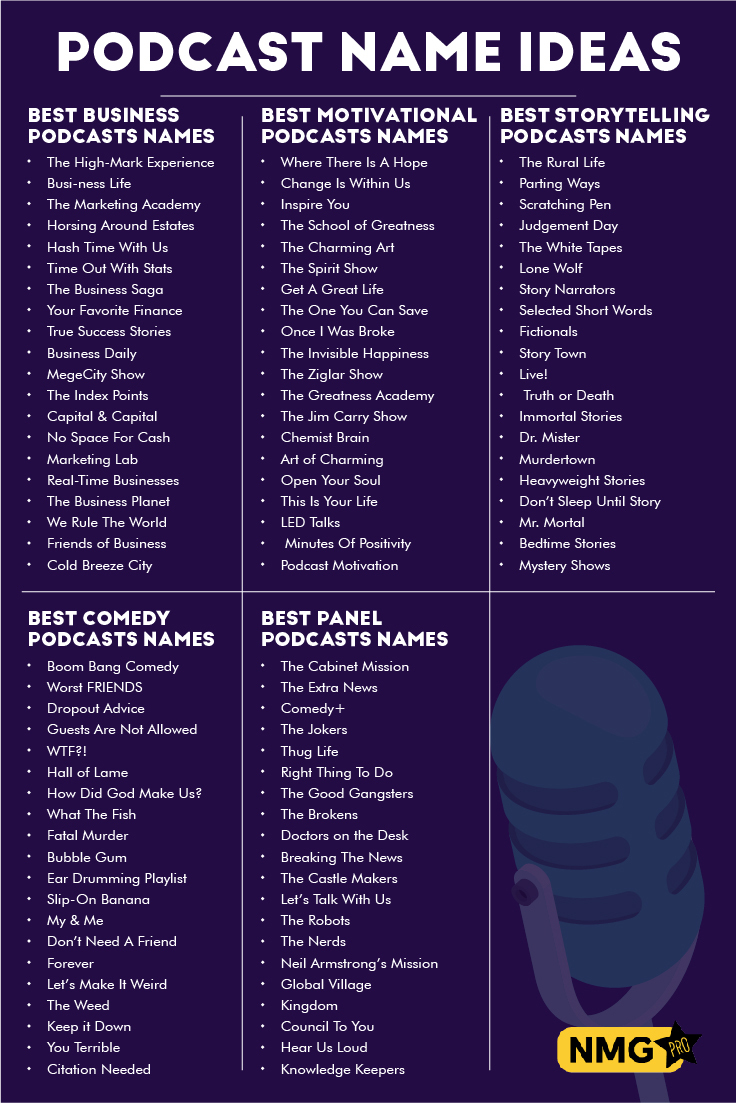 Among all the podcast name ideas generated with the podcast name generator, here are some of our favorites:
Best Business Podcast Names:
The High-Mark Experience
Business Life
The Marketing Academy
Horsing Around Estates
Hash Time With Us
Time Out With Stats
The Business Saga
Your Favorite Finance
True Success Stories
Business Daily
MegeCity Show
The Index Points
Capital & Capital
No Space For Cash
Marketing Lab
Real-Time Businesses
The Business Planet
We Rule The World
Friends of Business
Best Comedy Podcast Names:
Boom Bang Comedy
Worst FRIENDS
Dropout Advice
Guests Are Not Allowed
Hall of Lame
How Did God Make Us?
What The Fish
Fatal Murder
Bubble Gum
Ear Drumming Playlist
Slip-On Banana
My & Me
Don't Need A Friend
Forever 001
Let's Make It Weird
Keep it Down
You Terrible
Citation Needed
Best Motivational Podcast Names:
Where There Is A Hope
Change Is Within Us
Inspire You
The School of Greatness
The Charming Art
The Spirit Show
Get A Great Life
The One You Can Save
Once I Was Broke
The Invisible Happiness
The Ziglar Show
The Greatness Academy
The Jim Carry Show
Chemist Brain
Art of Charming
Open Your Soul
This Is Your Life
LED Talks
20 Minutes Of Positivity
Podcast Motivation
Best Storytelling Podcast Names:
The Rural Life
Parting Ways
Scratching Pen
Judgement Day
The White Tapes
Lone Wolf
Story Narrators
Selected Short Words
Fictionals
Story Town
Live!
Truth or Death
Immortal Stories
Mister
Murdertown
Heavyweight Stories
Don't Sleep Until Story
Mortal
Bedtime Stories
Mystery Shows
Best Panel Podcast Names:
The Cabinet Mission
The Extra News
Comedy Plus
The Jokers
Thug Life
Right Thing To Do
The Good Gangsters
Doctors on the Desk
Breaking The News
The Castle Makers
Let's Talk With Us
The Robots
The Nerds
Neil Armstrong's Mission
Global Village
Kingdom
Council To You
Hear Us Loud
Knowledge Keepers
Sports Podcast Name Ideas:
Whistle Go
The Athletic Podcast
Listen and Sweat
The Sports Anthem
101 Sport Podcast
Daily Sports Show
The Athletics Podcasts
The Energetic Podcast
Strong and Muscular
Brawny Show
Active Listeners
Read more: Fitness Blog Name Generator
Famous Podcasts of All Time
This American Life
This American Life is an American hour-long episode of radio broadcasted every week. It was founded by Ira Glass who has also been hosting the show for years. The total number of episodes recorded till now is 691. It plays fiction & non-fiction, essays & memoirs, field recordings & found footage on their channel. The name of the podcast has especially been chosen to attract the people of the United States living all over the world, and with being the most popular podcast in the US, it seems they have been successful in their mission!
Dr. Death
Sounding like an epic thriller series, Dr. Death is the real story of a mad neurosurgeon, Christopher Duntsch who was convicted of maiming thirty-one of his patients & killing two during the operation. The podcasts run into 10 episodes & is a true-crime story. The creators have creatively saved the whole event in a podcast & named it Dr. Death. The fans of horror fantasies are still loving this podcast with its name.
Stuff You Should Know
Doesn't the name make curios? After all, who doesn't want to know something that he should?
Stuff You Should Know is one of the world's famous podcasts that is produced by Stuff Media. It is hosted by Josh Clark & Charles W. "Chuck" Bryant. Since its first episode in 2008, SYSK has been ranked in the world's top 10 podcasts on iTunes.
TED Talks Daily
When it comes to the name 'TED', it doesn't require any explanation! We all are getting used to listening to TED talks at least once a week. They are inspiring, motivating, informative, energetic & spiritualistic. Now you can bless yourself listening to more than 2,000 talks with their podcasts!
I hope the free podcast name generator helped you in choosing an effective name for your podcast. Leave a comment below with your favorite podcast name generated with the podcast name generator.