Craft Store Name Generator is here to name your craft store with a creative & catchy name. Generate the most unique craft store names with us & give your talent a perfect name it deserves
The Best Craft Store Name Generator:
Craft Store Names :
Click on the names you like the best.
Favorite Names:
Copy your names before you leave.
Best Craft Store Name Ideas:
A name is crucial for every business, either it's a craft store, an Etsy store or anything else. Here are some name ideas for your craft store to get started.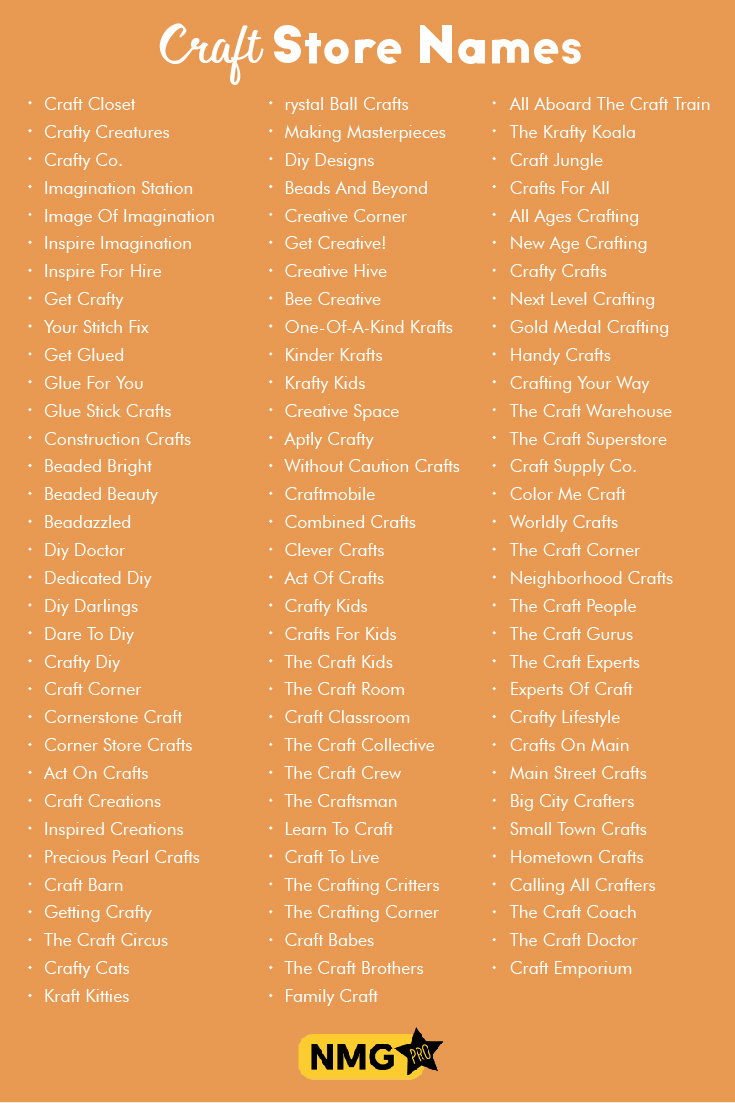 Craft Shop Name Ideas:
Craft Closet
Get Crafty
Crafty Creatures
Crafty Co.
Imagination Station
Image Of Imagination
Inspire Imagination
Inspire For Hire
Get Crafty
Your Stitch Fix
Get Glued
Glue For You
Glue Stick Crafts
Construction Crafts
Beaded Bright
Beaded Beauty
Beadazzled
Diy Doctor
Dedicated Diy
Diy Darlings
Dare To Diy
Crafty Diy
Craft Corner
Cornerstone Craft
Corner Store Crafts
Act-On Crafts
Craft Creations
Inspired Creations
Precious Pearl Crafts
Craft Barn
Getting Crafty
Crystal Ball Crafts
Making Masterpieces
Diy Designs
Beads And Beyond
Creative Corner
Get Creative!
Creative Hive
Bee Creative
One-Of-A-Kind Krafts
Kinder Krafts
Krafty Kids
Creative Space
Aptly Crafty
Crafty Kids
Without Caution Crafts
Craftmobile
Combined Crafts
Clever Crafts
Act Of Crafts
Crafty Kids
Crafts For Kids
The Craft Kids
The Craft Room
Craft Classroom
The Craft Collective
The Craft Crew
The Craftsman
Learn To Craft
Craft To Live
The Crafting Critters
The Crafting Corner
New Age Crafting
Crafty Crafts
Next Level Crafting
Gold Medal Crafting
Handy Crafts
Crafting Your Way
The Craft Warehouse
The Craft Superstore
Craft Supply Co.
Color Me Craft
Worldly Crafts
The Craft Corner
Neighborhood Crafts
The Craft People
The Craft Gurus
The Craft Experts
Experts Of Craft
Crafty Lifestyle
Crafts On Main
Calling All Crafters
The Craft Coach
The Craft Doctor
Craft Emporium
The Craft Circus
Crafty Cats
Kraft Kitties
Craft Babes
The Craft Brothers
Family Craft
How to Choose a Perfect Name for Your Craft Store?
Starting a craft store is all about creativity. The competitors & customers are going to remember you with your catchy craft store name.
Your creativity and the art of crafting should reflect from the name of your craft store. Choosing a perfect craft store name isn't easy. This is the step where many craftspeople get blocked.
It takes a few drops of creativity to make a crafty first impression right? Craft business name should scream "creative," which shouldn't be hard for a creative mind like yours. But never turn your eyes away from the help. Here are a few tips to help you pick a craft store name:
Use puns:

Puns are fun in a business name and can be catchy enough to be remembered!

Use Rhyming words:

Rhymes are also fun and very easy to remember. Using a rhyme in your business name will surely help it to stick!

Use your Specialty:

If you do a specific type of craft such as sewing, choose a name that reflects this to let people know just what you do!

Use Your Name:

Artists should be known by name and so should good business owners. Don't be shy to use your name to personalize and uniquely identify your business.

Use Craft Store Name Generator:

Craft store name generator has thousands of creative & catchy craft store names. Jump in our store to dig up the name you want. It's somewhere down here!
How to Use Craft Store Name Generator:
The creators of the Craft Store Name Generator possess diverse unique & creative craft store names collected from all the famous & eye-catching craft stores around the world. With just a single click, you can see many of those.
You need no keywords to insert for generating names. Our generator is an automated tool. Just click the button placed on a small screen given just below the intro of the page & generate a cool name for your craft store!
You can generate as many names as you want & make a separate list of the names you like the most. And guess what? This whole process takes less than 2 minutes!

We hope you would've already one or two ideas lingering inside your mind. Go just grab them before they vanish away!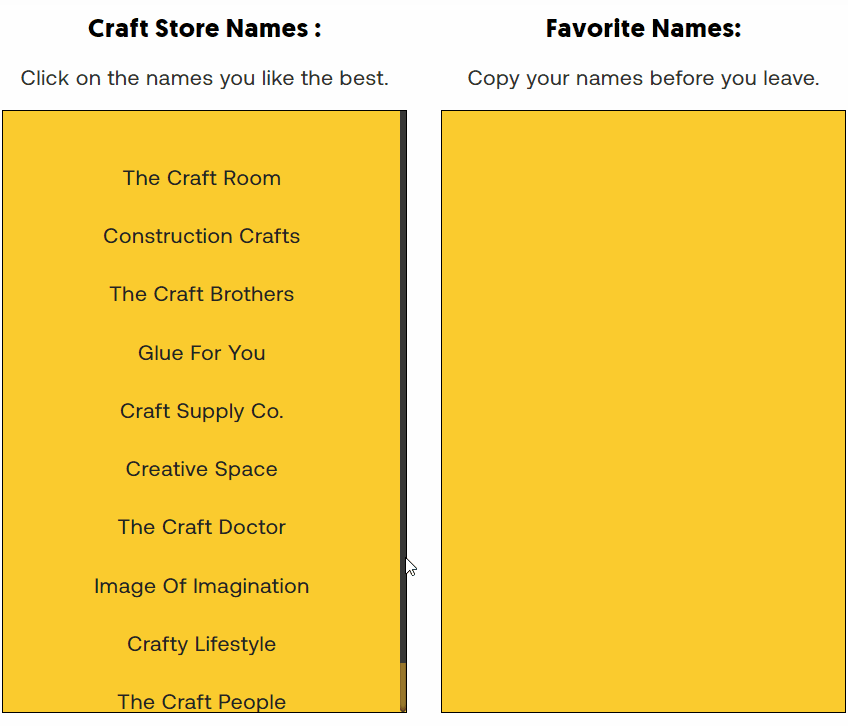 You are all set to start your own Craft Store!
We hope it would be of good help to you. I wish you the best of luck for your craft store. The world needs creativity that is caged inside you! Happy Crafting! Happy Generating!