Looking for some of the best lifestyle blog name ideas? Lifestyle Blog Name Generator can surely help you out. You want to share the qualities of your region, culture, city, country or language. right? Make a good lifestyle blog, because the world is waiting to listen to your stories!
The team behind Lifestyle Blog Name Generator has collected some of the most creative lifestyle blog names. Find out some tips and ideas for naming your lifestyle blog below.
Best Lifestyle Blog Name Generator:
Lifestyle Blog Names :
Click on the names you like the best.
Favorite Names:
Copy your names before you leave.
What Can be a Perfect Name for Your Lifestyle Blog?
When it comes to starting a lifestyle blog, there are many things that are enveloped. You can write about your neighborhoods i.e How do you create a bond with them? What is a good neighbor? What activities you do together?
You can write about your daily life, the life around or inside your city or the people living on the surface on sand crystals. You can also talk about travel, fashion, food orfitness. The possibilities are immense!
With the possibilities that high, it makes it a tough call to choose one. Even if you do go with one, you stick with choosing a perfect lifestyle blog name.
What is a perfect lifestyle blog name? That is a question every blogger asks & glued with. Well, you are lucky that the team behind Lifestyle Blog Name Generator cares about that too.
Here's our take on naming your lifestyle blog perfectly:
Rhyming Words in the Name:

Remember the poems we used to sing in our childhood?

Well, we still remember some of them because rhyming words sound really fantastic. You know why? Because they are easy to remember as well as effortless to pronounce.

Try to use the words in your lifestyle blog name that alliterate with each other. It has been proven that using alliteration technique helps in making a lifestyle blog name an appealing one.

For example Savouring Simplicity, Katie In Kansas

Clear & Descriptive:

You don't have to use some heavyweight words in your name, save them for your blog's content!

Names are good with simple words that give an idea of what this blog is about. With the diversity of blog topics, using complex words will make it difficult to understand the niche of your lifestyle blog.

Just think. Don't overthink your lifestyle blog name!

Example names: A House in the Hills, Life With Me

Brand Yourself:

Well, this is one of the easiest ways to add some glamour to your blog by naming your lifestyle blog with your name

This technique is loved by those who want to write things using their eyes. They write about how they feel about certain things, or how they see a particular event.

Branding yourself can end your long marathon to find a perfect lifestyle blog name. You may not have anything but, you have YOU!
Popular Lifestyle Blogs with Creative Names:
The world is always curious to know what's going on on the other half of the globe. Humans are designed to be curious. They want to know about you, your traditions, your religion, your city & country, your culture. This means they are curious about everything there has to be known about life!
Lifestyle bloggers are the best tools & their blogs perfect platforms to quench that thirst & know about an alien world.
People are loving lifestyle blogs because it provides them a completely different set of knowledge. Something that makes to quit their comfort zone & book a ticket!
Here are the most popular lifestyle blogs with creative names which are making great progress: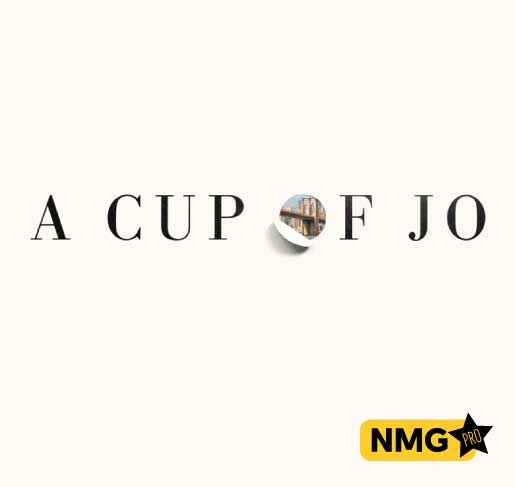 Joanna Goddard, a stylish businesswoman & the mother of two, is the founder of A Cup of Jo. She covers multiple ranges of topics including fashion, travel, beauty & design. She has 98K+ followers on Facebook & 68K+ on Instagram. And indeed a creative lifestyle blog name as well.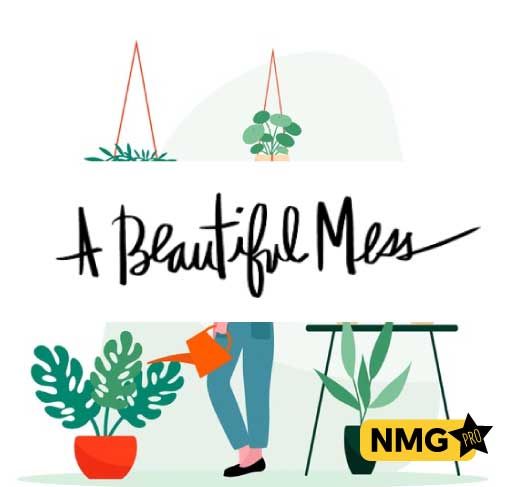 Created by Elsie Larson and Emma Chapman, a beautiful lifestyle blog, A Beautiful Mess shares DIY home decor projects, delicious recipes, craft ideas, beauty tips, and engaging stories about life in the Midwest. Larson & Chapman have also developed and released two best-selling apps and a book.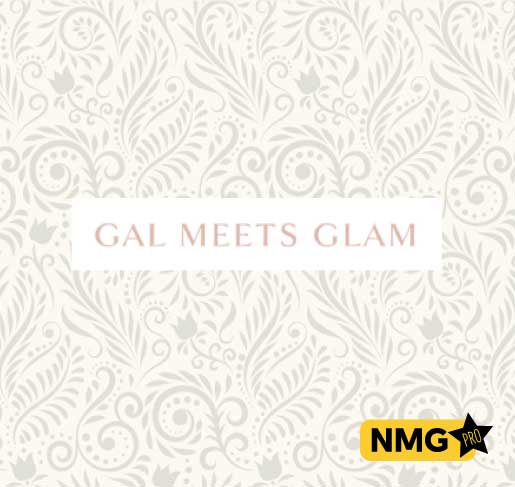 San Francisco native Julia Engel is the face behind lifestyle blog Gal Meets Glam that encourages readers to add a little glamor to their everyday lives. Julia's relatable sense of style and innate ability to curate products had made her one of the most influential publishers.
Top 100+ Appealing & Creative Names for Lifestyle Blog:
We have thousands of names corralled in our database to help you find the name you want. Here we present the top 100 lifestyle blog names that are generated by our Lifestyle Blog Name Generator:
A Cup Of Coffee Realty
Cup Cakes And Cashmere Sweater
Consume Sleep Wear
Enjoy Taza
Intelligence Online
Lifestyle And Luxury
The Thin Confidential
Wit And Joy
The Daily Walks
Live What You Love
Faith Angel
Positivity App
Groom Of Depravity
Reflecting Souls
Knowledge To Be Still
Interestingly My
Make It Sparkles
Soul Engaged
Crafty Ones
Thriving On Your 20s
Looking For Goal
The Spoonful Of Sugar
Living Learning Eating
Glad Crunchy
Life Experienced
Learning Tobe
Of Garden Sand Plant
Yoga Goof
Storys Of A Kitchen
Yoga Age
Elevate Vigor
Reclaiming Power
Emergent Lives
This is Vitality
Wellness Net
Green-Kitchen
Eat Boost And Be Happy
Creating A Healthy Life
You Naturally
Veggies And You
Sprouted
Gimme Some Oven
Healthy Mother Hubbard
Wholesome
Session Life
Summer Net
Mindful Morning
To Her Focus
Essentially Living
Inspired Table
Little Buddha
Root Fresh
Diary Of A Semi Fitness Nut
Pouted Online Lifestyle Magazine
A Cup of Jo
Conscious Lifestyle, Evolved.
Camille Styles
Vulcan Post
Better Living
Quintessence
The Blonde Salad By Chiara Ferragni
The Skinny Confidential
Goop by Gwyneth Paltrow
The king of DIY
MyDeal Blog
Capital Lifestyle
The Blonde Abroad
Primer Magazine
The Edge Search
Holly's Bird Nest
Dear Kitty Kittie Kath
Namebubles
Wit & Delight
Ape to Gentleman Magazine
Corporette
Akanksha Redhu
Middle Aged Mama
ModLi Blog
Julie Blanner
Grit Daily
Hej Doll
Hollybee Tells
Jess Ann Kirby
Social Lifestyle Magazine
Shoppers Gossip
Forever Amber
Stemjar
SkinnyGirlDiariez
Positively Present
Inspirations & Celebrations
Katie Did What
LADY GUNN
Not Your Standard
Lifestyle Fifty
Sift & Pick
Life of Trends
Revolutionary
Crystal Marie
Alicia Fashionista
A Lifestyles blog
The Fresh Exchange
Pumps & Iron
Earthlingorgeous
Kotryna Bass
How to Use Lifestyle Blog Name Generator?
The lifestyle blog name generator is painless to use, unlike other name generators. It asks no social media accounts or any email address to start generating lifestyle blog names.

Lifestyle Blog Name Generator helps you save your time making the process of choosing a blog name effortless. You can simply click on the button named 'Generate Lifestyle Blog Names' and a unique name will pop up on each click.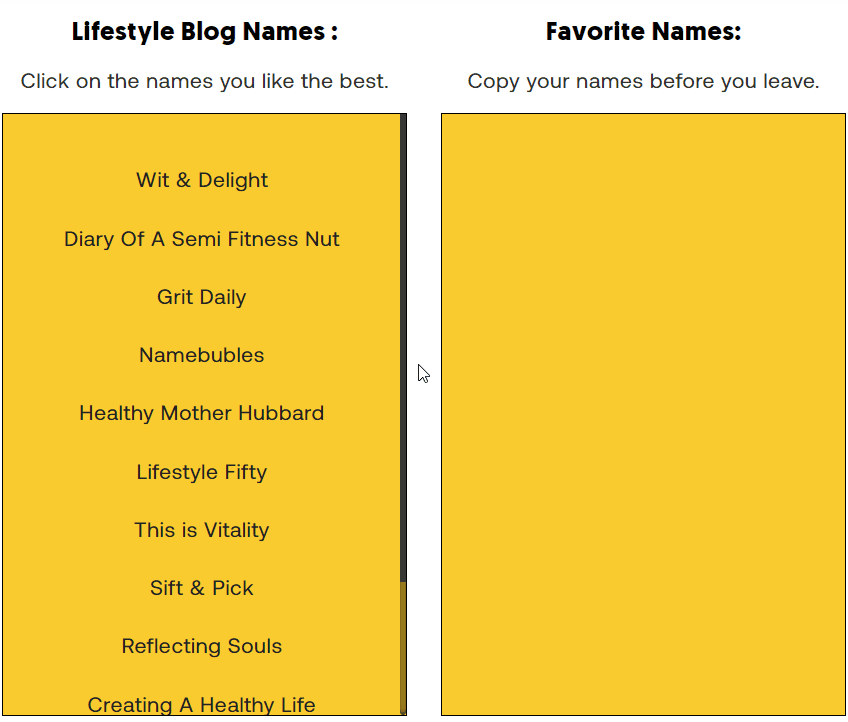 There's also a list given below where all the lifestyle blog names you generate, are stored. You can review all the names easily and make sort of your favorite names on the other list.
Leave a comment below with your favorite lifestyle blog name ideas. And start generating names with the lifestyle blog name generator today.