You're starting a Facebook group and don't know what to name it, right? Well, the Facebook group name generator will help you generate some of the best Facebook group name ideas. Also, get some incredible tips for naming your Facebook group below.
Best Facebook Group Name Generator:
Facebook Group Names :
Click on the names you like the best.
Favorite Names:
Copy your names before you leave.
Bored scrolling tedious feeds on Facebook & have decided to make a Facebook group? You are on the right track! Facebook Group Name Generator is here to help you creatively name your idea.
Whether you are thinking of making a Facebook business group, an online book club group to discuss books or it's for entertainment, it deserves a unique name!
Find out some interesting topics related to the Facebook group name generator as well:
How to Use the Facebook Group Name Generator?
Want a creative name for your Facebook group? Here's how to find one:

Facebook Group Name Generator has it all fixed for you. All you need is to hit a button named 'Generate Facebook Group Name' & a unique Facebook group name will be in front of you. Don't like the name? Well, hit it again & again until you find the name you are looking for.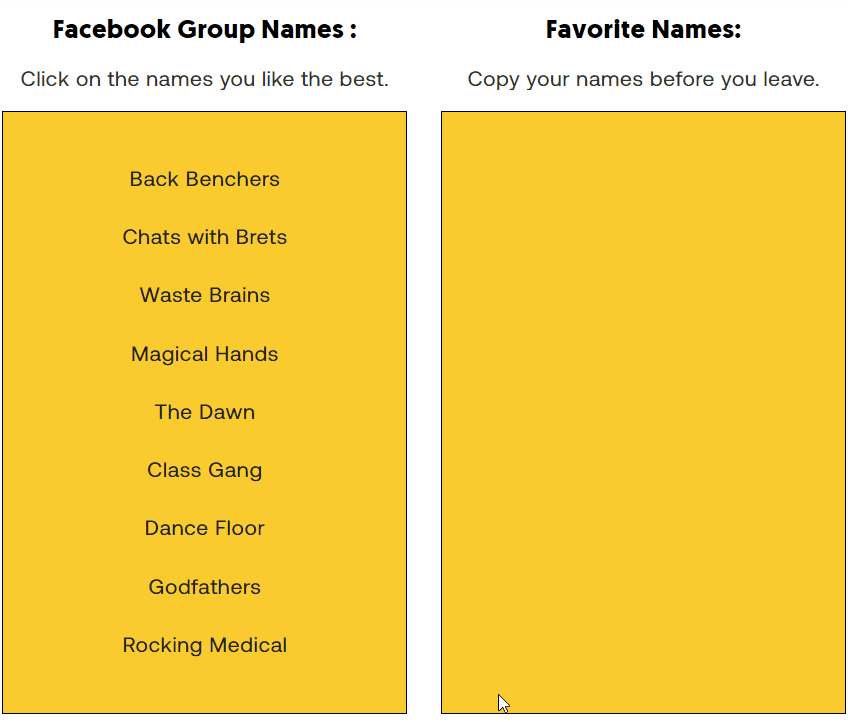 The generator makes a list of the names you generated. Click on the name & it'll be transformed to the list of favorite names from where you can copy the names for further discussions.
How to Come up with a Good Facebook Group Name?
Facebook groups have great potential to make an active online community. The overflowing rush of users on Facebook is making groups even more efficient tools to engage with the specific audience at the same time which is proof that if you are thinking of making a Facebook group, you are just doing the right thing!
But naming Facebook groups demand some creativity. Names make you stand out so it's important to dot the I's & cross the t's in this regard. Here are some of the tips to make your Facebook name creative.
Define Your Facebook Group Idea:
Making a Facebook group engage with masses sounds quite fun but that's not going to make you stand out.
Because there's already an uncountable number of Facebook groups that have no idea why they exist!
Such groups are most expected to die very early.
If you are one of those thinking of creating a Facebook group, make sure you have an effective idea & proper plans that'll make your Facebook group last longer & work productively & will make it stand out.
For instance, if you are a literature student & bookworm, creating an online book club group on Facebook to critically analyze books would be a great idea!
These factors affect the name of your Facebook group. So make it clear what you exactly want.
Make the Name Searchable:
You are creating a group so that you can engage with your targeted audience easily.
You would also want your ideal group members to reach you without turning to any other group.
Right? So for that, you'll have to make your Facebook group name searchable with an easy to spell name.
Never ever try to use hyphens in the name because it makes it difficult to be found on Facebook.
Try to name it as simple as you can.
Use Humor:
Some humor is always good!
Who hates humor, after all?
Adding some humoristic taste to your name can attract a good number of users to your group.
For instance, if you are creating an entertainment group, how about naming it Mental Hospital?
Advantages of a Facebook Group:
Facebook is one of the top social media networks with billions of users pouring in every year.
With a huge number of active users on Facebook, it has become a great platform for many businesses as well as for online entrepreneurs to promote their ideas to the masses.
Facebook groups have become a commodity in this regard. They offer easy access to the audience of your choice. Here are some of the advantages of Facebook groups we have listed out for you:
Facebook Groups Create A Community Feeling:

It's always great to have likeminded people around.Facebook groups aren't only about chit-chatting, products or services, but they create a community feeling as well.
If you make it like a real community, people will love it & are definitely going to visit it again & again.

Easiest Tool To Spread The Information:

Sending a message to everyone separately is an aching process.If you want to get away with this painful & hectic process, just gather friends on Facebook & make a group of them. Your one post will do all the job! Facebook groups are a great source of information if used properly
Best Facebook Group Name Ideas:
There are different type of Facebook groups, so here are some name ideas for each group category: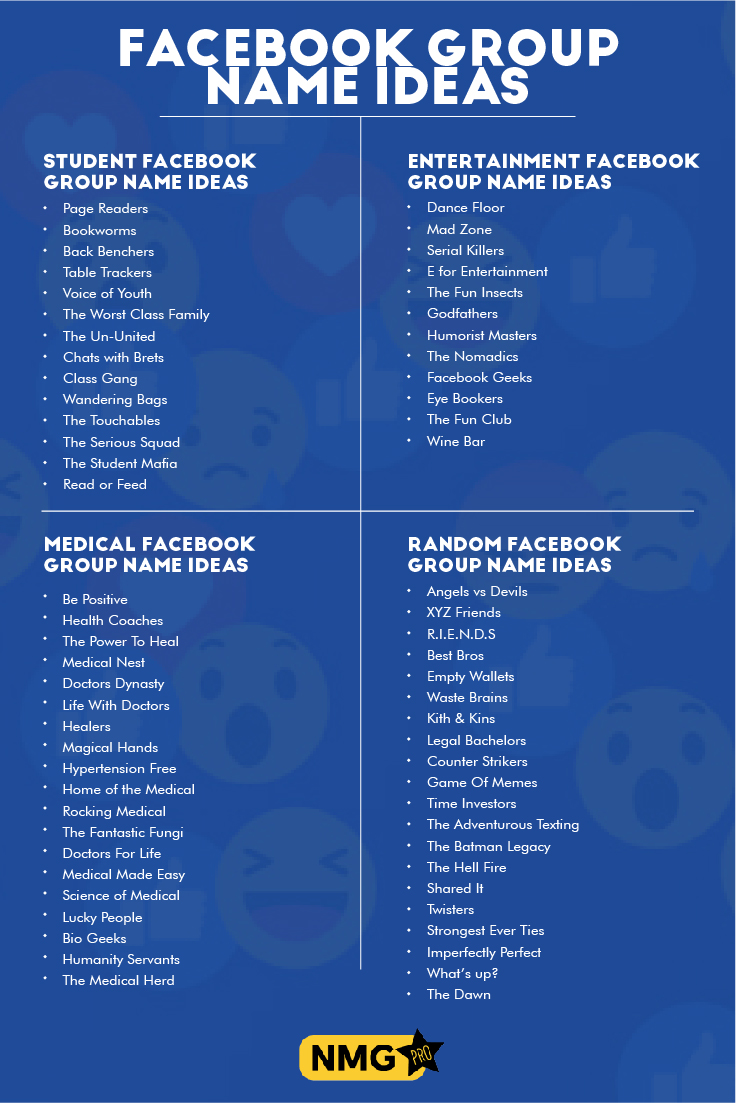 Entertainment Facebook Group Name Ideas:
Dance Floor
Mad Zone
Serial Killers
E for Entertainment
The Fun Insects
Godfathers
Humorist Masters
The Nomadics
Facebook Geeks
Eye Bookers
The Fun Club
Wine Bar
Student Facebook Group Name Ideas:
Page Readers
Bookworms
Back Benchers
Table Trackers
Voice of Youth
The Worst Class Family
The Un-United
Chats with Brets
Class Gang
Wandering Bags
The Touchables
The Serious Squad
The Student Mafia
Read or Feed
Medical Facebook Group Name Ideas:
Be Positive
Health Coaches
The Power To Heal
Medical Nest
Doctors Dynasty
Life With Doctors
Healers
Magical Hands
Hypertension Free
Home of the Medical
Rocking Medical
The Fantastic Fungi
Doctors For Life
Medical Made Easy
Science of Medical
Lucky People
Bio Geeks
Humanity Servants
The Medical Herd
Random Facebook Group Name Ideas:
Angels vs Devils
XYZ Friends
F.R.I.E.N.D.S
Best Bros
Empty Wallets
Waste Brains
Kith & Kins
Legal Bachelors
Counter Strikers
Game Of Memes
Time Investors
The Adventurous Texting
The Batman Legacy
The Hell Fire
Shared It
Twisters
Strongest Ever Ties
Imperfectly Perfect
What's up?
The Dawn
Facebook is everything for everyone. It's an ever-growing platform that provides a wide range of entertainment, information, job opportunities and much more.
I hope you've found a good name for your Facebook group with the Facebook group name generator.
Leave a comment below with your favorite Facebook group name ideas to help others.